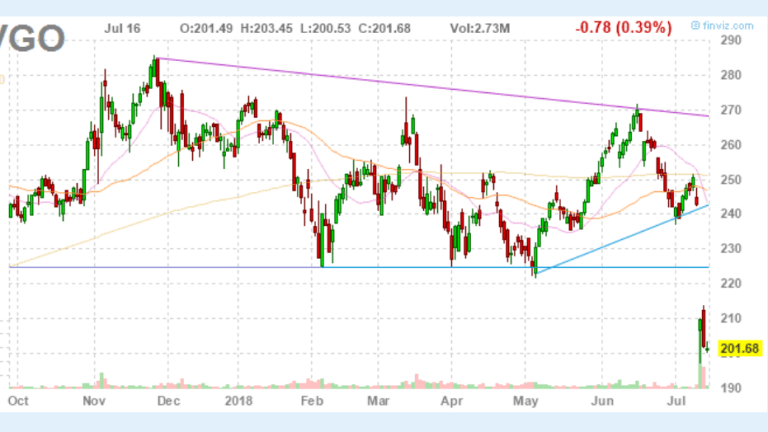 TRADE IDEA: AVGO
We sold some 2020 strike price $180 puts on Broadcom.
From Thursday of last week: Broadcom (AVGO) was crushed as they'll pay about $3Bn too much for CA, but AVGO was over $100Bn so a 20% drop is silly. I kind of want to pull the trigger right now, at $200, as BRCM was an old favorite of mine. It's still a good company, but there were WAY better things to do with $19Bn in cash than buy CA (Broadcom acquires CA Technologies for $18.9B in cash). Still, I don't think they are that dumb so let's keep an eye on the 2020 $180 puts, which can be sold for $20 so 5 of those short in the Long Term Portfolio gives us $10,000 for promising to buy 500 shares of AVGO at net $160! ~ Phil (July 12, 2018)
A little later in the day, Phil writes,
"The AVGO thing is so stupid we have to act. Let's sell 5 of the AGVO 2020 $180 puts for $19 in the LTP.
"They lost $20Bn in market cap because they are buying a company for $19Bn in cash?  Even if CA is worth just $10Bn – it's not THAT bad of a deal!"
Update Monday, July 16, 2018: AVGO is still trading around $200. Buying it for $160 seems like a great deal. The stock is already selling cheaply by objective measures at ~ $201.60: AVGO's forward p/e is 9.9 and it pays an annual dividend of 3.46%.
By selling 2020 strike price $180 puts for around $20 (currently around $19.50), we are promising to buy AVGO at a net price of around $160 in January 2020 (unless we buy the put back prior to the expiration date).