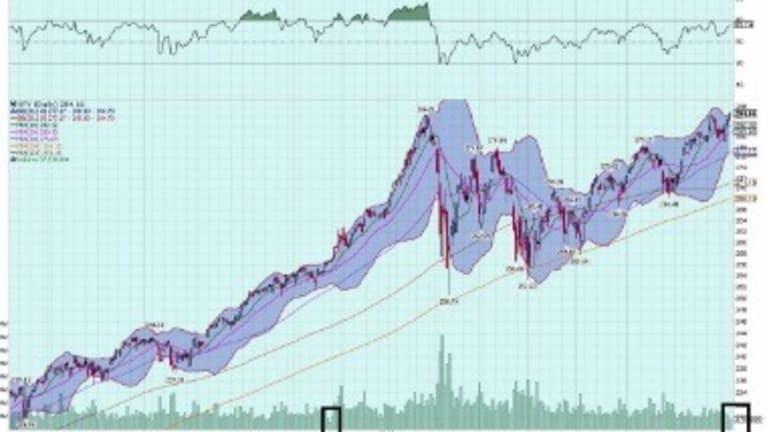 Toppy Tuesday – Markets Continue to "Ignore and Soar"
It's OK to take small, manageable losses on the way up – as they lock in our ill-gotten gains.
Up and up we go.
The volume on the up moves is negligible but what does it matter if you can fool some of the people all of the time and all of the people some of the time?  Yesterday's volume was the lowest since the Friday after Thanksgiving though it was not a holiday yet we spiked up to make a new all-time high on the S&P at 2,855 and this morning, on even less volume, we're testing 2,860 where I'm putting my foot down and shorting/ES.
Well, it's a light foot, with tight stops over the line as none of our Futures shorts have been working for the past week but they are, primarilly, hedges against our long positions, so it's OK to take small, manageable losses on the way up – as they lock in our ill-gotten gains.  
The real question is, why is nobody trading?  I know I'm on vacation and a lot of our Members are on vacation but surely, we can't be the only ones trading the market, can we?  Well, considering this volume, maybe we are!  Also interesting yesterday was a strong uptick in VIX volume, as well as VIX options, where call volume outpaced puts by 6.5 to 1.
That's not the kind of action you expect in a "healthy" market but it's hard to argue with the headlines, which are relentlessly UP, pretty much since July 1st, when the S&P was testing the 2,700 line (6% ago).  According to our 5% rule, this is a 5% run with a 1% (20% of the run) overshoot and, while 2% (strong) overshoots can happen – they are pretty rare and need a catalyst and I don't see one likely to turn off the SellBots this morning so let the market open and then we can start shorting.
Profits are up at the S&P, so far, with 3/4 of the companies reporting, earnings are up 23% from last year, due to a fairly strong economy but mostly dues to tax cuts as Corporate Tax Rates have been cut from 35% to 21% since the same quarters last year.  And you might say, "well, that only accounts for 14% of the profit increase" but that's not what profits are.
United Renals (URI), for example, had a gross profit of $229M last Q2 and paid $88M in taxes (38%) but this Q they had a gross profit of $359M (up 56%) but paid the same(ish) $89M in taxes (25%), which put their net profit up to $270M, which is up 91% – quite a difference!  As you can see from this chart – this isn't the first time an unpopular President has lowered taxes in order to make the economy look better than it is – we fell for this BS in 2007/8 and, gosh darn it – we're falling for it again in 2018.  See, you CAN fool some of the people ALL of the time! 
Apple (AAPL) is another one, making $11.3Bn last Q2 and paying $2.6Bn in taxes to net $8.7Bn but this year, AAPL grossed $13.3Bn and paid just $1.8Bn in tax (13.5%) to net $11.5Bn for a $2.8Bn increase in net profits, with not just $800M of it coming from the tax cut that is obvious, but the taxes that were not paid on the additional $2.8Bn in profits – another $800M tax benefit.  So $1.6Bn (57%) of Apple's gains were from taxes and, without the tax cuts, AAPL would have been just 14% higher than last year, not 32%.
AAPL is, of course, now a $1Tn company at $208, up $68 (48.5%) from $140 at this time last year and yes, I think AAPL was undervalued last year and it's still not overvalued at $1Tn but that's the BEST example of an S&P company and we can still see how, if the tax breaks are removed or mitigated, that it has gained far too much to account for the actual gains in the business.
At least until November, we have to consider the possibility that the Democrats take control of Congress and begin to reverse these tax cuts or, failing that, that the Republicans might keep the House and run up trade deficits to unsustainable levels, though it's hard to say what "unsustainable" is when your deficit is already $21Tn and you are adding $1Tn this year and $1.3Tn next year, etc.  
Government Expenditures are now 22% higher than they were before the last crash and Government Revenues are 10% lower.  Corporate profits are the only things benefitting so far from all these tax cuts and we'd better hope our Corporate Masters feel the urge to trickle on us soon – or it's really going to hit the fan! 
All in all, the market is essentially priced – not just to perfection – but to perfection without the possibility of that perfection ending in the Future and that makes it very, VERY dangerous to play with.
Be careful out there!