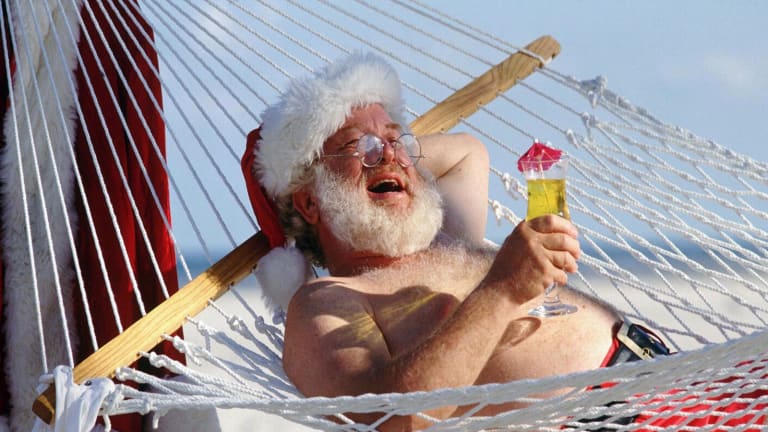 Tinsel Tuesday – Market Decorations Expected to Last Out the Week
Nothing serious seems to have happened in the morning except Apple (AAPL) getting some negative notes on IPhoneX demand.
Why are you here?
I'm not here, I'm in Las Vegas! It's 4am here – I have nothing else to do and the markets close at 1pm (PST) and I'll have a full day of fun in the sun after that – what's your excuse? The US markets are open but not Europe, because they are not idiots – so expect very low volumes and take nothing seriously this week.
Nothing serious seems to have happened in the morning other than Apple (AAPL) getting some negative notes on IPhone X demand that's sending that stock and their suppliers about 2.5% lower in pre-market, which should put a drag on the Nasdaq (/NQ) and the Dow and S&P – all of which have AAPL as their largest component. This could all be BS, where unscrupulous fund managers are taking advantage of the holiday – as well as Apple's refustal to comment on rumors – to knock the stock down.
We can play along by shorting the Nasdaq Futures (/NQ) but they are already falling but the Russell (/TF) is lagging at 1,545 so I'd short them for a cross below, with tight stops above. Speaking of Futures, congrats to those who played along with our long play on Natural Gas (/NGV8) from last Wednesday's Live Trading Webinar as we got a great pop this morning and an even nicer $1,200 gain – Merry Christmas to all of our Members!
Now Coffee (/KC) has dipped back to $120, which is where we like to play them long with tight stops below that line. We already put that note out to our Members earlier this morning, in our Live Chat Room. The Nasdaq already hit our $1,000 per contract goal for gains from last week's short, where I said to our Members on Thursday morning:
Dow looks intent on giving us another chance to short at 24,850 (/YM) and that should be 2,690 (/ES), 6,500 (/NQ) and 1,550 (/TF) so all good shorting spots to watch (with tight stops above, of course).
/RB is coming down nicely now, $1.73 so congrats on trade #2 from the Webinar – now we just need /NGV8 to pick up by October….
​
The Dow has been good for a 100-point drop as well, that's good forgains of $500 per contract and we can now set stops at 24,750 but maybe a bit lower if AAPL opens on a down note. The Russell (/TF), as noted is now a re-short at 1,545 and that too hasgained $500 per contract, so far.
This is how we pay for Christmas while keeping our CASH!!! safely on the sidelines. Meanwhile, for a dead week we have a lot of data including Dallas and Richmond Fed Reports this morning, Case-Shiller and Consumer Confidence tomorrow, Consumer Comfort on Thursday and Chicago PMI on Friday so there are several things that can move the market – especially in thinly traded conditions.
Looking further forward, the Center for Economics and Business Research published a report designed to get attention stating that "Despite temporary setbacks … India's economy has still caught up with that of France and the UK and in 2018 will have overtaken them both to become the world's fifth largest economy in dollar terms." and that "China is likely to overtake the United States as the world's No.1 economy in 2032."
Since China is about half the size of the US now, it means their growth would have to outpace the US by about 6% a year for the next 15 years so, either their 6% growth forecasts are low or Trump's 4% growth forecasts for the US are too high – we'll have to wait and see but the US getting all protectionist while China opens up new trade deals is a great way to kick-start the decline of the US on the World stage – Mission Accomplished team Vlad & Don – we're already losing the perception game:
​
Why is China outgrowing the US? Infrastructure investing, especially public transport, has mobilized their populations and a push to raise salaries has had a dramatic impact on the GDP – things we are doing the opposite of here in the US. We'll have to consider some international diversification in 2018 but, at the same time, stay aware that China's growth has come from massive Government spending and the PBOC has recently said thatlocal governments who have not been responsible with their finances will NOT be backed up by the Central Government– that can be very interesting indeed.
"China must have an example like the bankruptcy in Detroit. Only if we allow local state-owned firms and governments to go bankrupt will investors believe the central government will break the implicit guarantee."
May we live in interesting times….