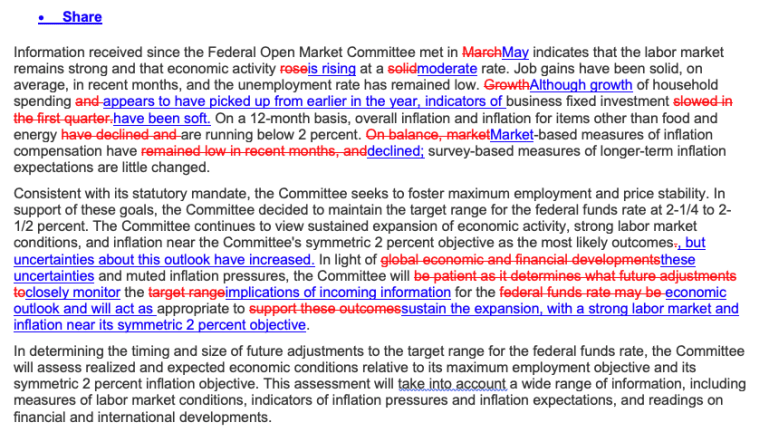 Thursday Thrust – Powell's Comments are Spun to Blast Market Higher
Phil - "Behind this morning's rally is a collapsing Dollar as we're back to testing the 96 line..."
"The case for somewhat more accommodative policy has strengthened."
That is the phrase investors are taking to the bank from Powell's press conference yesterday.  While the Fed Chairman didn't bow to Trump's pressure to deliver an immediate cut – he did leave the door open to interpretation that he was willing to cut rates the moment the economy begins to falter – giving investors a "Powell Put" to the market.
It wasn't the US markets that took Powell's statement as bullish but overnight the spin was in and now the Dow Futures are up 250 points as the spin doctors chimed in overnight to take any stray word Powell said and treat is like it was policy:   
"The market now knows the Fed is going to ease unless the data dramatically reverse," said Steven Blitz, chief U.S. economist at TS Lombard.
For the Fed to not cut rates at its July meeting, "it would take all of the data coming in to be consistently strong," together with an end to trade-related uncertainty, said Seth Carpenter, chief U.S. economist at UBS.
The central bank's rate-setting committee on Wednesday dropped language from its policy statement describing its stance as "patient"—which implied rates were on hold. Instead, it said uncertainties about the economic outlook have increased, a phrase it has used during past periods of rate cuts.  "The committee will closely monitor the implications of incoming information for the economic outlook and will act as appropriate to sustain the expansion," the statement said.
Of course that means that IF Trump makes a Trade Deal with China or tensions with Iran calm down or earnings or economic data improve – then the Fed will have no reason to cut so will good economic news be bad news for the markets going forward?  We'll have to see but, for now, the madness continues. 
Behind this morning's rally is a collapsing Dollar as we're back to testing the 96 line, down 1% from yesterday's open so of course the markets are up 1% and it's hard to get excited about a 1% pop in the markets that coincides with a 1% drop in the Dollars that stocks are priced in, isn't it?
Meanwhile, the yield on 10-year notes are back below 2% for the first time since 2016 and Oil blasted all the way back to $56 early this morning with Gasoline at $1.77, which is up 0.12 from our bullish play in yesterday's Morning Report and that's good for a gain of $ 5,040 PER CONTRACT so you're welcome on that one!  It's also good for the UGA spread we picked in the same report.
Remember:  I can only tell you what is likely to happen and how to make money betting on it – that is the extent of my powers…
Gold (/YG) is also flying higher this morning, punching up to $1,390 while Silver (/SI) is at $15.40 and that should be great for our 2017 Trade of the Year, Wheaton Precious Metals (WPM), who are testing the $24 mark as well as Barrick Gold (GOLD), who are a holding in all of our Member Portfolios and will hopefully punch over $15 finally.  In our Money Talk Portfolio, for example, we have:
GOLD Long Call2020 17-JAN 10.00 CALL [GOLD @ $14.48 $0.00]257/19/2018(211)$8,625$3.45$1.23$3.45 $4.68$0.00$3,06335.5%$11,688GOLD Short Call2020 17-JAN 15.00 CALL [GOLD @ $14.48 $0.00]-257/20/2018(211)$-2,750$1.10$0.04 $1.14$0.00$-100-3.6%$-2,850GOLD Short Put2020 17-JAN 17.00 PUT [GOLD @ $14.48 $0.00]-102/1/2018(211)$-4,000$4.00$-1.06 $2.95$0.00$1,05526.4%$-2,945
At $17 (our Jan target), the puts will expire worthless and the spread will net $12,500 and we only paid net $1,875 for it.  As of yesterday's close the net was $5,893 so still another $6,607 (112%) left to gain in just 6 months makes this still good for a new trade as you only missed the first $4,018 worth of gains from our Member selection, but those took a whole year – now we're into turbo mode!
Certainly, as a day trade, I like shorting the Nasdaq (/NQ) at the 7,800 line as we expect some sort of rejection there as well as 26,800 on the Dow (/YM) - those will be fun day trades – especially if the Dollar bounces off the 96 line – as it's very likely too since it's reacting to rumors, NOT policy.