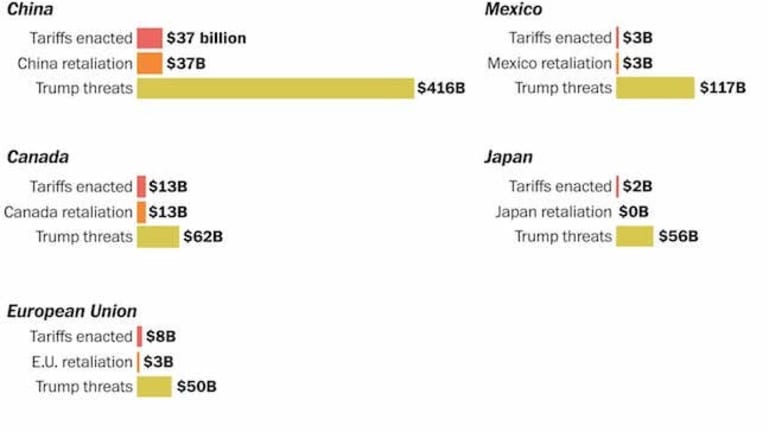 Thursday Thoughts – The Trade War We Choose to Ignore
Who do you think will be more successful in getting their people to change their habits?
Another $16Bn in tariffs. 
Or, should I say, another $4Bn in taxes against the American Consumer placed by Trump causes another $4Bn of Import Duties to be place on US goods we are trying to sell to China.  That's the real impact of the announced "$16Bn in tariffs**" that Trump gleefully announced on Tuesday, which was immediately followed by an exact retailiation by China yesterday**.   
"This is very unreasonable,"China's Ministry of Commerce said, "In order to defend China's rightful interests and the multilateral trade system, China has to retaliate as necessary."
This brings our cross-tariffs with China up to $50Bn and we already know there were painful effects from the first $20Bn so this is 150% more pain for US companies and 150% more taxes on US Consumers but still a drop in the bucket compared to the $500Bn in taxes Trump has threatened to place on US Consumers who buy Chinese goods.  That's all a tariff is, it's a tax that punshes consumers for buying certain items from certain countries – the behavior they are trying to change is yours – not China's!  
Now, who do you think will be more successful in getting their people to change their habits?  If it were Japan, we would have already lost this trade war as they Japanese people tend to obey Government edicts but Chinese people are a bit more like Americans, making independent choices though, on the whole, they tend not to fight the Government unless it's important while Americans generally ignore the Government and do whatever they want.
We're not there yet but if the Chinese Government declares it "unpatriotic" to buy American goods – our exports to China can ground to a very quick halt.  China can also hit us where it hurts on Rare Earth Materials, which China makes 90% of for the Planet Earth, not because they are actually rare but becauseproducing them causes levels of pollution that most countries find unacceptable.
Now, you can say that Trump can lift restrictions on strip-mining and lift all enviromental protections "for the sake of the economy" and we can begin producing our own Rare Earth Materials but that would take years just to begin to take up the slack and, in that time, our entire Tech Industry would collapse.  Or China can just impose export tariffs on the materials and drive consumer prices through the roof.  As with many trade items, Rare Earths are somehting we WANTED China to produce as we EXPORTED our pollution to China – now Trump wants it back!
China has OPEC-like power to control rare earths and you simply can't make modern electronics without them – they have simply chosen not to use that power before – other than setting higher prices once in a while.  Trump has opened the door to an all-out war with China that can quickly escalate in very ugly ways that can destabilize the Global Economy.  Yet the market doesn't seem very concerned.  
While still elevated, the Volatility Index (VIX), at 12.35 is about as complacent as it's ever been – down from a brief spike into the 20s earlier in the year.  We've been discussing some long plays on VXX and VIX futures in our Member Chat Room but no portfolio positions yet as we've been burned before betting the VIX won't stay below 12 but above 10 is virtually a sure thing – so that's what we're looking to play as it drives lower.
The trade war is real but the market is not pricing it in.  Trump gave the whole $12.5Bn the Government is collecting from the first $50Bn in tariffs/taxes Trump imposed on US Consumers to the famers, so that their votes would not be harmed by his idiotic policies.  So you pay $12.5Bn more for Chinese products and that money goes to the farmers so they don't have to lower the price of the food you eat – isn't that great?  
Perhaps that's why Core PPI is up 0.3%, which is a 3.6% annual pace meaning that 10-year notes, even at 3%, are nowhere near keeping up with inflation.  China's PPI is up 4.6%, so the Trade Wars are biting on both ends yet the traders keep trading like this party ain't never gonna stop….   
Even though the S&P's price/earnings ratio has dropped to 18.8 times earnings thanks to Trump's policy of not taxing the rich while sticking it to the poor, that's still in the 88th percentile of all-time high ratios and, according to the Wall Street Journal, the median stock's p/e ratio is now in the 97th percentile – that's a measure you get when you remove the spectacular earnings of AAPL and a few others from the mix!  
Money managers are using the weakness among tech companies to urge clients to trim tech-heavy portfolios and put that money into the market's cheaper pockets. Wells Fargo Investment Institute, for instance, cut its view of tech stocks to "neutral" for the second half of the year and has a more favorable view on financial stocks. Inflows into tech-focused funds have slowed from earlier this year, and popular vehicles, like the Technology Select Sector SPDR fund, have been suffering redemptions some weeks. Investor outflows totaled nearly $300M for the tech fund in the past week, according to FactSet.
Some investors have been plowing that money into other asset classes, such as short-term government bonds, whose yields have jumped to their widest margin against the S&P 500's dividend yield in years (something we discussed in detail in yesterday's Live Trading Webinar). Others have been opting for more-defensive footing among equities, putting money into shares of financial firms, health-care companies and utilities, where valuations are more attractive.
Meanwhile, Musk is being investigated and Tesla (TSLA) is down about $365 so yesterday's short play is looking good already.  It's very hard to figure out which way the indexes are heading but we are taling the opportunity to scoop up Gasoline Futures (/RB) as they test the $2.01 line this morning in hopes we get a nice 0.10 pop ($4,200 per contract) like we did into the holiday weekend last August.  That was also a trade idea from yesterday's Live Trading Webinar.
​
​