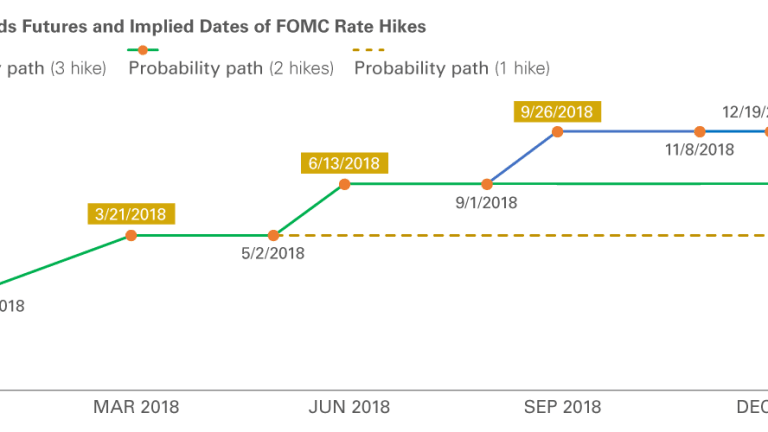 Thursday Thoughts – Powell Gives the Markets a lot to Digest
Once the rate-sensitive funds are done selling – the bargain-shoppers can step back in.
Wheeeee – such fun!
As we expected, the Fed raised rates because they had to (because they didn't listen to me and raise rates at the November meeting, when it would have had less impact) and the market freaked out and plowed lower but we decided to remain bullish because all that really happened is SOME people decided to sell and, since we have a very low-volume market – some people is all it takes to jam the market much lower. Once the rate-sensitive funds are done selling – the bargain-shoppers can step back in.
And what bargains there are! While I noted yesterday that the indexes are probably fairly valued as they are still propped up by the ridculous headline valuations of AMZN, TSLA, NFLX, any marijuana company… there are now hundreds of companies trading at ridiculous discounts to their fair valuation including Apple (AAPL) who made $60 BILLION in the last 4 quarters and has $240Bn in CASH!!! (including long-term investments) yet you can buy the whole company for $760Bn at $160 so $760Bn – CASH!!! is $520Bn/$60Bn = a price/earnings ratio of 8.666. That's pretty low!
Of course there has been a lot of rumors that IPhones aren't selling well etc and maybe they are down a bit but I was just at a dinner yesterday with a lot of people and someone gave the waiter a phone to take a group picture with and the waiter didn't know how to use it because it wasn't an IPhone and about 8 people shouted at the same time to the guy who's phone it was "Get an IPhone, for God's sake!" and then we started talking about how Andriods suck and how annoying it is to try to send things to people with Androids, etc….
18 out of 22 people at dinner had IPhones and that's in a wealthy part of Florida but my ordinary town in NJ (middle to upper-middle class) is probably 80% IPhones as well. Now, I'm sure it's different somewhere in America because, nationally, IOS (Apple's operating system) is only on 50% of the phones in the country but, as of April,82% of the teens in the US had IPhonesand that has grown by 60% since 2014. Also, what's the only store in your mall you KNOW is going to be crowded (if you have one) – the Apple store!
While other retailers are struggling, Apple has been setting new records year after year for retail sales with the average Apple Store generating $5,546 per square foot in revenues. Tiffany is #2 at $2,951 and they sell diamonds! Unlike diamonds, no one has been successful so far in making artificial IPhones that pass for the real thing so it's amazing to me that AAPL's stock is back at $160, $70 (30%) off it's peak. We are long APPL in our portfolios and we just made an even more bullish call in yesterday's Live Trading Webinar to buy back all our short calls and wait for the bounce but, as a new play on AAPL, I like the following and we're going to add it to our Options Opportunity Portfolio:
Sell 5 AAPL 2021 $150 puts for $19 ($9,500)
Buy 10 AAPL 2021 $150 calls for $34.50 ($34,500)
Sell 10 AAPL 2021 $200 calls for $15.50 ($15,500)
The net of this spread is $9,500 and it's a $50,000 spread that's $10,000 in the money at $160. On the downside, below $150 you may be assigned to own 500 shares of AAPL at $150 ($75,000) and, if AAPL is at $120, for example, you would be down $15,000 on the stock PLUS the $9,500 you spent on the spread (less whatever value remains on the long spread. Let's say, for argument's sake, that a $40 drop in AAPL would drop the value of your $150/200 spread to the value of the $190/240 spread – a reasonable assumption.
That would be $19/7.50 of $12.50 or $12,500 so, at $120 (down another 25%) it's reasonable to assume you would be out ($15,000 + $9,500 – $12,500) = $12,000 so it's not an unreasonable risk to take in a $100,000 portfolio and, of course, we don't think there's a snowball's chance in Hell AAPL will trade down to $120 – so we like the risk/reward profile of the trade very much!
On the plus side, if things work out, you will collect $50,000 if AAPL is over $200 in Jan of 2021 and the ordinary margin requirement for the spread is $10,774 so it's a margin-effient way to make up to $40,500 (426%) on cash in 2 years…
Apple may go lower still and the markets may go lower still – they certainly look very weak at the moment but unless AAPL has actually dropped back below $40Bn in profits (2014 levels), I certainly don't mind buying the company for $760Bn – especially when it comes with a $240Bn CASH!!! bonus. In fact, if a few of my wealthier readers would like to team up with me – I'd be very happy to put in a bid to buy the whole thing. With all that cash, we could turn it into an LBO play!
Typically, banks will lend 7x EBITDA for an acquisition but let's just use AAPL's bottom-line $60Bn, which means we can borrow $420Bn from our neignborhood S&L (I wonder if we get a free toaster with that?) and then we have AAPL's own $240Bn so we've covered $660Bn which means we'll need to come up with another $100Bn on our own – that's all…
Apparently, MSFT or GOOGL can come up with $100Bn if they want to and I don't mind partnering with them (50/50) on the buyout but someone please translate this article into Chinese and Hindu – as I'm sure there's someone out there who'd love to own Apple with me?!? Perhaps our pal Putin, who has been getting richer and richer and what better way to keep up with Trump's tweets than to manufacture the phone he holds in his tiny little hands?
Someone asked me yesterday if AAPL should be our Trade of the Year for 2019 and the reason AAPL lost to IBM in November was I felt that AAPL could actually go quite a bit lower than $170 but IBM was going to be harder to panic people out of below $120. I still remember pounding the table on AAPL in 2008 and 2009 as it languished around $75/share and that was before the 7:1 split so effectively $10.70 per current share and I STILL couldn't convince anyone to buy the whole company with me. I'm giving it another shot now that they are down to $160 again and we'll see if I have better luck this time.
As to the indexes, we're coming into what is effectively a 2-week holiday in the US with the markets officially closed next Tuesday for Christmas and the following Tuesday for New Years and Monday will be half a day but no one is actually going to work in Christmas Eve and then, between Christmas and New Years – good luck getting anyone to show up for that either! So the volume will be dead and we could drift lower but, officially, we do have new bounce lines off the lower lows so we'll be looking for:
Dow 27,000 to 23,000 is 4,000 points so 800-point bounces to 23,800 (weak) and 24,600(strong)
S&P 2,950 to 2,500 is 450 points so 90-point bounces to 2,590 (weak) and 2,680 (strong)
Nasdaq 7,700 to 6,350 is 1,350 points so 270-point bounces to 6,620 (weak) and 6,890(strong)
NYSE 13,200 to 11,300 is 2,100 points so 420-point bounces to 11,720 (weak) and 12,140(strong)
Russell 1,750 to 1,350 is 400 points so 80-point bounces to 1,430 (weak) and 1,510 (strong)
​
As you can see from our color-coding, we're at a very dangerous inflection point as those lows may begin to turn red and then we can begin to calculate the 20% drop lines, rather than the bounce lines, for our next set of targets. Those are Dow 21,600 (not far), S&P 2,360, Nasdaq 6,160, NYSE 10,560 and Russell 1,400 so we're already more than 20% down on the Russell and it's down 350 so a 70-point overshoot (1,330) is not a big deal but lower than that, with another index crossing below 20% – THAT would be a very negative sign!
We have, however, gotten more bullish for the moment as even a test of the 20% lines invites a 4% bounce so, when we're this close to 20% – the odds strongly favor playing for a move higher – even if we go lower first…