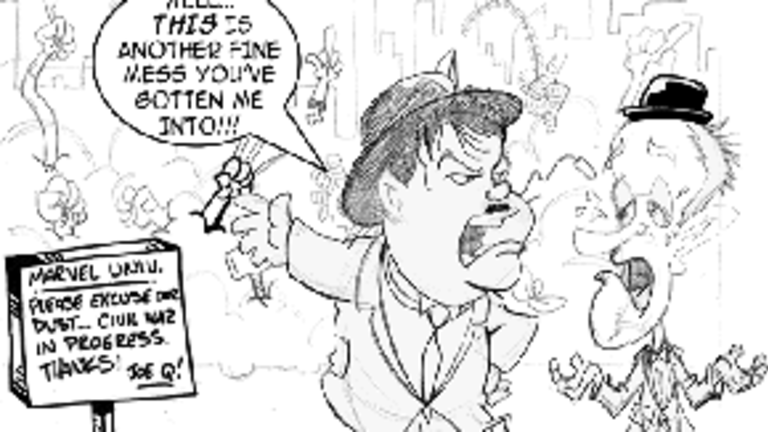 Thrilling Thursday – The View From the Top of the Market
Hubaei (center of the virus outbreak) has asked firms not to resume work until March 11th.
Everything is fine.
Hubaei (center of the virus outbreak) has asked firms not to resume work until March 11th.  It's Feb 20th so that's only 3 weeks from now – why should that concern anyone?  I'm sure things are fine.Chinese companies(as I predicted, thank you)have been unable to pay their workers, delaying paychecks and cutting salaries.  That's fine.  Shopping malls and restaurants are empty; amusement parks and theaters are closed; non-essential travel is all but forbidden.  Fine.  
"A week of unpaid leave is very painful," said Jason Lam, 32, who was furloughed from his job as a chef in a high-end restaurant in Hong Kong's Tsim Sha Tsui neighborhood. "I don't have enough income to cover my spending this month."
He's fine.  "The coronavirus may hit Chinese consumption harder than SARS 17 years ago," said Chang Shu, Chief Asia Economist for Bloomberg Intelligence. "And SARS walloped consumption."  That's fine.  Without full, regular paychecks and few places to spend them these days anyway, Chinese consumers could cut spending in some categories to zero, said Shu. And it may not bounce back: For example, she said, if you skip your daily latte for two months, you're not likely to make up for those missed drinks later in the year.  SBUX is fine.  
Rick Zeng, deputy general manager at the Lionsgate theme park in Zhuhai, said they've been shut down on government orders since the end of January. Starting next week, some staff will need to go on unpaid leave.  In the southeastern city of Fuzhou, hotel manager Robert Zhang said all but two or three of his 100 rooms are vacant on average nights. Two-thirds of the employees are effectively on furlough, getting some salary but not as much as they're used to.  They're fine. 
South Korea's number of virus cases went from 31 yesterday to 104 this morning (up 235% in a day) and they had their first death from the virus this morning.  OK, he might not be fine…Infections in Japan have doubled in the past week to 84not counting, of course the cruise ship where hundreds were infected DURING quarantine.  They're fine.  
While the U.S. and others placed a 14-day quarantine on repatriated nationals from the Diamond Princess, about 500 people cleared by Japan left the ship Wednesday to go about their normal lives, and were told to call authorities if they feel ill.  That will work out fine.
A passenger takes a taxi after after disembarking from the Diamond Princess cruise ship, Feb. 19.
Photographer: Kazuhiro Nogi/AFP via Getty Images
A Bloomberg survey released Wednesday showed that economists see Japan falling into recession as the coronavirus pummels an economy already weakened by a sales tax hike.  "The coronavirus will probably cause a substantial amount of economic damage in Japan," Richard Koo, chief economist at Nomura Research Institute, wrote in a report.  Fortunately, we have the upcoming 2020 Olympics in Tokyo to distract us.  Isn't that fine?
Obviously, Japan is under a lot of pressure to act like the virus isn't happening.  The Olympics are a huge investment and if people panic and don't book flights or hotels and tickets go unsold – the whole thing can turn into an economic disaster in a country that is currently borrowing 4% of their GDP ($200Bn) just to pay their bills.  Japan simply can't afford to prevent a viral outbreak – so they ignore it.
28 of the new cases in Singapore were caused by one person who went to church earlier this week and, so far, 27 other people are infected – but the week isn't over yet.  1,000 people were at the church so I'll take the over on that bet!
Sorry to go on about the virus but the markets are still ignoring it and this is kind of my job, so bear with me (oops, don't say "bear"!).  I'm sure everything will be fine, like our Nasdaq (/NQ) shorts that were down quite a lot yesterday are now almost green and our S&P (/ES) shorts are green too but no good sell-off goes unrallied in this market – so I'm sure things will be… fine.