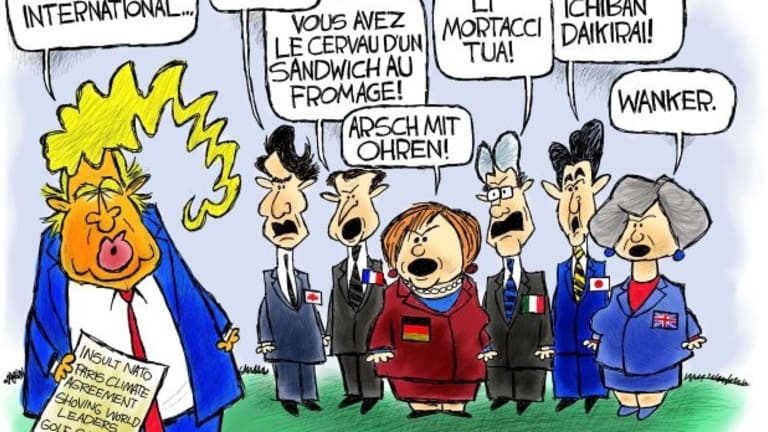 Thrilling Thursday: Senate Overrides Trump Tariffs – Everything is Awesome Again
Everyone is suddenly very brave when Trump is on the other side of the Atlantic…
88 to 11.
Just 11 Senators backed President Trump's call to impose additional tariffs on China and Europe and, in fact,the Senate passed a resolution calling on Trump to get Congressional approval before using "national security" as a reason for imposing tariffs.  This marks the first time Congress has actually taken a serious step to reign in Trump's powers but, watching Trump's speech at the NATO summit this morning – I don't think anyone told him what happened.  On Tuesday the Senate voted 97-2 in favor of a pro-NATO resolution and this morning Trump acted like it was his idea to keep the US in NATO – of course.    
"Let's be clear, this is a rebuke of the President's abuse of trade authority," said Sen. Jeff Flake, an Arizona Republican and a frequent and vocal critic of Trump's policies. "Can you imagine being Canada and being told your steel and aluminum exports to the United States (are) a national security threat?"  The tariffs measure was written by Sen. Bob Corker, a retiring Tennessee Republican who chairs the Foreign Relations Committee, and Sen. Pat Toomey, a Pennsylvania Republican and a free-trader from a steel producing state.  Everyone is suddenly very brave when Trump is on the other side of the Atlantic…   
The NATO talks have been well summed up in this one image of Trump looking in the opposite direction of everyone else in the photo leading people to speculate what it is he might have been distracted by during the group photo.
Was it the Goodyear Blimp? John Kelly jangling a set of keys? Another solar eclipse? A Space Force sighting? Someone carrying a Quarter Pounder? The skywriter he hired to spell out "OBAMA SUCKS"? The flaming wreckage of America's proud, hard-earned spot as the leader of the international community? The dot emanating from a laser pointer surreptitiously manipulated by Angela Merkel, as the others stifle their giggles and try mightily not to give up the joke?
None of the above as it turns out it was simply the President, already bored with meeting with his former allies, was looking forward to heading off to meet his idol/handler next week.  In fact, Trump has mentioned Putin over two dozen times at NATO, more times than he's referred to all of his "allies" combined – and a lot more positively too!  
Trump is currently being investigated in nine (9) separate Russia-related scandalsand the last person he should be allowed to speak to is Vladimir Putin yet Trump has insisted on a private, off-the-record meeting with the guy who may have rigged the US elections in order to put Trump in power.  Sure, that's fine, right?
There are simply so many outrageous things going on that it's really hard to get worked up about any single one.  It's like having cancer and diabetes and kidney failure and the doctor comes in to tell you that your blood pressure is too high – at a certain point, it just doesn't matter anymore.  That's how things are in the news now, and that's how the markets manage to "ignore and soar" – no matter what awful thing happens on the World Stage.  We've survived all this, why worry about that?
We also get along because no one takes anything the President of the United States says or does seriously.  It's like some huge joke that's happening to someone else yet the things Trump does do matter and they will have lasting, long-term effects on this country – we just haven't started to experience them yet and, since the markets are a very short-term pricing mechanism – traders are simply ignoring things that haven't happened yet.  
As suggested by Buffett, we are ignoring the noise and playing the channel – shorting at the top and going long at the bottom.  Last week we pressed our hedges while the market was topping out but we haven't pulled our long bets as the market is still technically bullish and there's no sense in going negative until that changes.  On the other hand, the NYSE is still below it's Must Hold Line (12,800) at 12,681 and we're not ready to get more bullish until we're back in that zone so this morning I'm adding some Dow (/YM) shorts at 24,875 and we'll see how those play out.  Stops would be 24,900 or 2,790 on /ES (S&P 500) or 1,695 on the Russell (/RTY).  For the record, the Nasdaq is at 7,293 and 7,295 would be a stop but the Nas is too crazy to use as an indicator this week, though SQQQ is a primary hedge we're using.
We also hedge our hedges, of course.  From our Morning Report of June 12th, I had said:
The Dow and the S&P were higher in January but the Russell is also making new highs at 1,680 and 1,700 would be up 10% since May 1st (1,550) and again – that's crazy!  What did the markets do in the past 30 days to gain 10% in value?  10% a month is a 120% a year pace and we'll all soon be Billionaires at that rate of return so you can bet it's going to continue – but it's very unlikely to…
Of course the market did gain about 140% between April of 1999 and March of 2000 so it's not like it can't possibly happen.  Then it lost 80% over the next 8 months but let's not dwell on the negatives, right?  Like now, the time leading up to April of 1999 had been generally positive and the markets just entered a brand new phase of crazy as we broke over the 2,000 line on the Nasdaq, triggering an epic run*.*

How do you make money betting on a run like that? Well, you can simply buy something like the Nasdaq ETF (QQQ) 2020 $220 calls for $2 as QQQ is currently $175 so doubling from here is $350 and that would make those calls worth $130 for a 65x gain so, if you think you may be too bearish in a $150,000 portfolio, you can buy $2,000 worth of QQQQ 2020 $220 calls (10) and, if the Nasdaq doubles you'll have about a $130,000 gain.  See – you can more than double your portfolio while risking just $2,000 so it's not like you need to pay 250 times earnings for Netflix (NFLX) at $362 for fear of missing out.
We sure haven't missed anything yet as the QQQ 2020 $220 calls are only $2.77 up just 38% for the month with a gain of $770 on 10 of them but it's enough to pay to roll our larger downside hedges – and that's all we ever needed it to do.  As I noted at the time, there's no reason to fear missing out on a market rally when it's so easy to make massive returns betting on them using a little bit of leverage.  30 days ago, QQQ opened at 175.15 and yesterday it closed at 176.42 so up 1.27 is 0.72% and our hedge made 38% so 50x what the index made and that's why we have NO FEAR of missing out! 
Meanwhile,as noted in yesterday's morning report, where we reviewed some of our Top Trade picks, there are still plenty of VALUE stocks to pick and good, solid, conservative ways to play them that have very little risk but potentially very large rewards.  Our 5 Member Portfolios are full of those kinds of plays and next week we will do our 2nd Half Reviews and see how well things are tracking as 2018 moves into the home stretch.
​
​