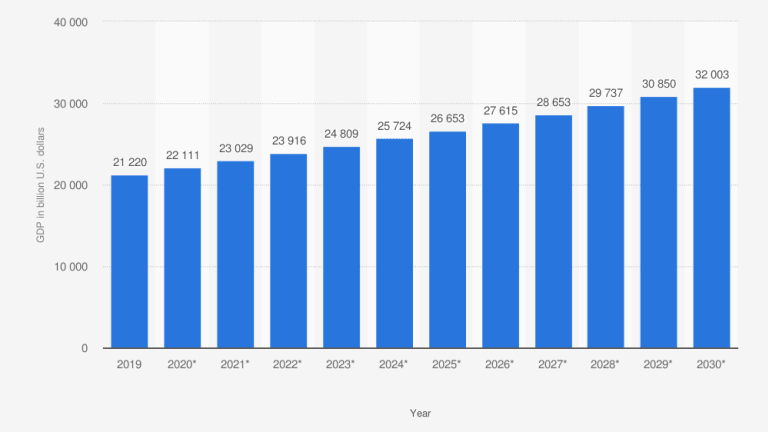 Thrilling Thursday – Learning to Love the Stimulus
Up and up we go.
I have to tell you, Biden's "restrained" $2.3Tn (it gets bigger by the hour) Infrastructure Bill really hit the sweet spot for the US economy. It's "only" about $300Bn a year but it will actuall be paid for by our beloved Corporate Citizens, who will pay 7% more taxes than they aren't paying now. THAT is how you grow an economy properly and this year, we'll grow 6%, to $22Tn and let's say we grow "just" 4% for the next 7 years, that's $29Tn and if we "only" add $1Tn of debt each year, that would "only" be $35Tn.
35/29 is 120% Debt to GDP vs our current 28/20.5 = 136% so, IN THEORY, Biden's current plan is going to shrink our Debt/GDP ration while growing the economy 25%, bringing tax collections up by about $1Tn per year – enough to cover the inflationary boost caused by the rising GDP.
As long as we have no emergencies and nothing else needs to be spent – things should be getting better… Unfortunately, that's already baked into the marekt forecasts so it's a fragile rally but a rally nonetheless – as long as all the news stays good. The news stays good for Pfizer, who have found their vaccine remains 91.3% effective after 6 months from their Phase 3 Trial and that's good news for all of us but mostly for PFE, who will have to give us Covid booster shots the way we get flu shots – annually.
Our PFE trade is "only" up $1,745 (2,181%) since our net $80 entry back on October 7th (see me discussing the trade on BNN's Money Talk) and it's a $7,000 spread that's almost at goal ($37) but you can still buy it for net $1,525 – they are simply giving this money away! That's a $5,475 (359%) profit potential from here if PFE can simply get over $37 by Jan of 2023. Those are the kind of very simple trades we like to have in our Money Talk Portfolio, which is up 50% since that October show:
The only move we made since October was adding Intel (INTC), our Trade of the Year, on the December show – and that one is already at net $13,050 from our $2,075 entry – a gain of 628% on cash in less than 4 months! Our obligation is to buy 1,000 shares of INTC at $45 and I bet now you know what I mean when I say sometimes I'd rather the stock goes down than up as we'd LOVE to own 1,000 shares of Intel for $45 but that ship has, apparently, sailed and we'll have to content ourselves with a $22,925 gain (1,105%) if the stock stays over $55. Aren't options fun?
That trade will "only" make $11,950 (91.5%) if INTC holds $55 into Jan, 2023 and it's sitting right here in front of you to make but, at this point, it's a throw-away trade for our Members, who are used to much more exciting returns – especially from our Trades of the Year, right?
Yesterday, in our Live Trading Webinar, we decided to look at some of our favorite Mortgage REITs again and we'll be adding those plays in today's Live Member Chat Room – so join us there to get in on the ground floor of some of our new trades.