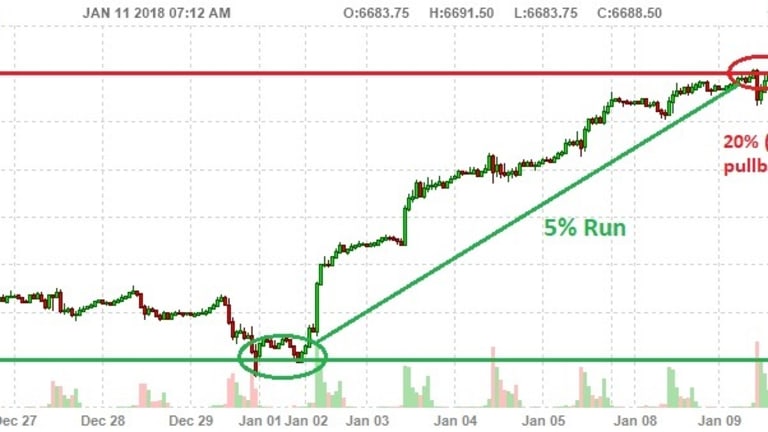 Thrill-Ride Thursday – Markets Right Back on Top
We waited all year for the markets to pull back and all we got was a lousy 50-point correction?
What pullback?
We waited all year for the markets to pull back and all we got was a lousy 50-point correction? This market is completely nuts and this morning the Futures already have us back at the 6,700 line on the Nasdaq (/NQ) along with 25,400 on the Dow (/YM), 2,756 on the S&P (/ES) and 1,565 on the Russell (/TF) while Oil (/CL) is testing $64 despite disappointing demand numbers in yesterday's inventory report.
Facts don't matter in this market – it's all about the momentum at this point and, tempting though it may be, we're not placing many bets against it though shorting /NQ Futures at 6,700 with tight stops above is a no-brainer – as it limits your losses but not your gains (see yesterday's Report). We took a poke short in yesterday's Live Trading Webinar but then decided long was a better play after losing $105 but now we're done with those and flipping short at the same(ish) levels we shorted on Tuesday afternoon.
​
We saw how quickly gains could evaportate yesterday but, if those weak retrace lines keep holding up, we may be consolidating for a breakout to new highs, rather than correcting from our New Year's rally. Yesterday's strong 10-year note auction alleviated fears in the bond market but that may have been because we sold $20Bn in debt at 2.6%, the highest level since last March. Today we sell $12Bn of 30-year notes at 1pm and we'll see how that goes.
One thing everyone seems to be ignorning is a warning from Moody's that Trump's tax plan has put the United States on Negative Credit Watch as they see it as detrimental to our economy overall, with at least $1.5Tn in additional deficits over the next 10 years (in addition to the $8Tn deficit that was already modeled in). According to Moody's:
"Any boost to economic growth from the new US tax law will be modest and depend on how businesses and individuals deploy tax savings;growth unlikely to offset negative impact on government deficits*."
Additionally, the **contribution of tax cuts to aggregate growth will be modest**, around one-tenth of a percentage point of GDP.*
​
​
In other words, everything Trump and the GOP promised you about tax cuts it total BS and it is, in fact, just a $1.5Tn giveawy to the Top 1%, which just so happens to include Trump and his family. But deficits don't matter when Republicans are in charge – the Democrats will pay the bill next time they are in power (hopefully by November) until then, we can contnue to party like it's 1999!
​
The really scary line on this chart, the one that destroys America and our grandchildren's futures, is the blue line projection of Federal Interest Payments as a percentage of Revenue, which will rise from the current 7% all the way to 22% in 2027 – and that's based on conservative rate assumptions. Debt rises from 80% of the GDP ($16Tn) to $102% of the GDP, which is also projected to be up 50% by then ($31Tn) by then so we're talking $32Tn in debt 10 years from now thanks to Trump – adding $12Tn (60%) to our total national debt to date.
The solution for rich people is very simple – we leave! This debt is going to be unpayable and the US will either default and turn into Greece or we'll have to undergo massive austerity – and turn into Greece. Either way – it's time to include abandoning this country in your long-range planning because these are the best-case numbers – you don't even want to THINK about the worst-case. And, keep in mind, this is without allowing for a crisis of some sort that forces massive increases in spending – like Global Warming – thank goodness that's not real, right?
​
Still, these are long-term problems and not likely to affect the current rally. We'll keep an eye on the bond rates but then it's earnings season starting tomorrow with key bank earnings and a fun way to play for a miss there is to play the Ultra-Short Financial ETF (FAZ), which is way down at $11.03 this morning as no one seems able to imagine how banks can disappoint us in 2018, which reminds me of people's attitude in 2008 as well.
In 2008 we made a fortune shorting the Ultra-Long Financial ETF (FAS) but that's a more dangerous play for another day. With FAZ, we can structure a not-too-risky bull call spread that will pay us 50% in 36 days if banks disappoint:
Buy 20 FAZ Feb $10 calls for $1.10
Sell 20 FAZ Feb $11 calls for 0.45
This no-margin spread nets 0.65 on the $1 spread that's 100% in the money to start so anything but a bullish reaction to bank earnings should give us an 0.35 (53.8%) gain at February expirations (16th). The outlay on this trade is $1,300 and it pays back $2,000 if all goes well and we don't lose money until FAZ is below $10.65. You don't need to make complicated or risky trades to make fantastic returns with options spreads and this one doesn't even require any margin! We will add it to our Options Opportunity Portfolio (OOP) and see how it goes.
​
We can also take advantage of the dip in the Dollar today to show a little faith in our own currency. I like /DX at 91.75 – it held up nicely the other day and gave us a good run – so why not double-dip and see how it goes? When you see a channel that keeps repeating itself in the Futures – play it! As with any good Futures entry, the key is to have a good stopping line and, clearly, 91.70 is a break-point where we could take a quick loss and wait for the next cross over to play again.
In good news this morning, WalMart (WMT) is rasin their base wage to $11/hr, a $300M increase in employment costs that will buy them a lot more than that in good PR and most of that money will just get spent right back in the store because – where else are you going to shop if you earn $11 an hour? Still, it's nice and hopefully it's a trend that will lead to higher wages and form a good base our economy can grow on.
Unfortunately, on the other side of the coin, Jack in the Box (JACK) CEO, Leonard Comma, says the are considering replacing their cashiers with robots rather than pay higher wages. You can already see similar systems in testing phases at McDonald's (MCD) and Wendy's (WEN) locations with both of those chains targeting 20% of their stores for automation in 2018. If this experiment does well – expect very few fast food jobs by 2020.
And drones don't have to fly – Pizza Hut (YUM) is planning to send this self-driving delivery car to your door:
​
​