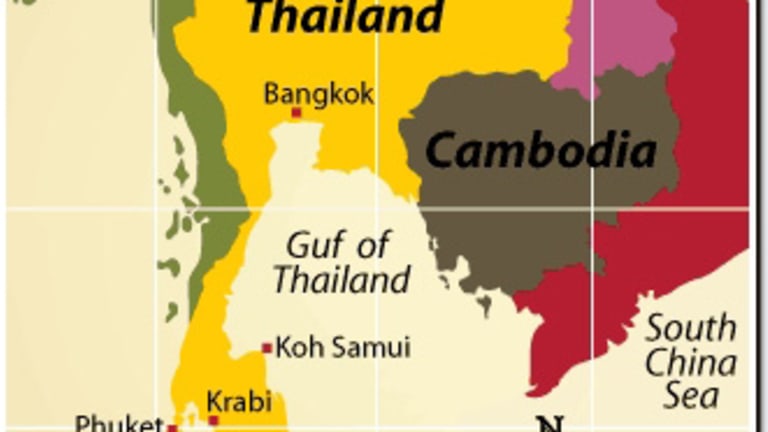 The Post-Christmas Post
Greetings from Thailand! I'm on the other side of the World working to finalize a deal for PSW Investments and two...
Greetings from Thailand!
I'm on the other side of the World working to finalize a deal for PSW Investments and two of our Investment Projects:  Hemp Boca (a CBD company) and New Age (manufacturer ofJade House GeneticsTHC products) to help create a Hemp and Cannabis Farming Industry in Thailand.  It's a huge project and I just got here this morning, which was last night for most of you and now it's 8am, EST and 8pm in Thailand and I already over-napped from trying to be up at 7.
Also, I have to be up at 3am to catch a 5am flight north from Bangkok up to farm country and that's only 7 hours from now and then I have 2 very full days of meetings so I'm going to be realistic and say that this is the post that is going to cover both Thursday and Friday's markets and I will try to catch up in the Live Member Chat Room but, for the next week – your "live" and my "live" are happening at very different times of day – so bear with me…
Not much has happened since Christmas Eve and the time between Christmas and New Year's is notoriously the slowest market week of the year.  Only 20M shares traded on the S&P Index (SPY) on Tuesday, the lowest level of the year, so we can't draw any conclusions from the trading action, which has generally been flat since Dec 20th at 3,230 on the SPX (/ES Futures).
Before that we were flat since the 16th and, before that, flat since the 9th so it's been 3 flat weeks in a row on the S&P 500 yet we've gained 100 points (3%) thanks to one big surge on the 12th and another one on the 20th.  Other than that – flat!  That's an entire month's "rally" that actually has very little support should the markets decide to pull back once the volume returns in a couple of weeks. 
https://finviz.com/fut_chart.ashx?t=ES&cot=138741,13874A&p=h1&rev=637129449161567752
So we're still approaching the market with a bit of caution and Asia was pretty flat today, waiting for the US to open and now Europe is flat too – so it's all up to US markets and what kind of mood they are in in about an hour.   It's going to be very difficult for stocks to keep up the 2019 pace – especially when you consider that Apple (AAPL), for example, begain 2019 at $150/share and is ending it at $284, which is up $134 (90%) and each point of a Dow component moves the index 8.5 points so Apple alone bumped the Dow 1,139 points or over 20% of the 5,500 points (24%) the index added for the year.
AAPL is also 12% of the Nasdaq, along with Microsoft (MSFT), Amazon (AMZN) and Alphabet (GOOG) and, if you throw in Facebook (FB), you have 5 company making up 46% of the entire index – so why do the rest matter at all?  For AAPL to gain 10% last year meant the stock had to add $60Bn in value but now, for AAPL to gain 10% in 2020 – it will have to add $120Bn in value – that's getting to be a tall order and if MSFT, AMZN and GOOG want to keep up – that's getting close to $1Tn that has to be justified. just in those 4 stocks, to get another 10% gain out of the Nadaq.
Keep in mind that we're asking this of a GDP that has grown and is forecast to grow less than 2% in 2019 and 2020.  As much as I love AAPL (it was our Stock of the Year selection for 2013, 2014 and 2015), we thought $135 was well-valued in 2015 and did not pick it again fro 2016, even as AAPL faded back below $100 and they were flat that year (WPM was our pick) but then exploded higher to $175 in 2017 and then $225 during 2018.
AAPL made $71Bn of Operating Profit in 2015 and this year (their year ended in Sept) they made $64Bn in operating profits – that's a lot less!  NET Profit, however, is up from $53Bn to $55Bn – almost 5% yet AAPL is almost 200% higher than it was in 2015 so I feel we were VERY justified in picking sub-$100 AAPL as our Stock of the Year 3 years in a row but also – don't you think maybe we're over-valuing things a bit in 2019?  In the very least, here's an example of traders paying 200% more for $1 of profit than they did just 4 years ago – can that pace continue?
​
And you could almost justify paying what is now $1.3 TRILLION (22x) for AAPL's $55Bn in Net Profits because AAPL is really, really cool but is that enough to justify an 80% rise in the ENTIRE 2,000+ stock Nasdaq?  I could, of course, give you just under 2,000 examples where that is clearly the case – AAPL is an exception but not because their performance grew but because they were so ridiculously undervalued coming into 2015.  Finding stocks at that kind of value (below 10x earnings with solid growth) as 2019 draws to a close is almost impossible.  
At this point, we're just letting the year play out and we'll see how things start off 2020 next week and, if things haven't collapsed by Jan 6th, when I'm back at the Command Center – we will have to rummage through the rest of the Nasdaq and the entire NYSE to find a few more bargain stocks.  Meanwhile, we have our Secret Santa's Inflation Hedges for 2020 to play with because, if 2020 is going to be like 2019 – Inflation cannot be far behind.