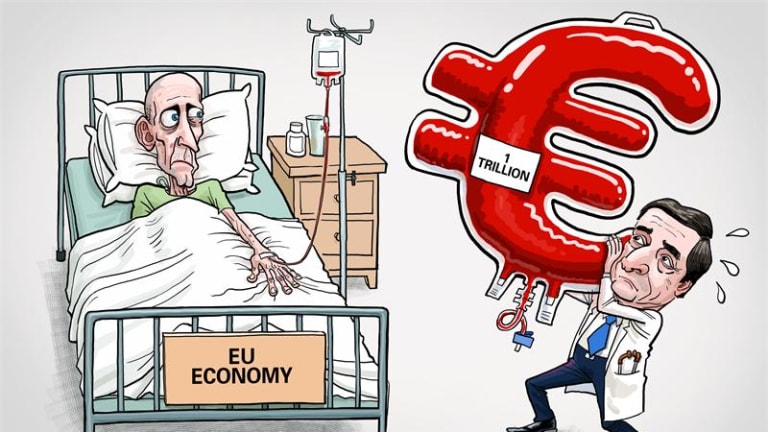 TGIF – The ECB Takes a Turn at the Stimulus Wheel
More free money! That's what's got the markets rebounding this morning as the European Central Bank says they are...
More free money!
That's what's got the markets rebounding this morning as the European Central Bank says they are preparing a "very strong package" of stimulus measures for its next policy meeting in September.Speaking in his offices in Finland's capital on Thursday, Olli Rehn said the slowing global economy would see the ECB rolling out fresh stimulus measures that should include "substantial and sufficient" bond purchases as well as cuts to the bank's key interest rate.
"It's important that we come up with a significant and impactful policy package in September.  When you're working with financial markets, it's often better to overshoot than undershoot, and better to have a very strong package of policy measures than to tinker."
ECB President Mario Draghi last month raised the prospect of fresh ECB action in September, but the new comments from Mr. Rehn indicate that the level of stimulus is likely to be at the upper end of analysts' expectations.  By raising market expectations for the ECB's September meeting, Mr Rehn's comments could put pressure on any ECB policy makers critical of a large stimulus package to fall into line.
​
"In my view, there is a certain weakening of the economic outlook for Europe in the last couple of months," Mr. Rehn said. That worsening economic backdrop "justifies taking further action in monetary policy, as we intend to do in September," Mr. Rehn said.  Investors are now expecting the ECB to cut their rate to MINUS 0.7% and keep them that low through 2024.  Additionally, the ECB is expected to expand it's already massive bond-buying program – all very bullish for the market but it brings to mind the phrase "desperate times call for desperate measures." 
As we expected, the Central Banksters are teriffied to allow even a 10% correction and the moment the Euro Stoxx 50 Index fell to 3,240 (down 10% from 3,600) the ECB Governors start talking stimulus – just like our own Fed Heads tend to do.  Next week we have the Fed Conference in Jackson Hole and we expected action then but this quick save by the ECB is a surprise.
​
Still, the question is how much of a boost is stimulus talk – or even actual stimulus – going to give us and what kind of madness is it that you have to PAY the ECB to have them hold your money now?  This is radical economics being tried for the first time on a global scale and, just yesterday, we saw GE being hammered because holding $35Bn in anticipation of $2.8Bn a year in expenses was considered to be nowhere near enough to fund a pension plan in this low-rate environment.  
That's the same hole that is being blown in all pension plans including Social Security and Medicare, which can't generate the bond revenues they need to stay solvent – not to mention the savings put aside from the retirees themselves.  No wonder people are running into the markets – it's the only place left that has returns that keep pace with inflation!
​
Yes stocks are clearly overpriced and overbought – but they are also the only game in town worth playing and Europeans, especially, HAVE to find something to do with their money because, even if they don't give it to the ECB and pay a 0.7% toll, the ECB's insane stimulus policies are debasing the Euros they have under their matress anyway – at a reat of 5% per year!
This is what Donald Trump wants our Federal Reserve to start doing – to devalue the Dollar in order to make the economy LOOK better simply because it will then cost more Dollars to buy things but the catch is that it's a stealth tax on your ENTIRE WEALTH – every single Dollar you own will start losing it's buying power and your effective wages will go down and your savings will lose their value – that's an "experiment" we can't afford! 
Meanwhile, we'll see what kind of bounces we get – watch the 200-day moving average at 12,522 on the NYSE for a sign the stimulus action is working and God help us all if it isn't because this is probably the last gasp for the Central Banksters as they have literally pulled every trick in the book to boost the Global economy and it's difficult to see where they'd get fresh ammunition to fight off another recessionary turn.
​
Have a great weekend,