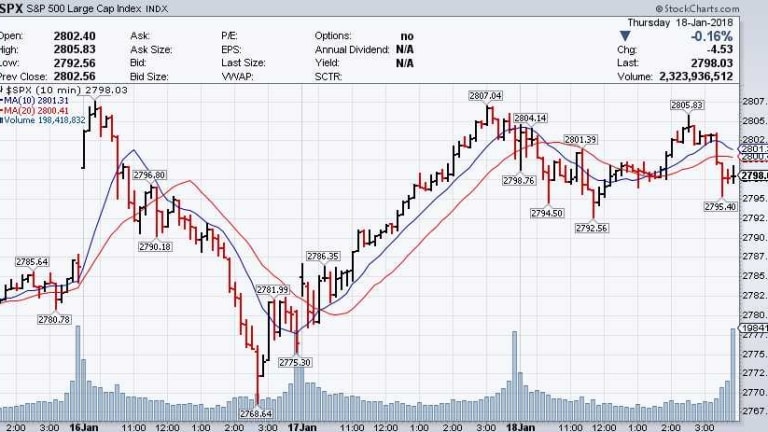 TGIF – Market Rally Will Finally Rest Over the Weekend
With these wild swings, there's money to be made on the long and the short side of the market.
Wow, what a week!
With these wild swings, there's money to be made on the long and the short side of the market.  This morning, I called for shorting Nasdaq Futures (/NQ)at 6,850 and we just cashed out our Gasoline (/RB) shorts with a nice profit and now we're shorting Oil (/CL) from $63.60, for reasons I will get to shortly (get it? "shortly"!).  Hey, it's Friday, cut me some slack…
We caught nice dips yesterday with our Morning Report's call to short the indexes saying:
Up and up the markets go but we see shorting opportunities this morning IF we cross back below Dow(/YM)26,100, S&P(/ES)2,800, Nasdaq(/NQ)6,810 and Russell(/TF)1,585.  The rule of thumb for shorting the futures is wait for 2 to cross below and then pick the next one that crosses and keep very tight stops back above the line and if ANY of the indexes go back above their line – kill the trade and wait for the next set-up*.*
​
​
As you can see, any of the indexes made nice gains – and that's PER CONTRACT on the Futures.  It's not as easy to make the call on a Friday morning but, as I noted, we did short the Nasdaq and we'll be adding a Nasdaq hedge to our Short-Term Portfolio to help lock in some of the gains we've made in the Long-Term Portfolio.  Our primary hedge in the Options Opportunity Portfolio is the Russell, using an Ultra-Short (TZA) spread to lock in those gains. 
​
Getting back to Gasoline (/RB), hopefully we won't regret taking a quick $5,000 gain off the table this morning at $1.865 (we still have 2 short at $1.87)but, as I often say to our Members, if you can't be satisfied making $5,000 daily gains ($1M/yr pace) – then maybe you need to play roulette instead of trading stocks.  
These are not, by the way, portfolio trades.  Our portfolios are managed to generate steady, sensible, reliable, long-term returns.  Futures trading is what we do for fun with a very tiny portion of our CASH!!! while we wait for our long-term positions to mature.  Unfortunately, since they move all the time and are short-term trades – we tend to talk about them more while our long-term trades are generally "set and forget."  For example, here's the short puts we've picked up this month in our Long-Term Portfolio:
​
​
It's only been two weeks but already our short puts are up net $2,750, adding half a percent to our portfolio simply because we are promising to buy the above stocks – if they get significantly cheaper.  If all goes well, we will either get to buy the stocks cheaply when the market finally sells off or, if it doesn't – we will keep the $38,700 which will add almost 8% to our Portfolio over 2 years.  It's almost like we can't lose!  This is a strategy we discussed in detail in: "2018 Tuesday – How we will be Building our New $100,000 Portfolios".  
Keep in mind, the above trades will make an additional $35,950 from here so of course they are good for new trades – even if you missed the original calls.  From that same Report, we had two long-term trades – one that went well and one that did not so let's look at them:
Sell 10 AAPL 2020 $140 puts for $9.50 ($9,500)
Buy 10 AAPL 2020 $150 calls for $35 ($35,000)
Sell 10 AAPL 2020 $180 calls for $20.50 ($20,500)
​
​
Apple (AAPL) has blasted higher and already the short $140 puts have fallen to $7.65 ($7,650) and the $150/180 bull call spread is now $16 ($16,000) for net $8,350, which isup $3,350 (67%) in two weeks.  See, you don't need to day trade to make fast returns – a solid long-term investment, when you time it right, will do just as well as a short-term trade, when you time it right.  The difference is, when you don't time it right, the long-term trade has plenty of time to recover and can be adjusted whille the short-term bets expire worthless, like losing tickets at the track.
Speaking of adjustments, our other trade idea may need some:
Buy 1,000 shares of F for $12.49 ($12,490)
Sell 10 2020 F $12 calls for $1.50 ($1,500)
Sell 10 2020 F $12 puts for $1.50 ($1,500)
​
​
It should be noted that we didn't actually make the Ford (F) trade, as we decided to wait for a pullback so NOW we are entering it but, assuming we went with the trade idea from the 2nd, the stock is down to $12.07 ($12,070) and the $12 calls are now $1.40 ($1,400) and the $12 puts are $1.90 ($1,900) so net $8,770 is down $720 (7.5%) and not really worth adjusting.  We still like Ford for the long-term and they do also pay a 0.60 dividend and, even if we are assigned another 1,000 shares at $12, our original cost was net $9.49 so we'd have 2,000 shares at an average of $10.74, less $1.20 in dividens we'll collect over two year puts us in at $9.54 and we'd LOVE to own 2,000 shares of F at $9.54 so why would we worry about $12?
Being a long-term investor doesn't just make you money – it makes you happy as well.  There is so much less stress to managing long-term positions and they make just as much money over time as the most fanatical day-traders – without all the craziness.  I know some of you are adreneline junkies who love the craziness but, as I said, we amuse ourselves day-trading futures but we do it knowing we have good, solid, long-term positions that are constantly generating profits (through premium sales) – no matter how our day-trading goes*.* 
We are not options strategists, we are fundamental investors who use options to leverage and to hedge our positions.  Our goal is to make trades where the reward is 2-3 times the risk and, if we keep our allocations consistent, then we only need to be right half the time to do very, very well.  It's a simple enough strategy, but it works very well so we don't see any need to change it.
We should get another chance to short gasoline and short the Futures at yesterday's lines when the markets pop at the open (it's a Friday thing).  This is very dangerous into the weekend but I laid out our reasons for shorting the indexes yesterday and, this morning, I said to our Members (at 6:27am) re. shorting Gasoline (/RB) at $1.875:
/RB hit $1.865 but back to $1.875 at the moment,/CLat $63.60 and I'm liking that short now with a stop over $63.75.  There was a note from IEA that US could become the World's largest producer of oil this year and also this:
​
​
​
​
UPDATE: U.S.OilOutput Expected to Surpass Saudi Arabia, Rivaling Russia for Top Spot…
Iraq's Crude Oil Production Capacity Could Hit 5 MMbpd
​
​
And we already know the apparent US gasoline demand is driven by our exports:
​
I don't know, I guess I put too much faith in reality coming into play at some point…
If they keep giving us these set-ups, we'll keep buying the shorts!  
​
For the Futures-challenged, you can play gasoline short with the Gasoline ETF (UGA), which is at $33.42 and, very simply, we can pick up the Feb $35 puts for $2, which has just 0.42 in premium betting UGA goes lower over the next 30 days.  A dip back to $32 should give you a 0.75 gain (32.5%) very quickly and, if UGA goes over $34, then it's a loser and we cut and run with, hopefully, an 0.40 (20%) loss or less.  That's 1.5x reward to a 1x risk BUT, UGA could go much lower so the potential reward is much higher than the risk if we stop out at $1.60.
Have a great weekend,
​