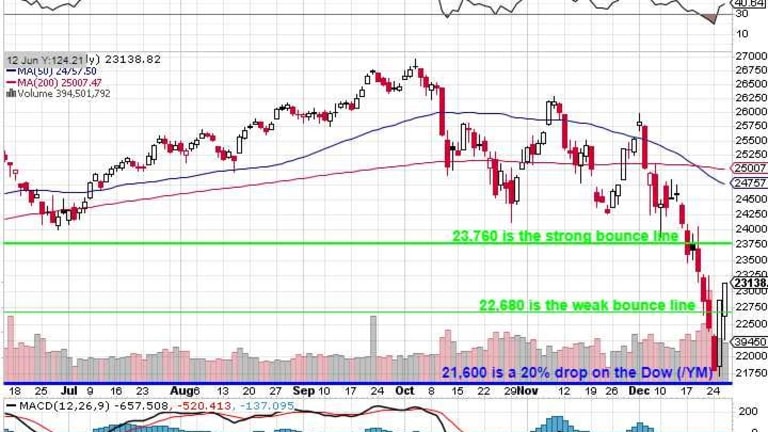 TGIF! Have the Markets Found a Bottom or are we Waiting for the Big One?
Phil - "It might be time to add more hedges..."
Nice bounce.
It should, I suppose, be pointed out that, in our Wednesday Morning Report, we predicted the Dow would bounce to 1,080 points to 22,680 but that would be a Weak Bounce and that we were not going to be impressed until we saw the Strong Bounce Line holding at 23,760.  Though it was an all-time record move, the Dow finished up EXACTLY 1,080 points that day.  Most pundits, if they made a call like that, would be interviewed for the rest of their lives about it and put on the President's Advisory Committee but my response to questions about it is "TA is for morons" so it doesn't make for a good interview.
The 5% Rule™ is not TA, it is simply math that is based on our understanding of how computer algorithms tend to trade and, since 90% of all trading is done by algorithms – it's pretty darned accurate!  In addition to our 5% Rule™, we have our Tugboat Theory™, which we went over in this morning's Live Member Chat Room.  While we did flip much more bullish in our Options Opportunity Portfolio on Wednesday, we're still waiting to confirm the strong bounce lines before getting more aggressive in our Long-Term Portfolio.  The lines we are looking for remain:
Dow 27,000 to 21,600 is 5,400 points so 1,080-point bounces to 22,680 (weak) and 23,760 (strong) 
S&P 2,950 to 2,360 is 590 points so 120-point bounces to 2,480 (weak) and 2,600 (strong) 
Nasdaq 7,700 to 6,160 is 1,540 points so 300-point bounces to 6,460 (weak) and 6,760 (strong) 
NYSE 13,200 to 10,560 is 2,640 points so 528-point bounces to 11,058 (weak) and 11,586 (strong) 
Russell 1,750 to 1,400 is 350 points so 70-point bounces to 1,470 (weak) and 1,540 (strong)
We've made some progress but, as you can see from all the red, nothing very exciting so far and, if those green boxes don't hold up – it will be time to add more hedges.
​
​
Have a great weekend,