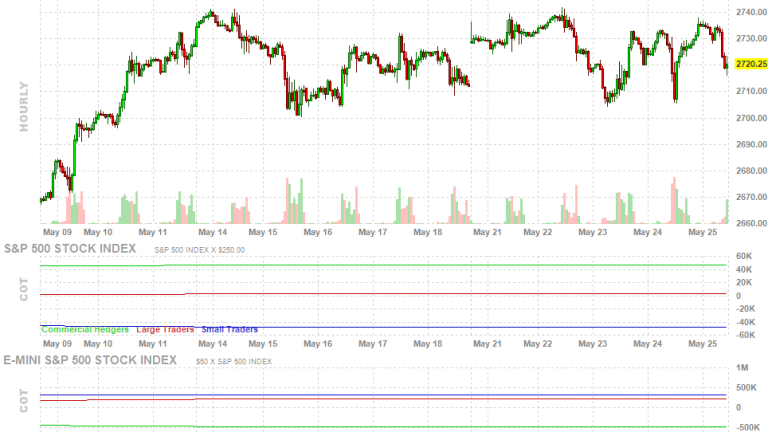 TGIF – A Nothing Week in the Markets Dribbles to a Close
Oil is realizing a bit of its fair value and has fallen 2.5%, back below the $69.
Oil is realizing a bit of its fair value and has fallen 2.5%, back below the $69.
What a waste!
It's a low-volume pre-holiday week but it looks like we could have taken the whole thing off as we're drifting back to 2,712 on the S&P, which is right where we closed last Friday and not too far off the Friday before that either. As I've been saying for the past two weeks, I don't think we're consolidating for a move over our strong bounce line at 2,728 – I think we're simply in a prolonged fail of that level and that means we'll be heading back to the S&P's 20% line at 2,640.
That's still 10% over the fair value for the S&P (we raised it 10% due to tax cuts – even though the tax cuts are ultimately bad for the broad economy). Speaking of fair value, oil is realizing a bit of its fair value and has fallen 2.5%, back below the $69 and that's going to be great for Wednesday's Live Trading Webinar play on the Ultra-Short Oil ETF (SCO) where we picked up the June $14/17 bull call spread for net $1.45.
That put our break-even at $15.45 and today SCO will be well over $16 for a 40%+ gain in 2 days - you're welcome! We didn't play the oil Futures (/CL) because it was too iffy with the holiday weekend and the Global tensions but putting, for example, $1,450 into the spread limits your loss to no more than $1,450 and it's very unlikely we wouldn't be able to stop out below $1,000 if it went the wrong way, going the right way, we will be making $1.55 (106%) in 60 days on a trade that requires no margin at all (so it's good for IRAs).
Gasoline (/RB) has fallen to $2.19 and I like those Futures long off that line (with tight stops below) as I expect a pop back to $2.20 at least today as "THEY" try to jam prices up at the pump into the holiday weekend.  Natural Gas (/NG), on the other hand, is testing the $3 mark (we're long). 
What's taking oil down today (aside from basic fundamentals) isa report that OPEC and Russia are talking about increasing production by 1Mb/d at the June meetingto offset the declining production in Venezuela as well as potential Iran issues. The Saudi Energy Minister, Khalid Al-Falih said that "the pace of oil demand growth is not sustainable" while the Kingdom has about 2Mb/d of spare capacity. I guess they were short!
If you go back our Webinar on the 16th, lack of real demand and spare production capacity were the exact reasons we initiated the SCO spread in the first place. This stuff is not complicated folks, we just pay attention to what's really going on….
 What's really going on now is it's Friday and I'm at a wedding so we'll call it a post.
​
​
Enjoy the holiday weekend,