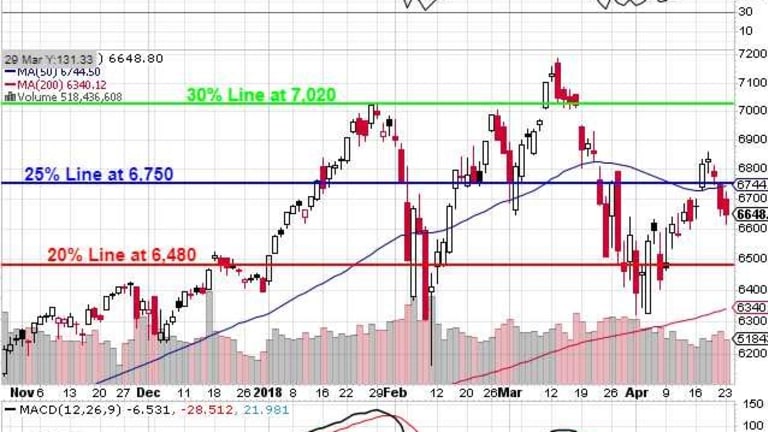 Testy Tuesday – Nasdaq 6,750 or Bust Edition
There's a fine line between being locked in a range and being trapped in a market that is being driven by trading bots.
6,750 is the 25% line on the Nasdaq and we've been here a few times and the bulls were very excited to buy the dip at 6,650, as that's where we popped in early March but,as I noted to our Members in yesterday's Live Chat Room, we're simply repeating a pattern that was supposed to give us an up and down day yesterday that ended flat and today we should be up 30 points on the S&P and tomorrow 25 more and then we crash back to where we started to finish the week.
Can the market really be that programmed? It will be interesting to see if the news and data actually matter or if we're simply doomed to repeat the behavior we observed from Feb 22nd-28th after two weeks of mirroring the behavior from Feb 5th-21st (see yesterday's morning report). There's a fine line between being locked in a range and being trapped in a market that is being driven by trading bots.     
When the markets are thinly traded, the Bots do dominate the trading and, if no one has a solid reason to re-program them, then they are going to keep trading the same way, over and over again until someone breaks the cycle.  According to Yahoo, the average volume of the S&P ETF (SPY) is 120M shares a day, but here's how it's been trading for the past week:
​
​
The up days have been HALF of a "normal" trading day and any volume at all seems to cause a sell-off – that's something to take note of and we'll watch that closely and see if the pattern holds up.   It means if we're "rallying" on low volume, it can all be unwound at a moment's notice (Thurday is when it's scheduled to unwind) and now "THEY" will have to manufacture some news to fit the market's behavior or people might start getting the feeling the whole thing is fixed. 
We have Durable Goods on Thursday Morning, perhaps that will be a miss.  Facebook (FB) reports earning Wednesday evening and they might say something disappointing that sends the tech sector plunging.  Google (GOOGL) had good earnings yesterday but a large portion of the good part ($3Bn) was due to their investment in Uber adding $3.40/share, boosting implied earnings by 33% on phantom gains.  That's why GOOGL isn't flying higher on those "great" earnings but it has been a "great" excuse to run the Nasdaq back to 6,700 and we'll see if they can even get to 6,750 this week before Icaras' wings begin to melt and we fall back to Earth on Thursday.
The papers lie there helplessly

In a pile outside the door

I've tried and tried

But I just can't remember what they're for

The world outside is tugging

Like a beggar at my sleeve

Oh, that's much too old a story to believe –Jackson Browne
IN PROGRESS