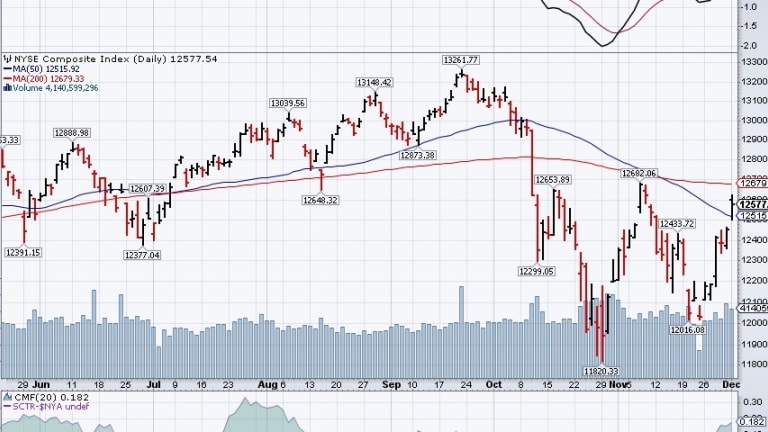 Testy Tuesday – Is China Enthusiasm Enough to Flip the Death Cross?
In Buenos Aires, Chinese officials made no mention of any deadline, and were angered when told about the U.S. claims.
We're still in technical trouble.
The rally, while impressive, has not been enough to avoid the dreaded "death crosses" in the stock indexes, where the 50-day moving average falls below the 200-day moving average (indicating acceleration to the downside) and, keep in mind that's 50 business days so more like 2.5 actual months of downward movement is being tracked – that's not the kind of thing you reverse in a single session or even a very bullish week – is it?
You can see from the "W" pattern on the NYSE that has formed below the 200-day moving average since early October and now it's December and we are making our second attempt at a rally after the early November rally failed so spectacularly into the Holiday.  But now it's Santa Rally time and Team Trump is promising us a trade deal for Christmas and when have they ever lied to us, right?
Trump has named China hard-liner, Robert Lighthizer, to head up the negotiations and that's not a good sign as Lighthizer fought hard in 2001 to stop China from joining the World Trade Organization in the first place so it would be really, Really, REALLY ironic if he were to suddenly put together the largest trade deal in history, with China…
Treasury Secretary Mnuchin would have been a more China-friendly and negotiating-friendly choice or even pro-trade Economic Adviser, Larry Kudlow, who said China committed to rolling back tarriffs on autos and agriculture to which China has already replied "He said we said what???"
Pushing things back 90 days let's Team Trump make all sorts of BS claims that can't be verified for 3 months and, even then, they can push it back another 3 months.  The two sides even disagree whether there is a deadline for talks.  While the U.S. said it would "endeavor" to wrap up talks in 90 days. In Buenos Aires, Chinese officials made no mention of any deadline, and were angered when told about the U.S. claims.
After popping 450 points near the open yesterday, the Dow gave back 150 of those points and, this morning, the Futures are giving back 100 more but that still leaves us with 200 points and the 50-day moving average on the Dow (/YM) is 25,570 and, as long as we stay over that, the 50-day moving average will improve and, MAYBE avoid making it's own death cross.  The other indexes however, are already putting out very negative signals.
The S&P (/ES) is right at the lone at 2,667, that's right where the cross is inverting against that index, Nasdaq (/NQ) is right at the 7,000 line, well below it's own cross occurring right at 7,077 and nowhere near the weak bounce line at 7,080 which is, not coincidentally, also the same inflection point!  12,400 is the strong bounce line on the NYSE and we're still over that at 12,478 but very bad if we fail that – especially as the declining 50 DMA is at 12,515.  Last is the Russel, which is back to 1,520 this morning and that's a very harsh rejection right at 1,550, where it hit the 50 dma so, in short, I'd say we're DOOMED!!!
​
​
So let's be careful out there!