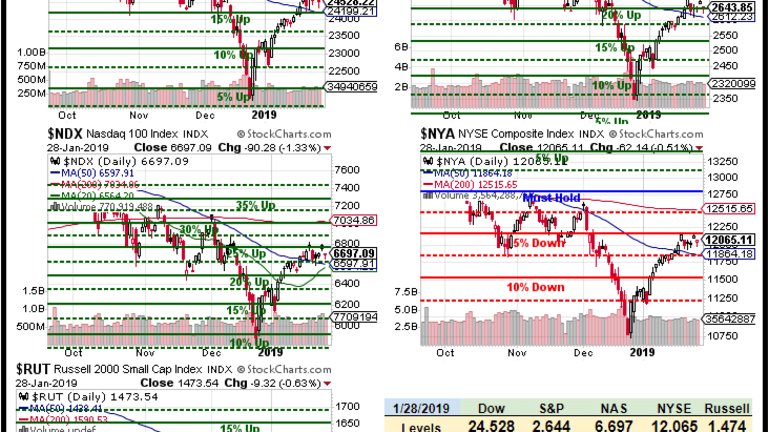 Testy Tuesday – Finding Support at the 50 DMA's
The scope of automation is incredible – it shows how far behind we're getting in the US.
The scope of automation is incredible – it shows how far behind we're getting in the US.
Well, we're holding up so far…
As I said last week, nothing really matters as long as we hold the 50-day moving averages and that's not really that hard to do as they are still in decline – so the targets are lower every day.  As of this morning our 50 dmas are:
Dow 24,199, now 24,528, 200 dma – 24,977
S&P 2,612, now 2,644, 200 dma – 2,741
Nasdaq (100) 6,597, now 6,712, 200 dma – 7,034
NYSE 11,864, now 12,100, 200 dma – 12,315
Russell 1,438. now 1,475, 200 dma – 1,590
So we're right in the middle and all these up and down gyrations are just consolidation as we prepare to break out but will we break out to the upside or the downside?  That is the question that can be worth Millions in your portfolio!  
Unlike the moving averages, which move, our 5% Rule™ remains the same – only changing in the short-run when long-term supports are found but never changing in the long run – unless we do a full re-valuation of an indexes base-case (the Must Hold levels). 
We were going to bump up our Must Hold lines by 10% due to the tax changes late last year but the NYSE and Russell never confirmed the move higher and then the crash came but now, if we do hold those 10% lines, we will be bumping the Big 3 up, who benefit the most from the lower tax rates and the weaker Dollar that comes with them (we don't pay our bills, we're a dead-beat currency).  Current levels are:
Dow 27,000 to21,600is 5,400 points so 1,080-point bounces to22,680(weak) and23,760(strong)
S&P 2,950 to2,360is 590 points so 120-point bounces to2,480(weak) and2,600(strong)
Nasdaq 7,700 to6,160is 1,540 points so 300-point bounces to6,460(weak) and6,760(strong)
NYSE 13,200 to10,560is 2,640 points so 528-point bounces to11,058(weak) and11,586(strong)
Russell 1,750 to1,400is 350 points so 70-point bounces to1,470(weak) and1,540(strong)
Since last Thursday, the Nasdaq's strong bounce line has turned red and that will be a very bad sign if ANY of the 3 remaining green indexes lose their strong bounce line or if the Russell (only 1,475 at the moment) fails to hold 1,470 but, at the moment, we're cautiously bullish ahead of tomorrow's Fed Meeting, where we expect some more dovish words in their 2pm statement and Powell's 2:30 press conference, which we be on LIVE for in our Weekly Trading Webinar, which will start at 1pm, EST, tomorrow – so that should be an exciting one!  
Meanwhile, you have to see this great Bloomberg Report on "Shenzhen's High-Tech Dystopia":
​
​
The scope of automation is incredible – it shows how far behind we're getting in the US.  As the author notes, China is responding to pressure it sees from Vietnam and Africa to keep lowering the cost of manufacturing so that they can mainatin their dominant position while the US strategy is to build walls and place tariffs so we can keep pretending that the future of manufacturing is not more manufacturing jobs, but more manufacturing robots.  This is one of those cases of misguided Government policies laying the groundwork to make us completely uncompetitive for the long-run.
Obviously, the way the Chinese Government is usuing technology leaves a lot to be desired but our country only talks the talk on "Law and Order" whileChina is very much walking the walk– and handing out automated tickets to jay-walkers too.  Do you want to see American's learn to love self-driving cars?  Just automatically ticket people every time they speed.  That's easy technology – our police don't use it because, when they've tried – the speed-loving citizens have revolted – so far…
Speaking of tech, the Nasdaq's fate very much rests on Apple's (AAPL) earnings this evening.  Apple become the World's first Trillion-Dollar company this summer as share prices climbed to $230, but we topped out there and topped all the way back to $140, down $90 (39%) and that means the weak bounce is $18 – to $158 and we have been rejected at that, so far and that does not actually bode well as anything but strong earnings are likely to at least retest that $140 line:
​
​
Apple guided revenues down but did not guide earnings lower so it will be interesting to see what the report turns up tonight.  Analysts are still expecting $4.17 per share in earnings and that's way up from last year's $3.89 but that estimate is WAY down from $4.94, which was the expectations back in October, when they announced  a very solid Q3.  There have been endless rumors that IPhone sales are off and China is doing a soft boycott of Apple due to the US-Huawei Incident, which China is now calling a Kidnapping and is calling on the UN to sanction US!  As noted in Dissident Voice:
The kidnapping of Ms. Meng is yet another example of the almost insane hubris and arrogance of the present government of the United States. Insane is not too strong a word, since many psychiatrists consider Donald Trump to be mentally unstable. Furthermore, Trump's racism and his advocacy of violence are worryingly similar the the facists of the 1930's, such as Hitler and Mussolini. It is clear from Trump's actions that the present government of the United States no longer belongs to the American people. It belongs instead to corporate oligarchs, to Wall Street, and to the Israel Lobby. Trump's advocacy of fossil fuels is an existential threat to the future of human civilization and the biosphere.
Didn't we used to say that kind of stuff about Russian and Chinese Governments?  Seemed OK to say at the time, didn't it?  Now it doesn't feel so good – especially when it's mostly true…
Anyway, I think the bar may be a bit low for AAPL (we're long) and hopefully they do beat and lift the markets higher but, if they have a big miss – they'll take the indexes with them and we have a chance to re-test our lows.  Reporting with Apple this evening are Amgen (AMGN), Boston Properties (BXP), Ebay (EBAY), Juniper (JNPR) and MicroStrategy (MSTR) but this morning we already had good reports from 3M (MMM), Biogen (BIIB), Corning (GLW), L3 Technology (LLL), Paccar (PCAR), Pfizer (PFE), Phillips (PHG), Rockwell (ROK), Verizon (VZ) and Xerox (XRX) – so things can't be all bad out there.  
Tomorrow, Alibaba (BABA) will give us some insight into how much China's economy is actually hurting.  China's Amazon is at about $50Bn in revenue (they only count their commissions, not the raw sales that generate them) and drops 12% ($11Bn) to the bottom line but their revenues are still growing by about 40% per year with little sign of slowing – until possibly now…
Another exciting report this week will be Tesla (TSLA), where we'll probably get another lesson in Financial Alchemy as TSLA MUST be back over $360 by March 1st or they will be forced to pay back $920M in bonds that were set to convert at that price.  Anything but spectacular earnings will spook investors out of the stock ahead of the looming debt payment as, clearly, if Musk does not have $920M to give, the company will be forced to borrow or renogotiate at less than generous terms, possibly dilluting current shareholders even further.
Recently, Tesla laid off another 7% of their workforce and they've cut back both prices and production levels yet, so far, the stock has not been given the awful treatment AAPL has gotten for essentially the same thing (sans layoffs).  The cheapest configuration of the Model 3 is currently $44,000 – still a far cry from the $35,000 that's been promised for years and, of course, the credits are running out so no more government aid to move the cars – it's all up to TSLA now to put up or shut down.
Stay tuned for the fun!