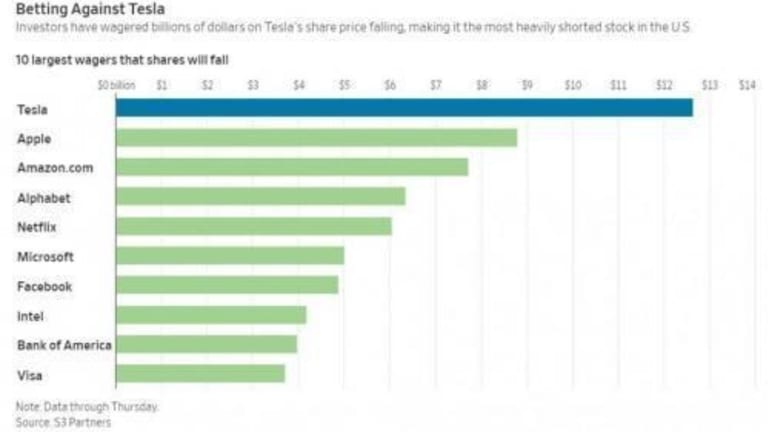 Tesla Shorts Up $1.2 Billion Since Musk "Going Private" Tweet
The pain for the shorts only spiked on August 7 when first the Saudi Sov.
[Tesla Shorts Up $1.2 Billion Since Musk "Going Private" Tweet As Saudis Plan Investment In Competitor](https://www.philstockworld.com/2018/08/19/tesla-shorts-up-12-billion-since-musk-going-private-tweet-as-saudis-plan-investment-in-competitor/ "Permanent Link: Tesla Shorts Up $1.2 Billion Since Musk "Going Private" Tweet As Saudis Plan Investment In Competitor")
Courtesy of Zero Hedge
It was less than three weeks ago when we posted "Tesla Shorts Refuse To Cover Despite Suffering Massive Losses" in which we wrote that "Tesla shares rocketed higher on August 2, by almost $50, the day after the company reported its second-quarter results" and added that "despite the stock rising more than 15% immediately after the report, WSJ analytics showed that short sellers are standing their ground in the name despite an estimated $1.7 billion paper loss resulting from the violent move higher."
At the start of the month, and heading into Tesla earnings, there was about $10.5 billion in short interest according to S3 Partners. And as the below chart shows, Tesla has remained the most heavily shorted stock in the U.S. both before and after its report.
Of course, the pain for the shorts only spiked on August 7 when first the Saudi Sov. Wealth Fund announced a 5% stake, promptly followed by Musk tweeting his intention to take the company private at $420, which sent the stock just shy of its all time highs.
Still, the shorts refused to cover, because as the FT reported on Sunday, while the buyout plan pitched by Musk may have been nothing more than a way to "burn the shorts", something the SEC is now allegedly investigating, less than 4 per cent of the short positions have been closed since his tweet.
And in retrospect, good thing they did not because as the bizarre events in the subsequent days demonstrated, Musk's market manipulative tweet – it has since emerged that funding was not secured – may have been the catalyst to not only an SEC investigation, but the last nail of what has been one long, at times surreal emotional collapse for the Tesla CEO.
Following every twist and turn in the grotesque Elon Musk saga, Tesla stock reversed course and less than two weeks after Musk's tweet at the close on Friday, it traded 19% below their level before the tweet. Which, according to S3 Partners calculations, means that the mark-to-market value of the short positions is up $1.2bn over that period.
As S3 also adds, the Tesla short interest has risen to $11.2bn, which not only means that more than a quarter of the company's free float is short, but that the short interest is even greater than when it was before Tesla's impressive earnings, the Saudi news and the Musk's going private announcement.
​
​
Making matters worse for the company's narrative, S3 said several short sellers have increased their bets on a Tesla share price decline, "suggesting they remain unconvinced by Mr Musk's ambition to buy out some existing shareholders at a mooted price of $420 per share" according to the FT.
One could also say that they are betting that the stock will collapse even more now that the SEC is finally poking holes in the Musk story.
One of the persistent shorts is Crispin Odey, a world-renowned market bear, who has bet against Tesla, and who as we reported on Friday in a letter to investors last week said that while "shorts like Tesla have been difficult to hold on t… Tesla feels like it is entering the final stage of its life." He also compared Musk's recent behavior to that of Donald Crowhurst,  "the amateur sailor who set off in the 1960s on a solo voyage around the world and never came back."
Meanwhile, as investors and analysts continue to encourage Musk to shut up and spend less time on Twitter and focus on his company, Musk tweeted out (at 2:30am Pacific Time) that changing the way he works is not an option in response to an open letter by Arianna Huffington imploring the Tesla CEO to change his ways.
> Ford & Tesla are the only 2 American car companies to avoid bankruptcy. I just got home from the factory. You think this is an option. It is not.

> — Elon Musk (@elonmusk)August 19, 2018
The tweets followed an emotional interview with the New York Times in which Musk acknowledged between "laughter and tears" that he was overworked and exhausted, saying his intense involvement at Tesla's factory had taken a steep toll on his personal life and health. Yet even then, Musk did not fail to attack the shorts once again:
"They're not dumb guys, but they're not supersmart. They're OK. They're smartish."
Meanwhile, late on Sunday, another "smartish" player in the drama re-emerged, when Reuters reported that the Saudi PIF, or Sovereign Wealth Fund, which previously had taken a 5% stake in Tesla and was allegedly helping Musk to "secure funding", was in talks to invest in aspiring Tesla rival Lucid Motors.
> PIF and Lucid Motors have drawn up a term sheet under which PIF could invest more than $1 billion in Lucid Motors and obtain majority ownership, the sources said. PIF's first investment in Lucid Motors, however, would be for $500 million, and subsequent cash injections would come in two stages that are contingent on Lucid Motors hitting certain production milestones, one of the sources added.
According to Reuters, "a deal with Lucid Motors would also be more in line with PIF's limited resources, given that, despite its $250 billion in assets, PIF has already made substantial commitments to other technology companies or investments, including a $45-billion agreement to invest in a giant technology fund led by Japan's SoftBank Group Corp."
It would also be a confirmation that the fund, which as we reported previously is scrambling to raise capital in an add, roundabout way that involves Aramco (which recently scrapped its plans to go public) and the state run petrochemical giant Sabic, will not invest in a Tesla deal but will instead spread out its funds across similarly themed investment ideas.
As a reminder, after Musk said that the funding for his going private deal was "secured," he later elaborated last Monday that he believed Saudi Arabia's PIF could provide the necessary funding, although sources close to the sovereign wealth fund have since played down that prospect; today's new effectively kills any hope that PIF would participate in a Tesla buyout.
As for Lucid, not only is it a company that is far earlier in its development, thus allowing investors a far greater piece of the pie at this moment, but ironically, it was founded in 2007 by Bernard Tse, a former Tesla vice president and board member, and Sam Weng, a former exec at Oracle Corp and Redback Networks. It received backing from Chinese investors, including tech entrepreneur Jia Yueting and state-owned automaker BAIC. Other venture capital backers have included Venrock, Mitsui & Co and Tsing Capital.
Lucid Motors is not yet selling any cars. In 2016, it unveiled a prototype of its Lucid Air model, a $100,000 luxury sedan it had hoped to begin building in Arizona in late 2018. It is not clear when this car will become available, though the company – just like Tesla – is accepting refundable deposits of $2,500 from consumers on its website.
And back to Tesla, while it is far more advanced in its production process, it remains unclear when, if ever, it will become profitable. UBS analysts last week calculated that Tesla would lose $6,000 on every base Model 3 model. As a reminder, it is the baseline Model 3 that is seen as the company's entry into the mass market as opposed to the ultra-high end, where far more exciting and new offerings from the likes of Porsche and Jaguar are set to come to market soon, and grab market share from the increasingly troubled Tesla.