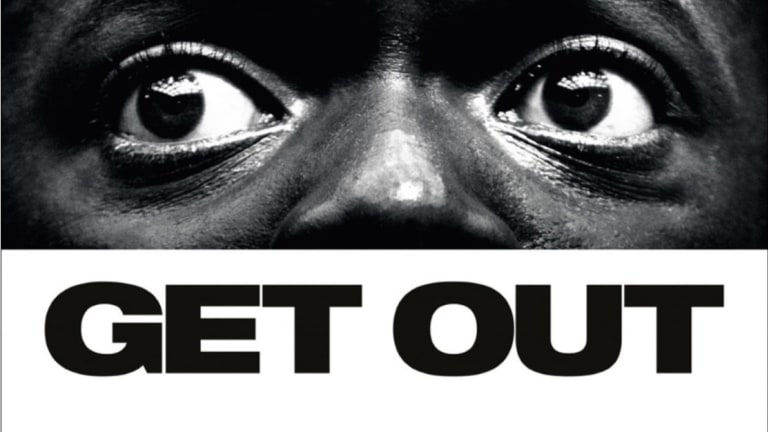 Tempting Tuesday – Stop Buying that Dip and GET OUT!!!
I don't know if it's early or late in the Stock Market Film but I did, very clearly, tell people to GET OUT!!!
GET OUT!!!
In this year's horror hit, "****Get Out*****" the main character gets his warning just one time, early in the film. I don't know if it's early or late in the Stock Market Film but I did, very clearly, tell people to GET OUT!!! in yesterday morning's PSW Report and I repeated that warning live at the Nasdaq at 10:30, causing the index to drop 50 points* (sorry)**. There may have been other factors in play – but I'll take the credit/blame for this one.
You can see a quick video review on my logic for why the market is 20% overbought here:
Yesterday we discussed the Global macro reasons why the current market prices are unrealisitic and, from talking to people, I thought it could be made a bit clearer if we focus on something more obvious and simple so we're going to look at just the 30 Dow components and think about how lower taxes would effect them.
Since we don't have 2017 figures in yet, I'm using last year but, in general, there's not too much change in earnings. The 30 Dow components have a market cap of $6.7 TRILLION, which is about 10% of the US markets and 6.7% of the World Market Cap so a good, representative sample.
​
​
​
​
​
​
As you can see, we don't have figures for DWDP due to the recent merger but the other 29 components earned $406.3Bn and paid $86.25Bn in taxes, which is an effective rate of 21.2%. So how will cutting the corporate tax rate to 20% make enough of a difference to justify the Dow's 35% rise, which added over $1.7 TRILLION in market cap to the Dow in 12 months? Do you really think earnings went up $350Bn (1/20th) to justify it?
The earnings growth certainly don't justify it though with an after-tax p/e of 20.9, the Dow is a huge bargain compared to the S&P 500s p/e ratio of 27.3 but that's mainly because Apple (AAPL) is such a weighty component (and such a bargain). This is my problem with this market rally – we're up in anticipation of tax cuts being a huge benefit to these companies but only 8 of 30 companeis pay more than 25% in the first place and clearly Visa (V) and United Health (UNH) need to fire their accountants!
You'll notice that, the bigger a company is, the less they seem to pay – that's because they generally have more opportunities to mess around with offshore shells and such to move the momey around. In any case, whether it's from the reading of the bill or the huge disappointment that will be suffered when companies calculate their Q1 tax liabilities and they turn out NOT to be very different than Q4 (assuming a bill is passed by then) – I think we're going to see a huge let-down when the reality of the tax changes hit the expectations of investors.
So, while there are still buyers we are GETTING OUT of all of our positions in all of our portfolios and we will start again, from scratch, in 2018, with all new portfolios on January 2nd.
Until then – it's time to go shopping!