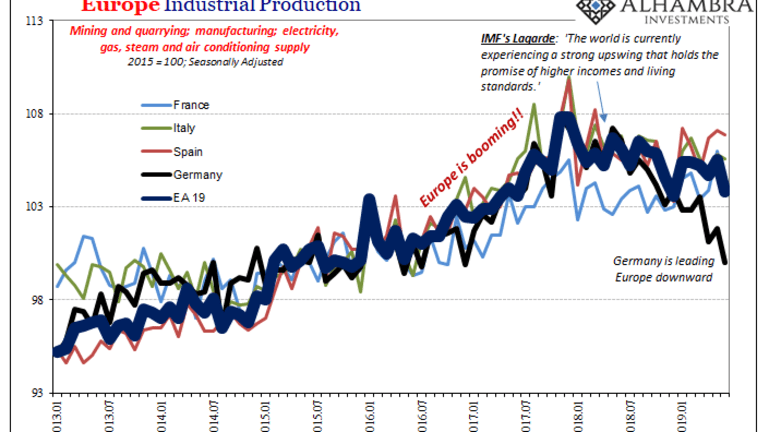 Some Brief European Leftovers
The weakness is persisting and intensifying – particularly after May 2019.
Courtesy of Jeffrey Snider, Alhambra Investment Partners
Some further odds and ends of European data. Beginning with Continent-wide Industrial Production. Germany is leading the system lower, but it's not all just Germany.
And though manufacturing and trade are thought of as secondary issues in today's services economies, the GDP estimates appear to confirm trade in goods as still an important condition and setting for all the rest.
The weakness is persisting and intensifying – particularly after May 2019.
​
​
​
Before that, IP was first rocked in July 2018 (in the aftermath of May 29) and then again during the landmine. It contracted for the first time in November and has been negative in seven out of the last eight months since (through June). The only month that wasn't a minus was February 2019 which is now estimated to have been exactly zero (revised).
If it looks like recession, quacks like recession, and swims like recession it must be why European money markets are making a mockery of the ECB. Every Euribor tenor from 1W out to 6M is now below (fractionally) the deposit rate "floor." The 12-month rate is but four and change from it. At the same time overnight Eonia has slipped upward just a bit.
​
​
That's in addition to bond market rates, some key yields which have switched from an escalator to an elevator for their negative rate conveyance.
In other words, European money and bond markets are settling in for protracted struggles. Europe's problems are already severe and they are just getting started. And the people who are left to mediate or even remedy the situation are the very same who had no idea this was happening while it was happening, have been downplaying the risks and playing up upside potential that just wasn't there, and in the end have no idea why everything is going wrong like this.
It's a pretty good description of where things stand and more so why.