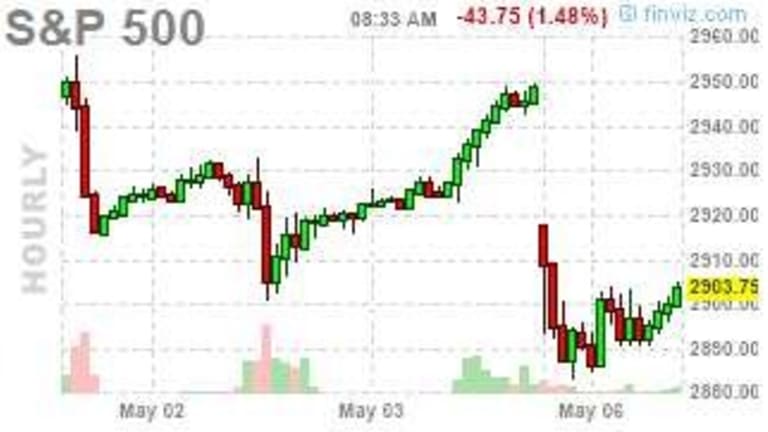 Monday Mayhem – Trump Trade Tantrum Tanks Markets
Phil - "Negotiating like a toddler is the President's sweet spot."
Wheeeeee – down we go!
Who says the market never sells off, we dropped 100 S&P points this morning and 500 Dow points after President Trump THREATENED (didn't actually do anything) to put more tariffs on China if they didn't give him a trade deal this week.  Negotiating like a toddler is the President's sweet spot, so I don't know what the market is so surprised about though this is downright rude behavior as China has/had a delegation on the way to attempt to hammer out a deal.
Changing the rules and moving the goal posts in the middle of a negotiation shows a total lack of respect for your trade partner and we can only conclude that Trump doesn't actually want a deal (something I've been concerned about the whole time) and is only interested in collecting more taxes (ie tariffs) to pay for his tax cuts.  And, of course, China doesn't pay a penny of these tariffs – the American people do as it's a tax on the goods we purchase.
According to the WSJ: Negotiations were initially scheduled to resume Wednesday.  Some working-level Chinese officials who were supposed to leave for Washington on Monday were staying put instead, waiting for further instructions.  The threat of renewed trade tensions sent mainland China markets downward, undoing some of the gains made this year. The Shanghai Composite Index fell 5.6% while its counterpart in Shenzhen tumbled 7.4% -their biggest single-day declines since 2016.
"Turning the heat on China would only lead to rising nationalist sentiment," a Chinese regulator said Monday. "It's really not conducive to reaching a deal."
So it's hard to say what Trump is up to but it's clearly messing with the markets but it's nice to have a test to see if our hedges are doing thier jobs so thanks, Mr. President – we've been waiting for a nice dip.  The Dow (/YM) Futures can be played for a bounce off the 26,000 line with tight stops below.  Down from 26,500 on Friday means we're looking for at least a 100-point (weak) bounce and, if that fails – then we may be looking ahead to a 5% correction – back to 25,175, in which case we can play /YM short BELOW the 26,000 line (if the weak bounce fails) – so lots of fun either way!
Earnings season is 2/3 over but still a lot of fun reports coming and now is the time we feel more comfortable making bets as we can see what sectors are doing well and what sectors are not.  This week we have:
​
​
It's a pretty slow data week peppered with 10 (TEN!) Fed speeches, including Chairman Powell Thursday morning.  The Government has about $100Bn worth of notes to sell and they like to see some marrket panic to keep the rates down at the auction – so maybe Trump isn't so crazy after all…  maybe…
​
​