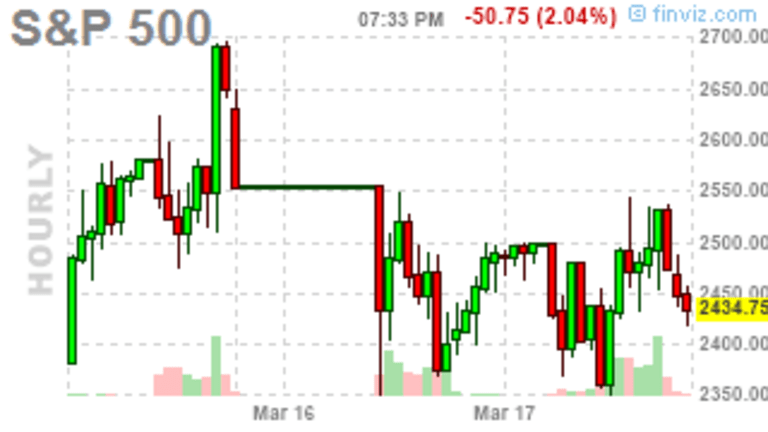 Monday Market Musings – Winding Down 2019
Yes, I'm still in Thailand. In fact, this is going to be a very short post as our 8am meeting went until 2pm and now...
Yes, I'm still in Thailand.
In fact, this is going to be a very short post as our 8am meeting went until 2pm and now we go back at 5pm, which is 5am for you guys so I'll be out (most likely) at the open.  It's all very exciting stuff but we're working on an entire country so many, many, many meetings every day – even as the holiday approaches.   
Anyway, I hope your holidays are going well.  It doesn't seem like there's too mch market movement as we head into the open and, even if there were, the volume is a total joke and shouldn't be taken seriously, regardless.  The problem with Christmas/New Years is that even the regular reporters are on vacation so, even if something were happening – would we know about it?
Not very much seems to be happening in the rest of the world as most people have better things to do than rock the proverbial boat this time of year.  Even in Seeking Alpha's News Feed – there are less than a dozen items since Friday's market close as of the first (and only at 4am, EST) item of this morning.  That means it has been a good week to be away (so far) and tomorrow is a short session and Wednesday the markets are closed.  
The Dollar remains weak and that has been market supportive but 96.50 should be bouncy back to 97 and that's going to put some downside pressure on things today and tomorrow – so be careful watching that.  Otherwise – very, very boring and hopefully it will stay that way through the week.  
You would think there is not much data in a holiday week like this but there is:   We have Retail Inventories, Home Sales and the Dallas Fed this morning, Case-Shiller, Housing Prices, Chicago PMI and Consumer Confidence tomorrow, PMI and Fed Minutes on Thursday and then Motor Vehicle Sales, ISM and Construction Spending on Friday.  Even with nothing on Wednesday – that's a full week of data. 
There are no major earnings scheduled this week but we get back into the swing of things next week and here's a nice look at the moth ahead as it's already that time of year:
That's a lot of fun things we can trade in our Earnings Portfolio so we'll be looking forward to that as it should make for an interesting January to kick off the new decade.  
China has kicked off the week with a "sort of" rate cut by switching the overnight rate to LPR (Loan Prime Rate), which is 0.2% lower than the previously benchmarked Overnight Lending Rate – effectively giving a rate cut of 0.2% by simply changing the index to track a lower base.  
President Xi has also added a team of 12 Finance Ministers to combat "banking difficulties" in China's highly-leveraged loan market.  As China slows down, their $14.7Tn loan market is in big trouble and facing strings of defaults if rates go higher and Xi should be applauded for taking all these preventive measures as China's growth engine begins to slow down but the fact that it's necessary is very, very scary!
One reason behind the ineffectiveness behind monetary policy in the country could be due to a balance sheet recession of companies that are paying down high debt loads, in an attempt to deleverage, causing investments to decline and contributing to slower economic growth.  Taipei Times noted that five regional banks have had "liquidity problems this year, raising the prospect of devastating debt bombs lurking in unexpected corners." 
Devastating Debt Bombs,
Happy New Year!