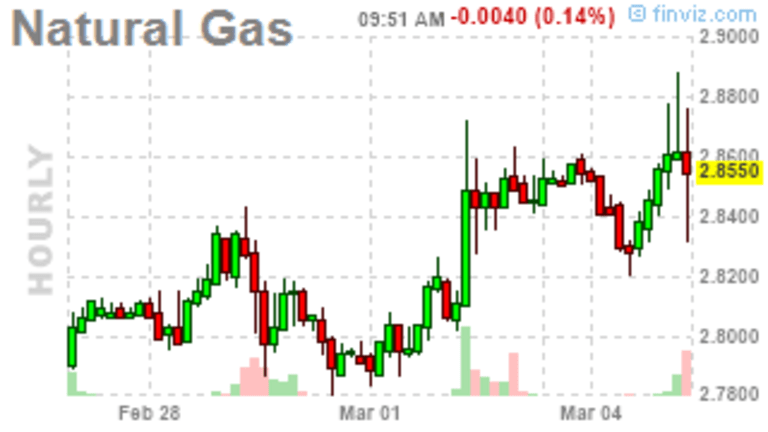 Monday Market Moves Up (again) on Trade Progress (again)
Phil - "That is what we call "on track".
Yay, I guess.
The crisis we created may be over!The US and China may lift tariffs by March 27th– after President Xi finishes a trip to Italy and France, where China may buy both countries under the EU's new BOGO Program.  Meanwhile, to appease Presdent Trump, President Xi has agreed to buy $18Bn worth of Natural Gas (/NG) from, specifically, Cheniere Energy (LNG), the US's largest exporter of Liquefied Natural Gas.
Of course, this kind of concession is completely meaningless as Natural Gas and Oil (/CL) is what they call a "fungible" commodity, meaning that it's essentially irrelevant WHERE China buys it's Oil and Nat Gas because they will simply replace another buyer here and the guy who used to buy it from us will buy it from someone else or, perhaps, forced Chinese buying of our Natural Gas will create a shortage and artificially raise prices for all Americans.  
​
​
Of course LNG has been spending big to boost exports ($15Bn, in fact) as if they KNEW this deal was coming or maybe it's because the deal already came and Trump is just acting like he did something (not surprising) as LNG already signed a deal with China National Petroleum in November, to buy 1.2M tonnes of LNG a year and a tonne of LNG is 48.7Bcf so 58.44Bcf of Natural Gas is 3.6% of the entire US supply of Natural Gas, which is already in the low end of the 5-year range.
​
​
We talked about why we like Natural Gas just last Wednesdayand we played the /NGV19 October Futures at $2.75 and Wednesday they were already $2.85 fora $1,000 gain per contractand today they are $2.97 so upanother $1,200 per contractbut of course not everyone is ready to play the Futures so our suggestion as a stock play was Chesapeake Energy (CHK), where we went with the following trade idea:
As a new trade on CHK, I'd go for:
Sell 20 2021 $3 puts for $1.10 ($2,200)
Buy 30 2021 $1 calls for $1.60 ($4,800)
Sell 30 2021 $3.50 calls for 0.55 ($1,650)So that's net $950 on the $7,500 spread that's $1.50 ($4,500) in the money to start and not far to go to make the full $6,550 (689%) at $3.50 and the worst case is you own 2,000 shares at about $3.50.
As you can see, CHK really took off on the day of our post (cause/effect?) and already the $3 puts are down to 0.85 and the $1/3.50 spread is now $2.30/0.97 so net $1.33 x 30 contracts is $3,990 less 20 at 0.85 is $1,700 so net net $2,290 is up 240% on cash already and well on it's way to our expected $6,550 (689%) gain.  That is what we call "on track".  
This is what Fundamental Investing is all about – we read the news, we think about what stocks that news is likely to affect and we come up with a trading premise.  We also prefer to use options both to hedge and leverage our bets – just in case we get it wrong – but usually we get it right — eventually…
Timing is the hardest thing to get right in these cases.  Getting back to LNG, we used to play them but they have since more than doubled and we lost interest as $64 is a $16.5Bn valuation and the company made only $500M last year but should make closer to $800M this year and the China Deal alone (the November one) was good for $500M and, if the trade deal does throw anoher $18Bn worth of business at LNG – even if it's over many years – then buying them now is a no-brainer.
Fortunately, we can use options to construct a more interesting play on LNG, who are likely to be up 5% on this news so there's a little guessing in these option prices:
Sell 5 LNG 2021 $55 puts for $4 ($2,000)
Buy 10 LNG 2021 $60 calls for $15 ($15,000)
Sell 10 LNG 2021 $70 calls for $10 ($10,000)The net of the spread is $3,000 cash and it requires another $2,760 in ordinary margin to sell the puts but, at $70, it pays back $10,000 for a $7,000 profit (233%) and I have been banging the table on Natural Gas for 3 years now and it's all playing out just as we expected.  Remember:  I can only tell you what is likely to happen and how to make money trading it, the rest is up to you!
We'll see if the market is ablfe to get excited about more Trade Talks and we still haven't cracked 1,600 on the Russell (/RTY) but as long as the S&P (/ES) is over 2,800 – all is technically well in the markets.  It's a fairly light data week with just 4 Fed speakers but we do have PMI and ISM tomorrow and the Beige Book on Wednesday that should cover the shutdown period and Friday we have Non-Farm Payrolls, which were red-hot in January at 304,000 but it's wages we're going to be focused on.
7,200 on the Nasdaq (/NQ is a good shorting line for today as is 1,590 on /RTY, since that's the 200 dma – tight stops above!
​
​
​
​