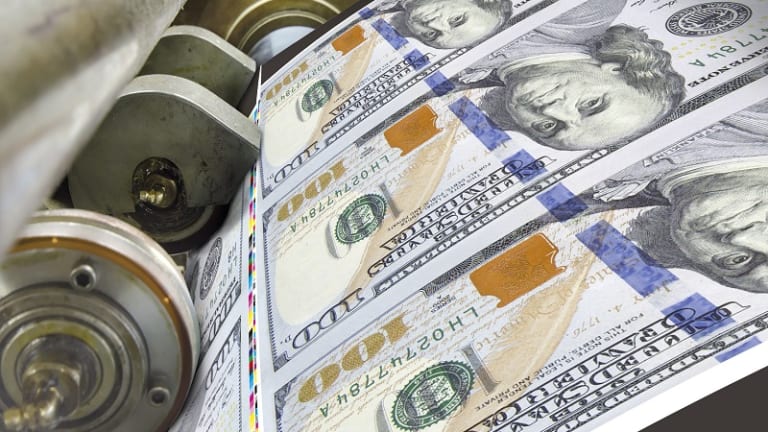 Monday Market Movement – Up We Go Again
Trump says we're "talking with China" and that's all it takes.
The Dow is up 300 points (1%), pre-market, as are the other indexes but I think it's the Fed's Jackson Hole Conference everyone is looking forward to asthe rumor is the Fed is going to give us MORE FREE MONEY!!!– and we do love MORE FREE MONEY!!! – don't we?  Not only are hopes high for Jackson Hole (Friday and over the weekend) but Asian Central Banks are expected to be easing as well and there are rumors that even fiscally conservative Germany is now talking about Government stimulus to boost the economy.
It's a very big deal if even Germany is going to start stimulating the economy – that should be enough to boost things though it's all rumor at the moment and why these Governments are in such a panic to support markets at or near their all-time highs is a bit of a mystery – because they already have negative interest rates and low unemployment, which means they have very little room to move if we do get into a real recession and, if you don't act during a Recession – things can get Depressing!
​
​
Weak economic data from Germany and China last week triggered a stock-market selloff and a bond-market rally, with yields on 30-year Treasury bonds falling to their lowest levels ever. The reaction illustrated the growing sensitivity of investors to worries about trade tensions and global growth.  Unfortunately, Trump only used the last Fed Cut to launch additional tariffs on China, which are the real problem and, if the Fed gives Trump more cuts at the Sept 18th meeting – that might be the signal for Trump to attack China again – and that's the real catalyst that's spooking the markets.
Still, for now, like last week, the Fed is generally quiet and the markets can run back up on rumors.  Only Randy Quarles speaks at 6pm tomorrow ahead of Powell's big speack from Jackson Hole Friday morning and it's a fairly light data week so not much to stand in the way of a good economic rumor as we bounce back towards recovery.
​
​
​
​
The Euro is back to it's August lows and it's the only currency that pretty directly affects the Dollar so if the Euro bounces back this week, the Dollar should get weaker and that too can boost our markets and commodities so it's a very good time to buy some Coffee (/KCN20) Futures and/KCis at 93 while next July (/KCN20) is at $105, which is a very good line to play off (with tight stops below).  I feel a lot more comfortable playing Coffee long than I do the indexes!
Nonetheless, we did make a lof of bullishly aggressive moves in our portfolios as we expected stimulus from Jackson Hole but, after that, we'll be adding to our heges once again – to lock in any gains all this stimulus talk might give us before people realize what a sham it is.  The White House spent all weekend  downplaying the notion of a Recession and that too gave us a positive spin this morning, but how long will it last?
White House Trade Adviser, Peter Navarro, disputed the entire notion that the Yield Curve had inverted (which is something that was once considered a fact).  Navarro claimed the curve was flat, not inverted and said that was a good thing because it meant foriegn money was flowing into the US as a result of "a very strong Trump economy."   Larry Kudlow also claimed we were in good shape, despite being confronted with a report that shows US Manufacturing at the lowest level since 2009.  
Navarro said the U.S. was winning the trade war and dismissed arguments that Americans were shouldering the burden, despite mounting complaints from American farmers, who broadly support Trump, that the trade war is hurting them.  If all the Administration has to do is declare that down is now up and 1 + 1 = 3 and the markets are going to react as if it's true – then rally on, I guess.  Nonetheless, here's a quick reality check from a Nobel Prize-Winning Economist:
​
​
​
Most importantly, we'll be looking to see if those 50-day moving averages get re-taken (Liam Neeson hates that) and, of course, we still have to take back the 200 dma on the Russell – so not all that impressive at the moment – even with the pre-morning pop.
​
​