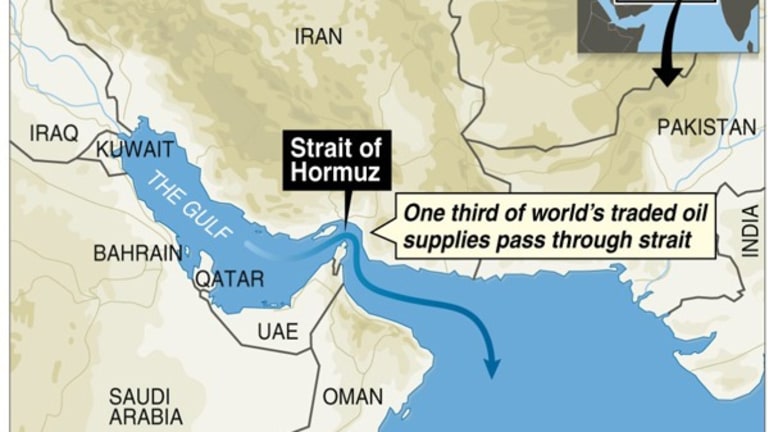 Monday Market Movement – Trump Forces Iran to War Footing
We're still paying dearly for our last election and it's still 18 months until next November.
Sanctions!
We love to impose them but what happens when we use them to completely cut off a country's income?  Well, that's what the US announced they would do this morning as Secretary of State, Mike Pompeo announced that not only would the US and Nato Allies refuse to buy oil from Iran but now ANYONE buying oil from Iran will face US sanctions as well.
Previously, we had specifically given waivers to China, India, Iran, Japan, South Korea and Turkey but that will now end on May 2nd, effectively crippling Iran's economy and, don't forget, Trump just declared Iran's National Guard as a terrorist organization so any action taken by their army will be considered a terrorist attack by our Nation – giving Trump a chance to enforce all sorts of executive powers.  
As noted on the chart, Iran controls the Strait of Hormuz, where about 1/3 of the worlds oil passes through and they have already threatened to shut it down if the US interferes with their shipping vessels and, of course, Oil (/CL) is back over $65 and Gasoline (/RB) is back over $2.10 this morning and that's nothing compared to where we'll be if war breaks out and nothing Team Trump has done this past month gives us any hope that it won't.   
Trump's best bet to be re-elected now is Bush II's "Don't change Presidents during a war" strategy – what's going to stop him from using it?  We knew Bush Jr was a disaster during his 3rd year but we were in the war that he started against Iraq and Afghanistan becuase the Saudis bombed the World Trade Center and it did seem like a bad idea and Kerry lost by 3M votes in 2004 – a mistake this whole country paid dearly for.
Meanwhile, we're still paying dearly for our last election and it's still 18 months until next November so we'd better move on and look at where we are at the moment.  Last week we reviewed our 5 Member Portfolios and cashed in a lot of positions – close to $500,000 worth (1/3) in the Long-Term Portfolio – and we pressed our hedges "just in case" things fall apart.
They're not falling apart yet and it's a low-data week with Chicago Fed today, Richmond Fed tomorrow, KC Fed on Thursday and Q1 GDP on Friday but it's earnings we're going to be placing close attention to as we have about 20% of the S&P 500 reporting earnings this week and now we're very worried about airline guidance with Trump pushing oil prices back to the stratosphere – just in time for Summer Driving Season, maximizing the impact on airlines and consumers (and campaign donors, of course).  
​
​
Our markets  may be down this morning but Russia's market is popping on higher oil prices, along with the Saudis, of course – Putin wins again thanks to Trump but, thank goodness, there's no proof of collusions – just A LOT of coincidences…
The energy sector, of course, should get a boost from the high oil prices but energy is down to 8% of the S&P – not as much of a mover as it used to be – so it's not going to save us this morning. 
​
​
​