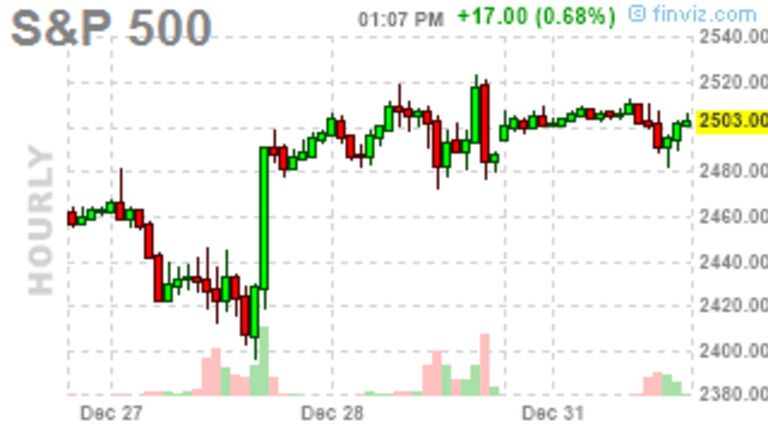 Monday Market Movement – Trade Progress Keeps Things Positive
The market is mainly up this morning based on something Donald Trump said over the weekend...
2,500!
The S&P 500 took back a critical level this morning in the Futures as we're back over the 2,500 line and holding that would be a good sign to close out 2018 - despite the epic disaster that we've already endured in Q4 as we fell from 2,950 to 2,360 so 600 (ish) points down invites 120-point bounces (20% of the drop) and 2,489 was the weak bounce line we expected last week but we're not going to be very impressed until we're back over the strong bounce line at 2,600, along with the other strong bounce lines on the other indexes:
Dow 27,000 to 21,600 is 5,400 points so 1,080-point bounces to 22,680 (weak) and 23,760 (strong) 
S&P 2,950 to 2,360 is 590 points so 120-point bounces to 2,480 (weak) and 2,600 (strong) 
Nasdaq 7,700 to 6,160 is 1,540 points so 300-point bounces to 6,460 (weak) and 6,760 (strong) 
NYSE 13,200 to 10,560 is 2,640 points so 528-point bounces to 11,058 (weak) and 11,586 (strong) 
Russell 1,750 to 1,400 is 350 points so 70-point bounces to 1,470 (weak) and 1,540 (strong)
Despite the surge in the Futures, we haven't gained a single green box since Friday morning's Report and today is going to be a light trading day and tomorow the markets are closed so we can't take anything very seriously today.  Not only that, but the market is mainly up this morning based on something Donald Trump said over the weekend, as he tweeted:
It's amazing to me that the market takes anything Trump says seriously as the man lies twice as often as he tells the truth (not hyperbole – a statistical fact as 70% of his public statements over the past two years have been lies) so betting against what he says is the higher-percentage play.  Nonetheless, the market jumped on the news and now we'll have to sit back and see if it sticks but it's very easy to move the indexes between the resistance levels – breaking those levels is another story entirely.
I have not read anything from the Chinese side that confirms any great progress being made – this is much more likely a desperate attempt by Trump to calm the markets and avoid breaking the 1931 record for worst December in stock market history.  We all know the President likes to keep score and he used to love talking about his score in the markets – about 20% ago….  
The tweet also followed a Friday CNBC reportthat the White House had spoken with a prominent hedge fund investor how to halt the market rout, who responded that the President should end his criticism of Powell on Twitter, stop administration turnover and reach a trade deal with China in order to help markets.
When Trump took office in Jan, 2017, the S&P 500 was at 2,300 and we tested that last week so this almost 10% pop back to 2,500 is very important to Trump, as he wraps up his second year.  
​
​
It reamains to be seen whether or not Trump is lying about the trade progress but we do know that, on Thursday, Jan 3rd, the Democrats take control of Congress and THEN things are going to get interesting with a little bit of balance thrown back into the Government.  There are currently 19 ongoing investigations into Trump's activities and that's under a Republican Controlled House and Senate – imagine what the Dems will uncover.  
What is China's motivation to deal with a man who is so disliked at home and is almost certain to be replaced no later than 2 years from now and perhaps much sooner?  China tends to play the long game and,though they've had sharp declines in Factory Activity, don't expect them to cave into pressure after just a few months of declines.  China makes 5, 10 and 20-year plans, including the "Belt and Road" plan that Trump wants them to give up – that's simply not going to happpen.
In fact, what Trump has done is demonstrate that China does not need the US as a trading partner which will embolden their Government as they seek to firm up ties with our allies and enemies alike, forming an Asian and European alliance that has now been forced to work it's way around the US obstructionism.  Notice Teheran is a critical junction in China's plans – not a country we've been very tight with in recent years…
That's the great shame of Trump's legacy, he has withdrawn us from all the Global alliances we formed under Obama – we were even supposed to form an Asian-Pacific Trade Alliance with China and their Silk Road partners but Trump dropped that as well as the Paris Climate Accords and even broke off EU trade deals which has left the rest of the World no choice other than to move on without us – marking the true end of the American Century – not great again in the least….
50% of the World's population will be on-line in 2019 and 3.7Bn (92.5%) of those people do not live in the US yet we are thumbing our noses at the Global Consumers and, for now, we can get away with it as 75% of those 4Bn Internet Users are on FaceBook and searching with Google – but it won't last forever and God help us when those foundations begin to crack and we find we NEED good trade relationships in order to survive in the Globalist Reality this World has become.  
Germany's Angela Merkel made a New Year's speechsaying Germany will keep pushing for Global solutions and will reject the Nationalism that Donald Trump and his followers embrace.  If the Democrats are unable to reign in Donald Trump in 2019, it's very likely going to be US against the World moving forward – and then we'll find out how great America really is.
Meanwhile, we don't even have a Government – it's still shut down…
Have a happy new year,