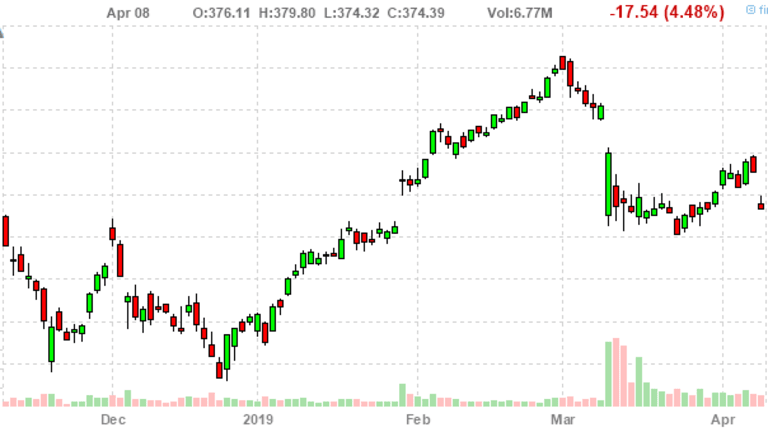 Monday Market Movement – Boeing (BA) Once Again Takes Down the Dow
Phil - "That doesn't mean this isn't a good time to grab some hedges."
Here we go again.
Boeing is still having trouble fixing the 737 Max planes and announced over the weekend they would be cutting production of the planes for now, which is sending their stock down $16, pre-market, which is good for about 130 Dow points and BA is also a big player on the S&P 500 so it's responsible for all of the pre-market losses (as of 7:30 am) so far.
"As we continue to work through these steps, we're adjusting the 737 production system temporarily to accommodate the pause in MAX deliveries, allowing us to prioritize additional resources to focus on software certification and returning the MAX to flight," CEO Dennis Muilenburg said in a statement. "We have decided to temporarily move from a production rate of 52 airplanes per month to 42 airplanes per month starting in mid-April."
Other than BA, the rest of the indexes are continuing to show strength and there's no sense fighting the tape, especially with all of our indexes now above their 200-day moving averages with 3 of the 5 majors making what are called "Golden Crosses", where the 50 dma crosses over the 200 dma – a fairly reliable bullish chart pattern.
​
That doesn't mean this isn't a good time to grab some hedges.  In fact, it's the best time to hedge as the indexes are high and the Volatility Index (VIX) is low, which means your cost of insurance is low as well – since the general sentiment is that the rally will continue. 
In Friday Morning's PSW Report, we liked shorting the S&P 500 Futures (/ES) at 2,900 and we topped out at 2,899.50 and now we're back town to 2,895, which is still a good shorting spot as long as you keep very tight stops above.  Nasdaq (/NQ) 7,600 is also going to be hard for the bulls to cross, so that's another excellent shorting line with tight stops above in the Futures.  
Last Tuesday we asked: "Are We Moving Up to a New Range?" and we have gained 50 S&P points since then and the Nasdaq Ultra-Short (SQQQ) Jan $10 calls we liked at $1.80 are now $1.65 and they are still the best overall market hedge as we thiink a lot of the high-flying tech stocks are about to be spanked for earnings disappointments. 
​
​
This is the first week of earnings season and it really kicks off on Friday with some Big Bank earnngs but we are long Bed Bath and Beyond (BBBY) so we'll be watching them closely and last week we made Walgreen's (WBA) a big long on their dip, which means we'll be very curious about Right Aid's (RAD) earnings on Thursday morning as well.
There's not a lot of data this week but we do have Fed Minutes on Wednesday along with a 10-Year Note Auction and we often sell off a bit into those to chase investors into bonds so we can keep the rates low.  Powell is the headliner at the Democratic Caucus in Virginia Weds-Friday, which is why Trump hates him again and we'll see what hints come out of that.  The only other Fed speaker all week is John Williams Thursday morning – to spin Wednesday's note auction.  
​
​
It's very tricky as we test new highs and the news cycle is more like a clyclone these days, with whirls of confusing data coming from all sides so our best bet is to stay well-balanced and nimble but, in general, I will be very surprised if we're not down 5-10% into earnings season as there doesn't seem to be much there that will be able to justify these record-high market levels.