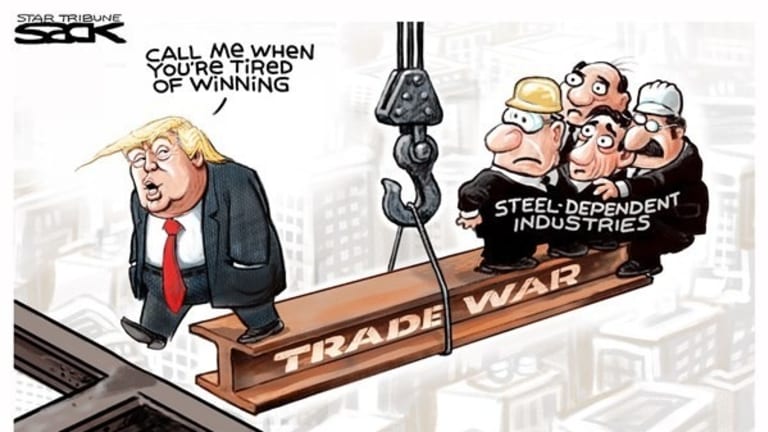 Monday Market Movement – August Vacations Kill the Volume
Oddly enough, we're getting ready to short TSLA again as it re-tests its highs as it is overpriced.
It's vacation time!
I'm on vacation and Europe is on vacation which leaves no one to trade the market, so don't expect much this week or next. Even the President is on vacation but, sadly,not away from Twitter, where he's having a busy weekend claiming victory in the Trade Wars and attacking the media. So far, the markets have been oblivious to the escalating Trade War, which is very, very dangerous and the reason we pressed our hedges at the last options rollover.
Another guy who can't stop tweeting is Elon Musk and, following the Presendential tradition of inappropriate tweeting, Musk sent out a parody video of Hitler shorting Tesla stock which is, frankly funny and, coincidentally, I once made a paradoy using the same video on the same subject when the company was much smaller ($150 and we were long) but, then again, I don't run a $60Bn company. Actually, if you read my 2013 parody's text – it does lay out exactly what Musk had to accomplish to get to this stage of success.
Oddly enough, we're getting ready to short TSLA again as it re-tests its highs as it is overpriced. Even if they are able to further ramp up production they are still bleeding cash and, as the Trade Wars escalate, TSLA could get caught in the crossfire but, over $360, it's priced well beyond perfection.
Apple (AAPL) is still a bargain at $1Tn ($208) and people are talking $250-300/share now which suits us fine as our pre-earnings play on AAPL for our Short-Term Portfolio was:
July 30th, 2018 at 12:15 pm | (Unlocked) |Permalink

AAPL/John – I don't think anything very exciting happened in Q2 and they've beat the last 4Qs by a bit and last Q2 they made $1.67, which was an 0.10 (6.4%) beat and this Q people are expecting $2.18 which is up 0.51 (30.5%), which would be huge but last July the stock was at $154 and now $189 so up $35 is only 22% so it's not likely they miss and that would certainly justify $200 but it would be crazy to play them short-term since the market has not been taking disappointment well. If you want to play AAPL on earnings, I'd go with:
​
Buy 5 June 2020 $165 calls for $40 ($20,000)

***Sell 5 Jan 2019 $185 calls for $14.70 ($7,350)***That's net $12,650 on the $10,000 spread but you have 18 months to roll the short calls and the June 2020 $220s are $15 so, if all goes well, you can roll your way to a $27,500 spread and, if all doesn't go well, the short Jans will go worthless and you can then sell puts like the June 2020 $165s (now $11) for $15 or $20 and sell some 2020 calls for $15 or $20 and then you have a credit spread with a nice, cheap entry on the put side.

As an educational tool, let's put it in the STP.
As we expected, we're right at the $1Tn mark after earnings and the June 2020 $165 calls are now $54 while the Jan $185s are now in the money at $27.40 so the net of the spread is now $13,300, up $650 (5%) but those Jan $185s can be rolled to the June 2019 $195s ($25) or the Jan 2020 $205s ($25.75) or the June 2020 $215s ($24.90) so, for just a coupld of Dollars, the spread can be widened up to $50 for a potential $25,000 pay-off (+100%) but, for now, we'll keep the short $185s until the $4.40 of premium wears down a bit more.  
Of course, we already had much more aggressive long-term plays on AAPL in all our portfolios – including our Money Talk Portfolio, where our position is:
​
​
So here, last September, we spend net $6,100 on the Jan spread and we haven't touched it since and it looks fairly certain Apple will expire well over $165 in Jan and we'll collect the full $30,000 for a gain of $23,900 (391%) in 15 months.  You do not have to swing for the fences to make great money betting on blue-chip companies using these options strategies! 
That's why we don't fear moving to cash – it's not like we're going to miss anything.  Companies don't "get away from us" because we don't need to bet they go higher to make great money on our spreads.  Another nice thing about our spreads is we don't have to take big risks to pick up bargains.
Facebook (FB), for instance, fell from $215 to $170 on in-line earnings with disappointing growth but it's still a monster company with half the World's population logging on at least once a month.  It's only up to $178 this morning and, even if they only make $6/share ($7.20 expected), that's 30x earnings but I'd certainly pay $120 and I can sell 5 2020 $140 puts for $9 ($4,500) which would net me in for $131 – so not tragic enough for me not to consider the $4,500 free money to play with.  
I don't have to play FB to go higher than it is now.  In fact, I can pick up 5 of the June 2020 $140 calls for $56 ($28,000) and sell 5 of the June $165 calls for $40 ($20,000) which is net $8,000 and, less the sale of the June 2020 $140 puts, that's net $3,500 on the $12,500 spread that's 110% in the money to start.  Our break-even is $147 which is $30 (20%) below the current price so our bet is that, as long as FB doesn't fall more than 20% (and fail to recover) by June, 2020, we will have a profit, up to $9,000 (257%).
Our worst-case is having 500 shares of FB assigned to us at net $147 ($73,500), but that assumes we take no action along the way.  The ordinary margin requirement on the short puts is just $5,000 as they are so far out of the money, so it's a margin-efficient way to make $9,000 too.  
See, that's a very non-aggressive way to make $9,000 – making solid, long-term returns does not have to be stressful. This particular play is not right for our OOP, because it's too big and not right for our LTP, because it's too small but if you have a desire to take advantage of Facebook's dip – it might be right for you!
We still have plenty of earnings reports to pay with and it's a slow week, economically, with not much going on outside PPI Thursday and CPI Friday, but neither of them are usually big market-movers:
​
​
​
​
​
​
It looks like we'll be able to find some fun stuff to trade this week – even if half the World is on holiday.