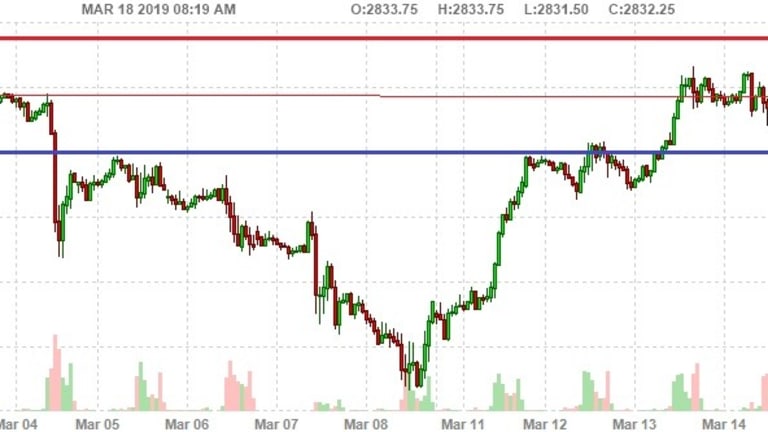 Monday Market Movement – Another Week at the Top
Phil - "So here we are, two weeks later, finally up to the goal line..."
Up and up we go – so far.
As I said two weeks ago:"Notice how well the 5% Rule is being obeyed.  That also tells us that 2,835 is the 1.25% line but we haven't made that and we are finding resistance at the 0.625% line, which is 2,817.50.  We don't usually bother at that level but it is interesting that that's exactly where we topped out yesterday, which indicates there is a LOT of technical resistance over 2,800 and it's going to take a lot more than promises of trade progress to get us over that hump."
So here we are, two weeks later, finally up to the goal line we set way back on March 5th after exactly nailing our downside goal of 2,730, or, as I said at the time:
As you can see, almost all the rejections sent us down 100-200 points so let's not get too bullish as all we got yesterday was a bounce off the fall from 2,820 on Monday to 2,770 yesterday so that's 50 points and that means, per the Fabulous 5% Rule™, that we can expect 10-point bounces to 2,780 (weak) and 2,790 (strong) so now we're watching 2,790 as the fail line and, if we can't hold that, we'll be back to 2,770 and likely on the way to a full 1.25% pullback from 2,800 to 2,765 and, failing that, the next stop is the 2.5% line at 2,730, which we last tested on 2/15.
Remember, I can only tell you what is likely to happen and how to make money playing it – the rest is up to you!  
So it's taken one month to cycle from 2,730 (2/15)to 2,920 (3/4) back to 2,730 (3/8) and now 2,835 and there's very little data this week and little earnings and the Fed is meeting on Weds but they can't possibly be more doveish so what's the catalyst going to be?  On the other hand – there's not likely to be a downside catalyst either so maybe we'll drift along at the top – which might be bullish – but any move below 2,800 on/ESwould be a very weak sign and we're still waiting for the Russell to confirm a rally by getting over its 200 dma at 1,585 (now 1,561).  
For the moment, there's not much to do but watch and wait and gather up what little data there is ahead of next Thursday's GDP Report, surrounded by 6 Fed speakers – so you know it's going to be awful!  
​
​