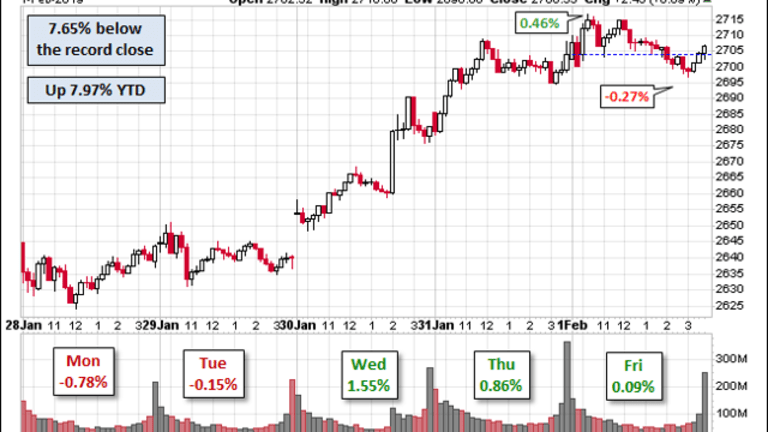 Monday Market Movement
A government will do one thing or the other – not all of the above!
Monday Market Movement – Dow 25,000, S&P 2,700, Nasdaq 7,000 and Russell 1,500 Must Hold!
Well, we've made a bit of progress.
Unfortunately, it was almost entirely due to Wednesday's Fed Meeting and Powell's doveish statements after but what worried me that night (as I said on TV) and what worries me still – is what is the Fed so afraid of that they feel they have to prop up the markets at levels that are 300% HIGHER than when they began to intervene back in 1999?
Intervention is expensive and intervention is destabilizing and usually used as a last resort and it's not just the 666 lows on the S&P that we're miles above but the pre-crash highs of not even 1,600 that we're beating by 1,100 – that's 68.75% higher than we were than the levels the Fed was supposed to be getting us back to and NOW they think falling back to not quite 100% higher is some kind of crisis?  
​
​
What I worry about is that the Emperor has no clothes and thank goodness I'm not talking about The Donald but the markets in General, which have been pumped up on artificially low rates, monetary stimulus, lower taxes, repatriation of overseas funds (also at low tax rates) and, of course, Corporate Buybacks.  None of those things are supposed to be permanent and, USUALLY, a government will do one thing or the other – not all of the above!  
It costs real money to do these stiulus packages and it's money we're borrowing from the Future in order to what? in the present?  Again, where's the beef in this economy that it can't stand even a little bit of price correction?Consumer Confidence has rarely been higherthough it's significantly off the December highs – before the Government shutdown.
It's not the present situation that's going down – if you ask people how they are doing, economically, they will generally tell you they are feeling good because 96% of the people are employed and we're all fairly surprised to be alive in year two of the Trump Presidency.  However, if you has people about their forward economic expectaitons – they are plunging, down below 100 from a high of 117 in November.  
"Back-to-back declines in expectations are reflective of an increasing concern that the pace of economic growth will begin moderating in the first half of 2019," Lynn Franco, senior director of economic indicators at the Conference Board, said in a statement released with the data, citing uncertainty over the Trade War and the Fed, who had been warring with the President in the Fall.
Another weak spot was household plans to spend on big-ticket items. Measures of the share of consumers who plan to buy cars, homes and major appliances such as refrigerators in the next six months all declined.  The drop in confidence "is not a disaster, as the level of the headline gauge is merely back to near where it spent the first seven months of this year," Stephen Stanley, at Amherst Pierpont Securities. "However, it will definitely be worthwhile to keep a close eye on the various measures of consumer attitudes over the next few months to get a feel for whether and how the dive in stock prices might be affecting consumers' collective psyche."
Our game plan for the moment is to wait for 2 of the 4 indexes to cross blow their support lines at 25,000, 2,700, 7,000 and 1,500 and go short on the laggard(s) as they cross below their suppor line and then put tight stops on our Futures shorts and see what kind of pullback we do end up getting.
We're still waiting on about 40% of the S&P 500 to report and this week we have plenty of fun ahead:
​
​
The data stream is getting back to normal as the Government gets back to work and, in fact, we'll get some double reports like Motor Vehicle Sales today are for December and January (noon) and we're catching up on November Factory Orders at 10 and International Trade will be tomorrow along with Productivity and Costs for Q4.  There's not much Fed Speak this week but Powell is spreaking on Wednesday – so yet another chance to boost the market then which means we're just playing for a quick rejection at our short lines and won't be greedy.
​
​