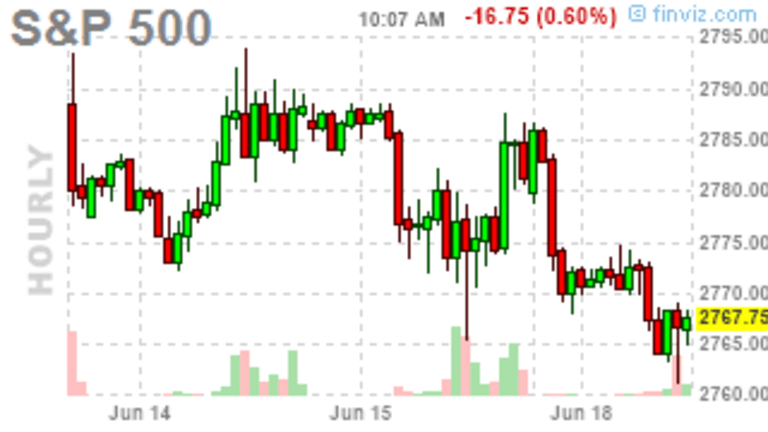 Monday Market Meltdown – Merkel Mayhem Makes Markets Morose
We're very well-hedged so a dip like this is simply amusing.
We're very well-hedged so a dip like this is simply amusing.
Wheeeeeee!!!
It's about time our hedges made some money!  As you know,we've remained cautious, even while making money on the long side and, just this weekend,in our June Portfolio Review, I said to our Members:  "I'm still very risk-adverse in this market and yes, we could be making more if we were more aggressive but then again, we could blow it too – and that is what we're trying to avoid."
We're very well-hedged so a dip like this is simply amusing and it's miles to go before we even get back to the strong bounce line at 2,728, which had been the top of our range since February.  Unless we fall back below that line on the S&P (/ES) this is just a minor pullback and we're still in bullish territory though failing at the 2,800 line (again), which is where we ran into trouble in March before pulling back 200 points (7%).  
​
​
7% is right about the pullback we are expecting but we expected it from 2,728 – this move back to 2,800 has been a bonus round so far.  Above the 2,800 line, we have to capitulate and get more bullish – no matter how much we don't trust the rally but that certainly isn't a problem we'll have to deal with today, as we're down around 2,764 so far in the Futures.
If you feel under-hedged, you can use a play similar to the DXD play we gave you in our 6/7 Morning Report, when I said:
That's how hedges are supposed to work – they are insurance policies and keeping our portfolios well-hedged is the only way we can sensibly keep long positions after they've already gained 20% for the year.
Maybe this is a full-blown 1998/1999 rally but we've got PLENTY of longs so all we're worried about now is whether or not we have enough shorts.  We still like the 7,200 line to short the Nasdaq Futures(/NQ)and 2,780 is a great shorting line on the S&P(/ES)as is 1,680 on the Russell(/ES).  The Dow is simply too silly to short at 25,250 but I wouldn't mind taking another Dow Ultra-Short(DXD)spread like this:
Buy 100 DXD July $31 calls for $1.55 ($15,500)
Sell 100 DXD July $32 calls for $1 ($10,000)
Sell 5 DIS 2020 $90 puts for $5 ($5,000)
That's net $500 cash and $3,112 in ordinary margin on the $10,000 spread that's currently 100% in the money.  Your worst case is you lose $500 and have to buy 500 shares of DIS for $90 ($45,000), which is something we'd love to do (you can subsitute any stock you'd love to own like LBrands (LB) 2020 $30 puts ar $4.20 or IBM 2020 $115 puts at $5).  Essentially, if the Dow is below 25,200 on July 20th (expiration day) – you can cash out the spread for $10,000 with a $9,500 cash profit and, if you want, you can then spend half of your profit to release your obligation on the puts.
DXD did bottom out at $30 (split-adjusted) in late Jan, when the Dow ran up to 26,800 so it's by no means a "safe" bet – but it is a nice hedge and, certainly, if the Dow is busting up to 26,800 – it's not likely DIS is going to tank, so the net of the trade won't be so terrible.  Also, if the Dow does break up hard from here, we simply need to roll the 100 July $31 calls while they still have more than 0.55 in value to salvage that cash and build another spread.
We'll keep track of this hedge  and adjust as necessary.
​
​
Despite the "rally" last week, DXD closed at $32.23 on Friday and the July $31/32 spead is now $1.55/1.00 so net 0.55 is right where we started but DXD is in the money, so still good for a hedge and the DIS 2020 $90 puts are now $3.50 ($3,500) so the trade is now net $2,000 for a $1,500 (300%) overall profit so far – even before the market pulled back.  See how easy it is to protect your portfolio!  Keep in mind, even at net $2,000, this is still a $10,000 spread – so still a lot of room to run.
This sell off is not just about the Trade War – we already knew China was retaliating by 2:30 on Friday and that didn't get much of a reaction.  Today it's more about Angela Merkel possibly being voted out in Germany and it's her party that's been holding the fragile European Union together.  It's possible our markets will begin to recover at 11:30, when the EU markets close, they are down twice as much as we are this morning – we'll have to wait and see.
​
​