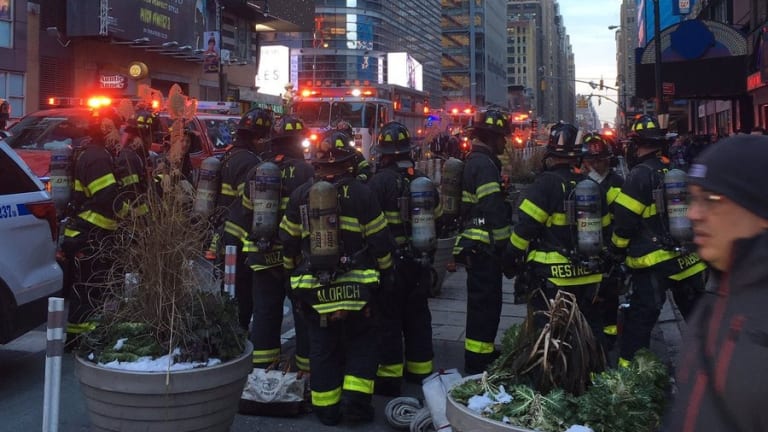 Monday Market Mania – Explosion Rocks New York City
I was going to talk about BitCoin (/XBT in the Futures now), but screw that.
Something just blew up at the subway near the Port Authority in Times Sqare, in NYC (7:45) - this is supposedly a picture of it happening but not verified (Twitter).  The bomb squad is there and reports are someone has been taken into custody who looked like they had an explosive vest on but it's very fresh – we'll find out more as we go.  My initial reaction is to short the S&P(/ES) at 2,652.5 as it's toppy anyway so I don't mind holding the short.  Trains have now been stopped and evacuated.
This is where Futures trading is a very useful tool in our toolbelt – we're able to quickly react to news and protect our portfolio or, in this case, since we already cashed out, make a little money off the tragedy (sorry but it's true, we're like vultures!).  I was just in Times Square yesterday with my kids and their friends and we took the subway home last night – right through the Times Square Station.  
It's amazing how slow the indexes are to react to news like this.  The markets are so used to shrugging off news that it fails to react when things like this happen.  Meanwhile, we're not too different from our Friday call to short the indexes.  As I said in our Friday Morning Report:
What could possibly go wrong?  As you know, we are in CASH!!! but I'll short the S&P Futures (/ES) today at 2,650 and the Dow at 24,300 (/YM) and the Nasdaq at 6,380 (/NQ) and the Russell at 1,530 (/TF) because I think we're going to sell-off a bit into the close.  We generally use a 2 out of 4 rule for shorting and short the laggards as 2 of the indexes cross under and then, if ANY of them cross back over, we get out.  So that limits our losses while giving us a nice possibility for gains.
We cashed out a few on Friday but kept the /ESshort into the weekend and now we're at 24,371 on /YM, 2,655 on /ES, 6,371 on /NQ and 1,525 on /TF so 2 of 4 are below and we can short the next cross below with confidence.  Does the market care of Manhattan subways are bombed?  Probably not in the long run but Wall Street traders are delayed this morning getting to work and, when they do get there – they won't be in a buying mood!  
Times square is the heart of NYC and, even from an economic perspective, we're going to lose part of a busy shopping day and bombs blowing up in the middle of town can put a bit of a damper on the season.  
Terrorism is one of many factors the market is simply ignoring as it plows on to record highs.  This dip may be very short-lived as it seems (8:15) it was a pipe-bomb (small) and only a couple of people were injured and the suspect is in custody so case closed, go to commercial, come back to wrap things up – I guess…
Deutsch Bank in fact, does not list Terrorism in it'sTop 30 Risks to the Market in 2018.  Does that mean they don't think terrorism is a big deal or does it just mean all 30 of these things are worse?  The #1 risk, that US Inflation will move higher in Q2 of 2018 is not just specific but very likely to me.  ECB exiting QE we know is going to be bad, bond spreads WILL widen, that's a fact.  Still, it seems to me that TERRORISM should make a rational analyst's list – it just shows you how jaded investors have become to it.
​
​
We may see some of these dominoes begin to fall as the Fed is widely expected to raise rates on Wednesday (2pm) followed by Janet Yellen's final press conference at 2:30.  Friday is a Quadruple Witching Day when Stock Futures, Index Options, Stock Options and Single Stock Futures all expire on the same day so it's a REALLY good week for us to be watching from the sidelines.  Drahgi speaks on Tuesday and the Swiss National Bank, European Centran Bank and the Bank of England set rates on Thursday, so a very exciting week to take us into the holidays. 
​
​
​
Well it's 9am now and the Markets have fully recovered from a terrorist attack in NYC.  Perhaps Deutche Bank is right and it's not something we should worry about.  Also not really on DB's list, though #30 touches on it, is the possiblity that China's growth, not only will slow down – but never was that fast to begin with.  Once again we are finding that 10 more Chinese Provinces AND the city of Chongquing inflated fiscal revenues and borrowed money illegally to fund growth,  according to a National Audit.  This is a widespread issue in China and it remains to be seen what their real economy looks like.
OK. back to BitCoin now.  Futures trading started today (/XBT) and BitCoin flew up from $15,000 to $18,870 (20%) and is now back to $17,720.  We took the money and ran at $17,750 and we're certainly not missing our BitCoins becauseGreenCoinexploded 108% this morning and yes, the whole thing is silly but I'd rather gamble on my 0.00064 Greencoins than $17,720 BitCoins.  BitCoins are now too large to realistically make 100% gains – certainly not in a day!
Another 100% on BitCoin would put it on par with Exxon (XOM) and Apple (AAPL) in market cap – that just seems silly, doesn't it?  Max Levchin, who co-founded PayPal told CNBC he's still not sure if BitCoin is brilliant or a scam.  He does, however, think the Blockchain Transaction, which underly BitCoin, GreenCoin and the other cryptocurrencies "will be essential and will not go away."
We'll see how BitCoin does on it's first day of trading futures.  What we're hoping with our GreenCoins is that this serves as an important step towards legitimizing cryptocurrencies in General. 
Have a good week,