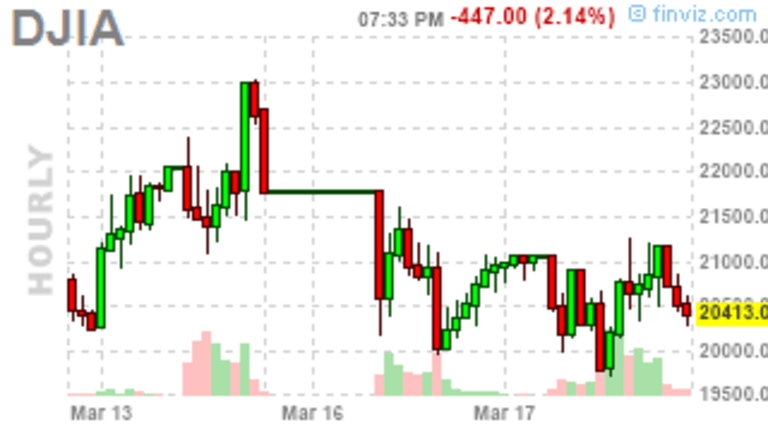 Monday Market Madness – Up and Down 100 on Trade Rumors Already
Already this morning, before the market even opens, we've gone up from 28,060 on the Dow at Friday's early close to...
This is just silly:
Already this morning, before the market even opens, we've gone up from 28,060 on the Dow at Friday's early close to almost 28,200 at the Asia Close/EU open (3am) and now back to 28,100 and falling and it's all based on whatever Trump tweets or the tea leaves that can be read out of China…  In short, it's ridiculous, which is why we chose not to play (much) this quarter.
Canada's GDP has slipped to 1.3% in Q3, mathing the US's anemic performance and that's a hard fall from 3.5% in Q2 and that's DESPITE a 3.2% jump in domestic demand – the SAME consumer demand that people are counting on to save the US Economy.  China had some factory growth to report early this morning and that was considered good news but a PMI of 50.2 is 0.3 above contraction – and that's WITH a ton of new stimulus from Beijing.
​
Trump, meanwhile, added tariffs to steel and aluminum imports from Brazil and Argentina, which should be good for US Steel (X), which we called an over-reaction to one of their facilities flooding on Friday, giving our Members ample opportunity to fill out our positions at great prices.
Oil bounced off $55 on Friday as rumors are that Saudi Arabia is pushing for an extension of the output cuts at this week's OPEC+ summit through June at least.  They don't want to burn their Aramco investors too quickly it seems: "The kingdom needs "stable prices of at least $60 a barrel," said a Saudi oil adviser. "It can't afford to have a declining oil price as its would hurt domestic investors who have bought into the IPO."  There will be pushback from Russia, who want to keep oil prices low to help Trump win his re-election campaign.  
​
Disney got even more good news as Frozen II made $124M domestically and $249M internationally, making a new Thanksgiving weekend record for a movie so December is off to a nice start for DIS, which bought Pixar for $7.4Bn in 2006 is certainly getting their money's worth there and now their $4Bn investment in Lucasfilm in 2014 is going to spit out another $1Bn with the next installment of Star Wars in 3 weeks.  
This should also be good for IMax (IMAX), who we also have a long position on in our Earnings Portfolio, which is still playable from last month:
​
​
Also from October, we had a Top Trade Alert on Coffee (/KC) Futures at $97 per contract and Coffee came just short of $120 for a gain of over $22 per contract at $375 per point is a very nice gain of $8,250 per contract and I would take at least 1/2 off the table with a stop on the rest at +$20 ($117) as we're bound to get some pullback here after a 25% move.  You're welcome!  
In that same Alert we had a trade idea for SunPower (SPWR) and that stock has gone even lower but we expected that and only sold the puts in our Money Talk Portfolio but now that SPWR has come back to $7.50 (because they just raised cash selling shares at $7), I want to add it to our Short-Term Portfolio with the following trade:
Sell 10 SPWR 2022 $8 puts for $3.30 ($3,300)
Buy 30 SPWR March $6 calls for $2 ($6,000)
Sell 30 SPWR March $8 calls for $1 ($3,000)
Buy 20 SPWR 2022 $7 calls for $1.80 ($3,600)
The net on the spread is $3,300 and, if all goes well, we will make $3,000 on the March spread, leaving us with just net $300 on the 20 long 2022 $7 calls.  We're obligated to buy 1,000 shares of SPWR if they stay below $8 and our net would be $11.30 ($11,300) if everything else went worthless but I like the short-term payoff potential on this one.
​
See, plenty of good things to trade if you keep your eyes open!
Meanwhile, we get PMI and ISM this morning along with Construction Spending and Auto Sales tomorrow along with Redbook Retail, which is very important around the holidays.   Wednesday is PMI and ISM Services and Thursday we have Factory Orders with Non-Farm Payroll and Consumer Sentiment Friday but not much Fed Speak as we have their last meeting of the year next Wednesday.  
​
Be careful out there.