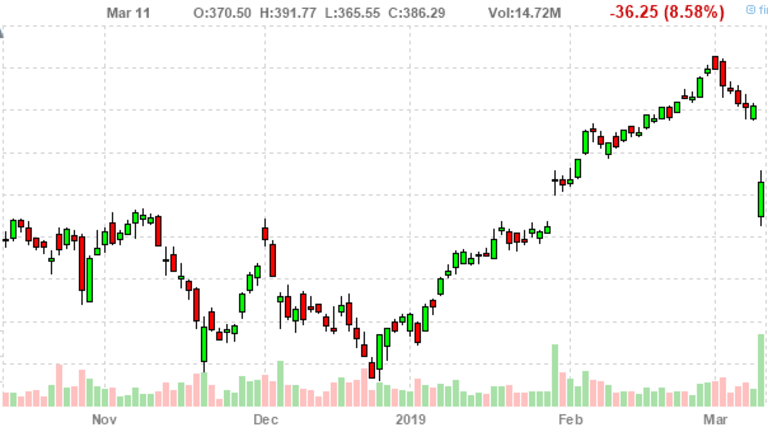 Monday Market Madness – Boeing's 2nd Crash Since October Takes Dow Down With It
There's a lot at stake here as Boeing is a large part of US Exports...
Monday Market Madness – Boeing's 2nd Crash Since October Takes The Dow Down With It
Is China over-reacting or are we under-reacting?
Aviation safety is one of those things you would hope don't get politicized but that's what we're getting this morning as anEthiopian Airlines 737 Max crashed on take-off, killing all 157 on board less than 6 months afterIndonesia's Lion Air 737 Max crashed on take-off, killing all 189 on board that plane.   The FAA was supposed to be looking into the matter in January but, you know – the Government shut-down and the investigation was delayed.
It's POSSIBLE (nothing is proven) that the 737 Max has problems with it's software automation and that means China and Ethiopia are right to ground the fleet immediately but it's also possible that China and their trading partner are sticking it to Trump and BA, using America's largest exporter as a negotiating chip – exactly the same way Trump has been using Huawei to put pressure on China.  
That's how dysfunctional and unstable the World has become – we have no way of knowing if Governments are acting in the people's best interest or if they are simply playing Cold War-style Economic Brinksmanship.  
In the Lion Air crash, investigators have indicated the pilots fought the MCAS system as it strongly and repeatedly pushed down the plane's nose, but didn't follow an existing procedure to deactivate it.  On MAX 8 models, under certain conditions, pilots may be unable to pull the plane out of a dive unless they react quickly and proceed to the most relevant portion of their emergency checklist. Outside safety experts have questioned how the FAA gave the green light for such a design lacking redundant software or hardware safeguards.
One malfunctioning sensor or a single stream of faulty signals—called a "single point failure" in engineering lingo—can lead to a catastrophic dive, if pilots react improperly, so China may have a very good point and maybe it's the US who is politicizing the issue by NOT grounding the 737 Max's pending a full investigation – who the F knows anymore???
There's a lot at stake here as Boeing is a large part of US Exports and, while only 378 737 Max planes are currently in service (green), BA has orders for 5,525 more (purple) and, of course, China is working on rolling out a competing plane that won't be ready until next year so any sort of delay in BA's program can have huge benefits for China.  Air China is also BA's biggest customer.  
"The China groundings definitely increase the pressure on Boeing," said Richard Aboulafia, a vice president at Teal Group, a U.S. aviation intelligence company. The aircraft maker needs to deliver swift and convincing proof of the jet's safety. Otherwise "the damage could get more serious, both in terms of sales and reputation."
​
​
Boeing's stock is down about 12% pre-market ($29Bn) and that's 50 points and, as a Dow component, it's costing that index over 400 points in what would, otherwise, have been a very bullish open.  As it stands, the dow is down 150 points and may head lower at the open – probably re-testing Friday's lows around 25,300.  The S&P, which also has BA stock as a major component, is flat but the Nasdaq and Russell are up a bit though they may go down in sympathy if the S&P turns red.
Southwest (LUV) is the US carrier with the most 737 Max's in service and they should be down a bit this morning and, at this stage, I'd rather play for them to recover than BA since LUV can always buy different planes but the 737 Max is BA's bet for the decade – they have to do some epic damage control over the next few days, which will be heavy on rumors and low on facts (it usually takes at least 3 days before any facts are known in an air crash).  
We're finally done (mostly) with earnings season and we came through that OK so the focus shifts back to data and this morning we got Jan Retail Sales at 0.2% which was much better than December's -1.6% BUT people ignored December's poor number, thinking it must have been some mistake that would reverse in Jan but I don't think 0.2% up after 1.6% down constitutes a "reverse" – we're still a long way from making real progress.  
Also, it pays to be very careful until Wednesday at 1pm, when we have our 30-year note action, as it pays for "THEM" to let the market drop to scare people into buying bonds at ridiculously low interest rates.  Jerome Powell speaks tonight at 7pm and Lael Brainard speaks tomorrow morning at 8:45 and, other than that – the Fed is going to leave us alone this week.  Powell was already on 60 Minutes last night and his message was "Stay the Course."  
​
​
Apple (AAPL) is up almost 2% this morning for no obvious reason but we know that "THEY" often use AAPL to offset market sell-offs since it has such a profound effect on the Nasdaq – as well as the Dow and S&P.  While Monday's don't really matter – it will be interesting to see who's up and who's down once the dust clears in the afternoon.
​