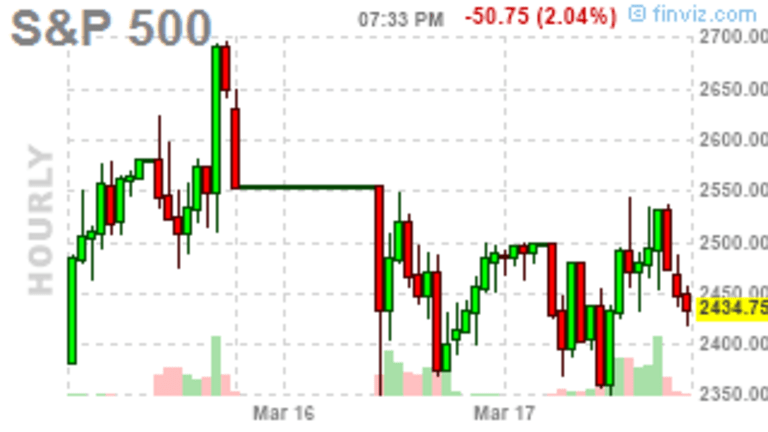 Mitigation Monday – Coming to Grips with a Global Pandemic
The Futures are all over the place.
The Futures are all over the place.  
On Friday, we mitigated much of the damage as rumors spread that the Fed was going to save us but the Federal Reserve can't stop the economy from grinding to a halt as people avoid movies, restaurants, crowded workplaces and even supermarkets that don't have face masks – which is now the hottest selling item in the World (even though they don't really help).
The global death toll jumped from 2,871 Friday afternoon to 3,048 with 89,197 now infected (up 5,000) with 4,335 in South Korea (up 85%), 1,694 in Italy (up 90%), 978 in Iran (up 152%) and now 130 in France, 130 in Germany and 86 in the US.  And we are still NOT testing people.  There simply aren't any kits so we have NO IDEA how many cases there are in the US..
All in all, there are now 9,000 cases outside of China, where the virus is somewhat contained though it is possible the Chinese Government is lying in order to get the people back to work and, frankly, it's a very tough choice the Government has to make since it's planting season and, if they fail to plant crops, then people will starve in the Fall in much greater numbers than they would be likely to die of the virus – so it is better for the people to go back to work and risk getting sick – China just doesn't trust them enough to tell the people the truth of the situation.  
Dale Fisher, a professor at National University of Singapore who specializes in infectious diseases, said the outbreak will continue globally unless more countries take a stricter approach to finding all the individuals who had contact with infected people. In places with a large number of cases, they may have to take extreme measures and quarantine large areas, he added.
"If you do nothing you'll get another Wuhan," said Dr. Fisher, who also heads the World Health Organization's global outbreak alert and response network.
You're not hearning about this because your own leaders don't trust you with the truth either.  The message from the Trump Administration is that this is "no big deal" and you should get back into the market because the Fed will fix everything – it's the same message we got early in 2008 – from the same people (Kudlow, Cramer), in fact!
Don't think your Government and the media won't lie to you in a time of crisis – clearly they will!  
China's Caixin Manufacturing Index fell to 40.3 (serious contraction) in February – a record low not even touched during the Financial Crisis 10 years ago.  China's official National Bureau of Statistics manufacturing gauge earlier showed the steepest monthly contraction on record.  The Caixin numbers show production, new orders and staffing levels all falling at the fastest pace in the survey's history, as manufacturers heeded the government's call to extend their Lunar New Year shutdown to contain the spread of the virus.  "The supply and demand sides both weakened, supply chains became stagnant and there was a big backlog of previous orders."
Meanwhile, the OECD says Global Growth will slow sharply, putting the Global Economy at risk of recession with the "best case" forr the year now at 2.4%, down from 2.9% projected just a month ago.  That's $400Bn shaved off by the OECD but my own projection is for an even Trillion to be lost – well under 2% – so we'll have to wait for those revisions.  "It's not like it plunges and then it recovers quickly," said Laurence Boone, the OECD's chief economist. 
For the U.S., the OECD sees a very slight slowdown this year, with gross domestic product expanding by 1.9% as against a previous forecast of 2%.  In Italy, the European country with the largest number of victims as the month of February ended, the OECD doesn't expect to see any growth this year, having previously forecast an increase in GDP of 0.4%. But as with China, it expects to see a recovery in 2021, with growth still projected at 0.5%.
We get a peek at our own manufacturing numbers with the Fed's Beige Book on Wednesday and we have PMI and ISM this morning after the bell and an incredible amount of Fed speak with 11 scheduled spots, 6 of them on Friday as we certainly can't afford for this week to end like last week – can we?
Still plenty of earnings coming in as well: