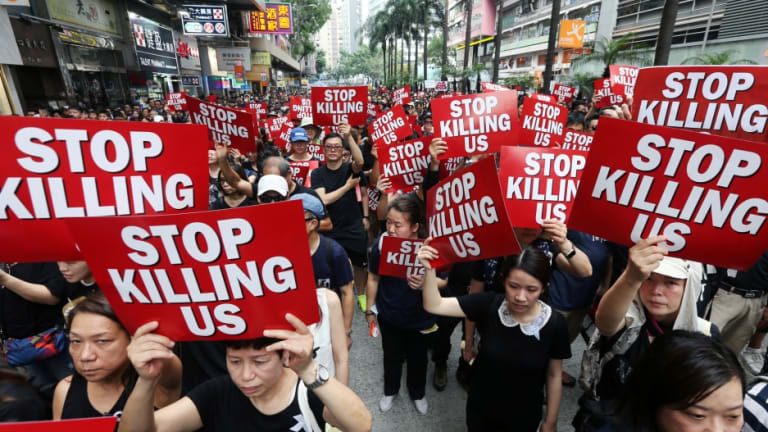 Manic Monday on a Short, Low-Volume Week
Progress was made on the Trade War – again – as China agreed to raise the penaties they never enforce on IP Theft...
The Futures are up again – yawn!
Progress was made on the Trade War – again – asChina agreed to raise the penaties they never enforce on IP Theftover the weekend but keep in mind our expectations have been lowered so much that the market is now celbrating SOME progress on a PARTIAL trade deal – 2 years after the fact!  When did we all become such idiots?  Because of the trade progress, Trump has left the Hong Kong protesters out on a limb by refusing (so far) to sign Congresses bill sanctioning China for their brutal crackdown.
Fortunately, Hong Kong citizens weren't waiting for Trump and Putin's approval and they went to the polls this weekend and overhwelmingly voted for pro-Democracy (the thing Trump and Putin are against) candidates who won 90% of the seats up for grabs with a record 71.2% turnout at the polls despite China's voter intimidation tactics.  This is very worrying for Trump and the GOP, who are counting on their own voter intimidation tactics to keep potential Democratic supporters away next November.  
Hong Kong's embattled Government took a page out of Team Trump's playbook and attempted to spin reality with this statement:
"There are various analyses and interpretations in the community in relation to the results, and quite a few are of the view that the results reflect people's dissatisfaction with the current situation and the deep-seated problems in society, (The government) will listen to the opinions of members of the public humbly and seriously reflect."
Democratic candidates on Hong Kong ran on a central theme of "Five Key Demands" from the protests, which boil down to this:
Withdraw the extradition bill that kicked off the entire crisis (since achieved)
Launch an independent inquiry into allegations of police brutality
Retract any categorization of a protest on June 12 as a "riot"
Amnesty for arrested protesters
Introducing universal suffrage for how the Chief Executive and Legislative Council are elected.
You would think that's not a big deal in exchange for ending protests that are entering their 6th month, but that last one is a big sticking point as China would lose control of Hong Kong (that they are not supposed to have) and they've only just gotten their puppet Government fully in place (leading to the protests). 
Speaking of protests and Governments that need to be overthrown, 4 more witnesses will testify in the Impeachment Hearings this week, including 3 who directly, officially, listened in on Trump's "perfect" phone call.  That's right, the GOP has made a huge deal about there being no direct witnesses and that's been true – because they weren't scheduled until this week – after all the indirect witnesses had been questioned – it's sort of how a trial works.
The US markets are closed on Thursday but we're happy enough with our portfolio positions (only a few) and will finish reviewing them today.  We're still worried about the overall economy and the Chicago Fed was down 0.71 this morning, after being down 0.45 prior and vs. -0.25 expected by leading Economorons.  Dallas Fed is at 10:30 and Powell speaks tonight and we have quite a bit of data coming in this week – squeezed into Tuesday and Wednesday due to the holiday (and no one will be here Friday either!). 
In fact, as you can see by the earnings calendar – Friday is a dead day:
Expect the markets to be pushed higher as we have a lot of window-dressing going on into the end of the month as Wall Street is trying to close out the year on a high note – and they have the full cooperation of the Trump Administration to do that as those guys REALLY need a win of some kind.  Any kind…