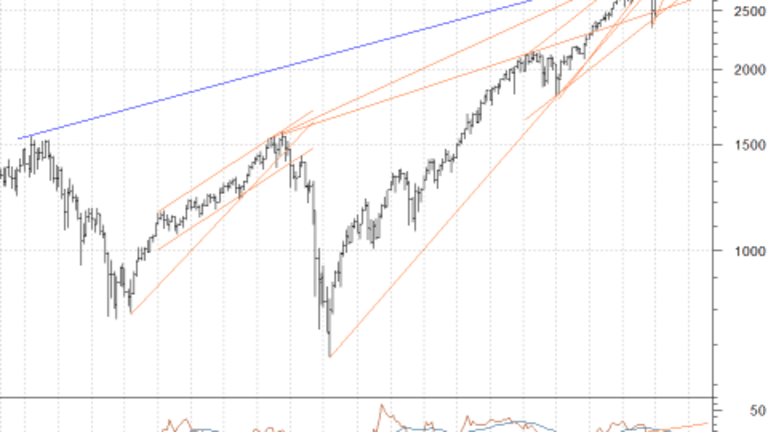 Long Term Stock Market Chart Perspective
Did yesterday's 85 point plunge in the S&P 500 mean anything in the big picture?
Courtesy of Lee Adler
After a big day like yesterday, I like to get a little long term stock market chart perspective. (Yes, this stilted verbiage is for search engine optimization).
We do that with a monthly bar chart, which I update when relevant in Lee Adler's Technical Trader. That's in addition to the regular daily bar/cycle charts covering the past year, and a weekly cycle chart covering the past 4 years.
I wrote on July 14, in reference to the price and indicator patterns on the weekly chart:
The market has overshot a 3-4 year cycle projection in terms of both price and time. There are no long term projections. A 4 year cycle high is ideally due now. A 4 year cycle low is ideally due in mid 2020. That suggests a short, sharp bear market starting in the next few months and lasting until the second or third quarter of next year.
Prior to that, back on June 23, I wrote:
The market is now in a drive toward the top of the megaphone or broadening top pattern that has been forming since December 2017. That line is now at 3020. A sharp reversal from there would suggest that a major top formation is still in play.
That was my perspective in late June and mid July. Here we are some 4-7 weeks later. Did yesterday's 85 point plunge in the S&P 500 mean anything in the big picture? Or was it just another case of racing easily across a thinned out trading range. Sound and fury signifying nothing?
Here's that monthly bar chart that includes yesterday's action. I'll let you decide.
​
​
Now, bear in mind that August isn't over yet. It's not where the S&P 500 is during the month that counts, it's where we are on August 31, that matters. If the market fails to recover back above 2950, then the bears have it.
So from a long term stock market chart perspective (there's that SEO keyword nonsense again), 2950 looks like the key this month. If we're below that at the close on Friday, August 30, then the target would appear to be 26-2700 over the next couple of months.
And it could get worse after that.The 4 year cycle momentum indicator is already on a sell signal. If it breaks the December 2018 low, it would signal much lower prices for much longer. But we'll cross that bridge when and if we come to it.
Stay up to date with the stock market's technical outlook withLee Adler's Technical Trader!Try Lee Adler's Technical Trader risk free for 90 days!
The postLong Term Stock Market Chart Perspectivewas originally published atThe Wall Street Examiner.