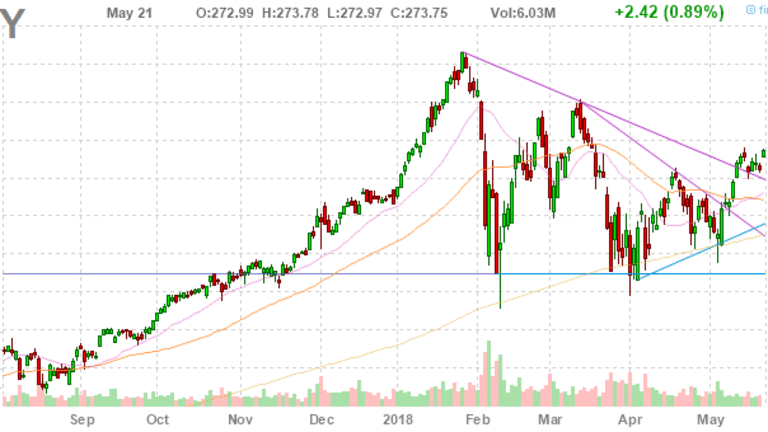 Just Another Manic Monday – S&P 2,728 – Again…
There are still plenty of great stocks to buy if this rally is real.
There are still plenty of great stocks to buy if this rally is real.
**Wow, what a "**rally".
Half of Europe is closed and the Dow Futures (/YM) are up 225 points – back to 25,000 (again)and the S&P (/ES) are right back at good old 2,728 (our 20% line) with 6,925 on the Nasdaq (/NQ), again and 1,632.50 on the Russell (/TF) – so same old, same old and happy Monday. The reason we're up is becauseChina's $500M bribe for President Trumpdid the trick andsuddenly we're rolling over on trade. I'm glad – trade wars are terrible for the economy and we should give Trump credit if the whole thing was just a ruse to line his own pockets and not just the mindless pursuit of an iditotic policy that was doomed to fail…
Speaking of idiotic policies – we have the FOMC Minutes this Wednesday and 10 Fed Speakers into the 3-day Holiday Weekend (US markets closed next Monday). I used to run down who was a hawk and who was a dove but they all sound like doves since Powell took over and we'll see if the minutes to the last meeting indicate the Fed is still on track to raise rates 3 times with only 5 meetings left this year.
​
​
​
​
As earnings season begins to wind down, we're seeing analysts projecting that the 20% pop in earnings caused by the Trump Tax Cuts for Corporations will somehow happen again next year (it is certainly possible that, if the GOP keeps the House and Senate, they may pass another round of cuts for the Top 1% – crazy as that may seem). Edward Yardeni of Yardeni research asks "What are Stock Industry Analysts Smoking" and his own 2019 estimates are $166/S&P share, about 5% below consensus.
Of course, all this is assuming nothing goes wrong and the President won't be impeached and we amicably resolve all our differences on Trade with China, Japan, Europe, Mexico and Canada and we peacefully disarm Iran and North Korea and prove Global Warming isn't a problem so Hawaii won't melt and neither will the ice caps and glaciers and Russia won't meddle in the November election (because we haven't done anying about their meddling in the last election, have we?), etc….
So, if none of those things go wrong – what is there to worry about?
There's still plenty of earnings reports to make our way through this week, including our 2018 Trade of the Year – L Brands (LB) that are still pretty cheap and featured in our Money Talk Portfolo, which we just talked about in Friday's Morning Report. In that portfolio, back on Sept 6th, we had a net $3,400 outlay on a $30,000 Jan 2019 spread and we're still at net $3,000 so $400 better than our original entry may be the last chance to play before earnings turn things higher.
​
​
​
​
We reviewed all of our Member Portfolios over the weekend and I reiterated my call to cash in into the madness of the last couple of weeks as the market continues to irrationally plow higher for no particular reason (no trade war with China is today's excuse, but what does it change?).
There are still plenty of great stocks to buy if this rally is real. Aside from LB, I see WSM has earnings this week and that's been a Top Trade pick of ours in the Mid $40s before and just this morning, in our Live Member Chat Room, we decided Dave and Buster's (PLAY) was cheap enough to jump in on at $38.
We'll see how much of today's gains hold but, as noted in our Reviews, we didn't see any reason to press our hedges as long as the indexes are trading above their 50-day moving averages. These moves may be silly and irration but, if the markets are being silly and irrational, we need to go with the flow and trade that way if we want to make money trading it!
​
​
​
​