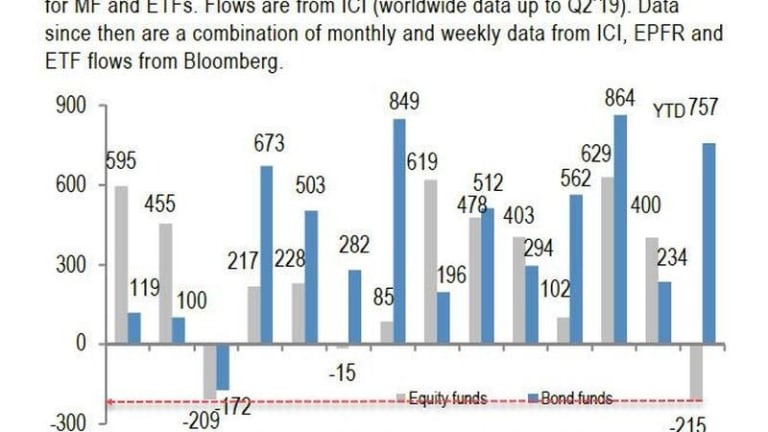 How Central Banks Changed The Nature Of Assets
This configuration is pushing investors to search for yield...
Courtesy of ZeroHedge
Over the weekend, when discussing the biggest "conundrum" in the markets, namely the all time high prints in the S&P coupled with record outflows from equities…
​
​
… quoted SocGen, who in turn paraphrased us, as saying that "we are currently facing a conundrum. Despite the S&P 500 rising 24% ytd to record-high levels in recent days, we have yet to see any signs of exuberance. Indeed, both the positioning and market sentiment indicators do not seem to point to excess complacency."
While there was much more in the linked discussion of what is behind this paradox of constant outflows yet consistent all time highs, as part of its 2020 year ahead outlook, SocGen had an especially interesting tangent on how central banks have corrupted markets, namely how we now live in a world where equities are behaving like bonds, and are purchased for current income (dividends) while bonds are now acting like equities, and are being bought for capital appreciation (see thedoubling in price of Austria's 100 year bonds earlier this year).
Commenting on this inversion, SocGen's Alain Bokobza writes that "the universe of negative-yielding bonds currently stands at $12tn, a level we have never seen at this stage of the economic cycle… This configuration is pushing investors to search for yield, changing the nature of assets."
​
​
For insightful lessons on this, SocGen looks to Japan where as JGB yields moved deeper into negative territory, the French bank's allocation framework called for a more neutral stance on sovereign bonds, while favoring the equity complex.
In a way, investing in equities in an environment characterised by very low sovereign bond yields allows investors to collect the combined dividend and buyback yield.
At this point, the risk of continued Japanification of DM yield curves as we wait for renewed signs of slowdown which are inevitable with China's credit impulse paralyzed – especially US Treasuries – is pushing investors into riskier assets, shaping global portfolios as barbells.
Looked at from the perspective of Treasury yield, i.e., the Fed model, SocGen writes that "the cushion from dividends and buybacks looks attractive." And with the S&P 500 dividend and buyback yield is at 5.3%, vs the 10y UST's yield of 1.8%: the spread of 3.5% is, for now, acting like a support for the S&P 500.
​
​
Incidentally, the fact that the dividend/buyback yield is so much higher than the 10Y bond yield, is also the main reason why so many companies engage in stock buybacks, which would be a successful capital allocation exercise, if it wasn't done at the expense of aggressively leveraging the company without getting some future cash flow upside in the process.
And speaking og buybacks, there has been a massive wave of share buybacks over the past two years, with 2019 set to eclipse the record buybacks executed in 2018 (there may be a modest drop in announced buybacks in 2019 vs the prior year). As of 1 September 2019, S&P 500 companies have repurchased $829bn in stocks over the past 12 months, financed either through debt or repatriated cash. But mostly through debt.
​
​
This is an issue because as SocGen states, some time in 2020 the market will start to focus more on the link between buybacks and debt, at which point the jig will be up and the single biggest buyer of stocks since the financial crisis, amounting to over $15 trillion in cumulative buybacks…
​
​
… will be gone.
In this context, perhaps the most important question for future returns is which sector(s) might struggle to initiate debt-financed share repurchases because they are already heavily leveraged? SocGen believes buybacks in the consumer discretionary sector could be at risk, given the current median leverage ratio of 5.91x and net buyback yield of 3.6% (gross buyback yield of 3.8%), even more so as stock repurchase programmes were rather widespread within the sector. In fact, 83% of corporates in the sector had initiated buybacks ytd as of September, in line with the index as a whole, while the top 10 buyback programs accounted for just 64% of the sector total.  As such, being short consumer discretionary versus consumer staples would be a good way to protect against the leverage story within the US equity markets, as well as ahead of further rate cuts from the Fed.
​
​