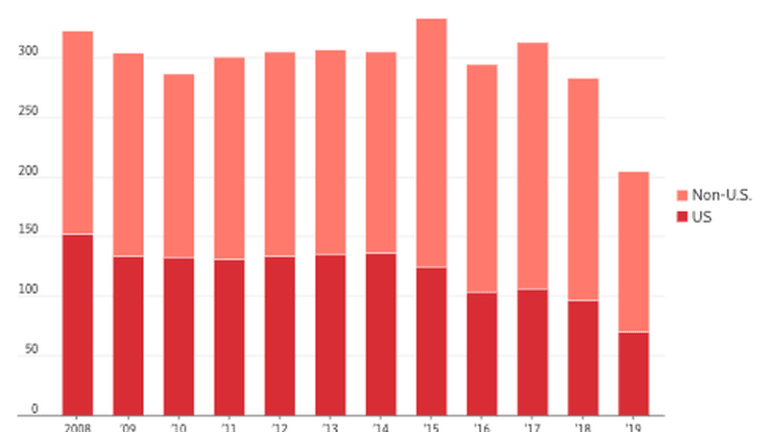 GE Cut 78,000 Workers In 2019 Amid Stabilization Efforts To Thwart Bankruptcy
The divestment of GE's oil and gas division and transportation segment accounted for much of the job losses.
Courtesy of ZeroHedge
While it's too early to write an obituary post for GE, certainly this iconic American company and once darling on Wall Street has stumbled towards the brink of failure. 
GE has been a corporate shipwreck for the last decade, where infamous Madoff whistleblower Harry Markopolos warned in late 2019 that the company's 'cash situation' is a lot worse than the company's filings would suggest.
Markopolos said the accounting fraud that GE has conducted would be more significant than Enron and Worldcom combined. 
GE's CEO Larry Culp came aboard in 2018 to save the company and sell off business units to raise cash and stabilize cash flows to steer the corporate ship away from bankruptcy threat. 
To make "GE Great Again,"The Wall Street Journal has learned that 78,000 employees, or about 25% of its workforce, were fired in 2019. 
At the end of 4Q19, GE had 205,000 global workers, down from 283,000 over the last year. Its US workforce declined from 97,000 workers in 2018 to 70,000 in 2019, a loss of 17,000.
The Journal notes the number of jobs GE had in 4Q19 is the lowest amount since World War II. 
The divestment of GE's oil and gas division and transportation segment accounted for much of the job losses. The oil business had 65,000 employees, while the transportation segment had about 9,000. 
GE's domestic and international footprint has been scaled back since Culp began reducing operations in 2018. Last year, GE closed 175 manufacturing facilities worldwide and reduced US plants from 162 to 94. 
GE's footprint will continue to shrink in 2020 as it awaits approval for the sale of its pharma unit to Danaher Corp.
Culp has told shareholders that his strategy is to reduce the company's debt load to improve stabilization. GE reduced total borrowings in 2019 by $10 billion to $90.9 billion. He also warned investors that the grounding of the Boeing 737 Max aircraft could delay the company's turnaround plan in 1H20. 
It remains to be seen if GE can weather the next global recession that could be triggered by the virus shock developing in China.