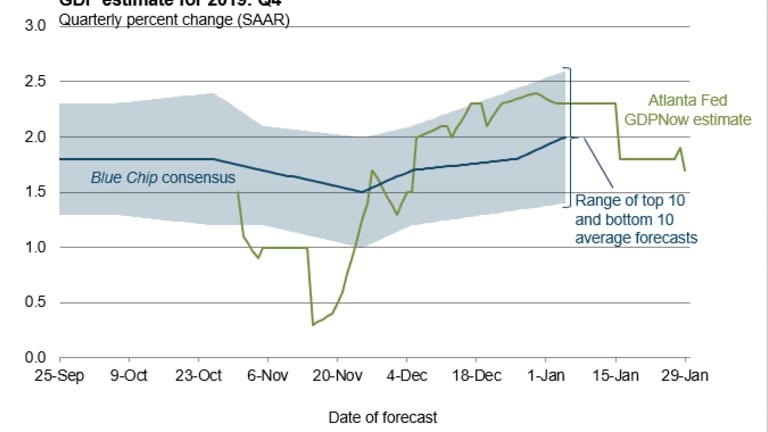 GDPhursday – Is the Rally Getting Old or is it Just a Virus?
8,000 infections, 170 deaths. That's the number we're up to this morning but it is less than 9,000 so not getting...
8,000 infections, 170 deaths.  
That's the number we're up to this morning but it is less than 9,000 so not getting wose though the rise in deaths to 170 is disturbing from 106 yesterday.  1.7% is the number I'm more concerned with as that is the Fed's most recent estimate for our Q4 GDP and you would think they would know but this is just the first estimate for Q4 – so the number we hear this morning is a lot more like a guess than a statistic anyway.
We guessed we hadn't heard the last of the coronavirus in yesterday's Live Trading Webinar (replay available here) and we shorted the S&P (/ES) Futures way back at 3,285 and they are already down to 3,245 for a $2,000 gain, per contract (you're welcome!) and the Nasdaq (/NQ) Futures we shorted at 9,142.50 are now down to 9,037 for a gain of $2,110 per contract – not bad for a day's "work", right?
In the bigger picture (there's always a bigger picture) we're simply retesting Monday's low's and we made a lot less money than we did on Monday because, on the whole, we only had a strong bounce which quickly failed and now we're retesting the lows so, if we only get a weak bounce now and that fails – look out below!   But, for now, we'll take our quick profits ooff the table and re-enter shorts below the 28,500 line on the Dow (/YM) Futures with tight stops above. 
Here are the bounce lines for the S&P 500, as calculated by our Flawless 5% Rule™:
We predicted all the index bounces on Monday for our Members in our Live Chat Room at 10:52 and, so far, the indexes have done exactly what we expected, which is actually bad because we expected this would be the start of a breakdown…  Oh well…  
What we're looking for today is signs that the rate of viral infections is slowing (more important than deaths acellerating) and, chart-wise, we'll be looking for more than a weak bounce.  If the weak bounce line isn't taken and held into the close – it will be time for more hedges.  Remember, I can only tell you what is likely to happen and how to profit from it – the rest is up to you!
8:30 Update:  Q4 GDP is estimated up 2.1%, the same as last Q and much better than the Atlanta Fed's prediction but, as I said, beware the revisions.  Still, it's a good reason to firm up that bottom so now we'll see how well we bounce off this "great" news.  Well, not that great as 2.1% is anemic growth but it was during the Trade War and that's over (sort of) and, if the virus burns out fast – we could be seeing a better Q2 (Q1 is already messed up).  
Tesla (TSLA) had a huge pop after hours, all the way to $659 and we have 5 short June $550 calls we sold for $66.50 (net $616.50) in our Short-Term Portfolio so $650 is staring at a loss of $16,750 but, of course, we'll roll and adjust our short calls.  I would put up the idea here – but there's no way to gage the price of the options until they open.  
What we will be looking for is overpriced calls to sell, like the Sept $650 calls for maybe $95 on all the excitement.  That would raise our ceiling to $750 and, HOPEFULLY, Tesla will calm down at some point.  Currently, $650 per share is $118Bn in market cap or about $120,000 for every car TSLA has ever sold – more than Ford (F) and GM (GM)'s combined $80Bn market cap – and they sell $310Bn worth of cars a year and make $11.6Bn in profits.
TSLA's Revenue in the 2nd half of the year was $13.7Bn vs $14.1Bn in the first half and Net Income fell from $450M in the first half to $248M in the second half with earnings per share down from $2.63 in the first two quarters to $1.38 in the last two – that's down 45% so of course the stock is up from $225 to $650 (188%).  And no, it's not just sour grapes because we were short – it's sour grapes because we were right and sales and revenues are slipping and the company did only make $4.01 per $650 share – trading at 162 TIMES earnings.  IT'S RIDICULOUS and it pisses me off but, oh well, we can only hope one day the market becomes rational.  Meanwhile, we'll take that $100 for people who think $750 will come easy, right?
Facebook (FB) is failing in their attempt to get into the Trillion Dollar Club and the stock is falling hard this morning, down 7% to $208 (only $636Bn) as the speed of their growth slows down to 25%.  FB made $6Bn in Q4 vs $320M for TSLA so 20x yet Facebook is only valued at a bit over 5x what TSLA is fetching so either TSLA is ridiculously overpriced or FB is worth $3Tn?
Of course $3Tn for Facebook is only $1,000 per user – so not as far-fetched as Tesla being valued at $120,000 per driver.  Aren't those drivers the exact same people who go home and log into Facebook?  Why would they be worth more money in their car than they are at home?  These are the questions we ponder in the 2020s!