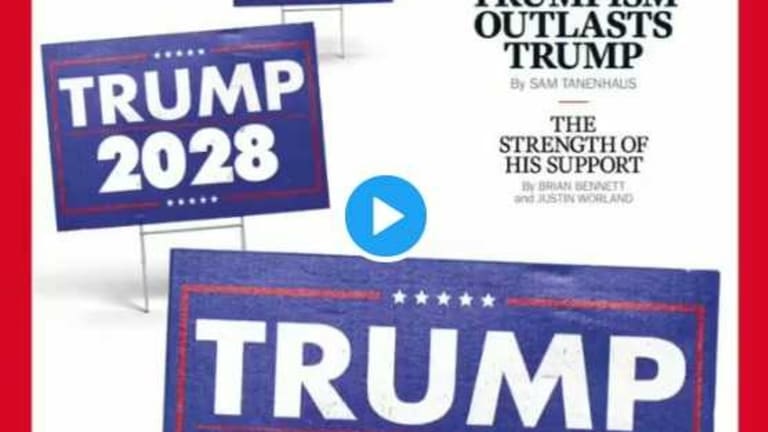 G20 Thursday – World Leaders Gather as Storm Clouds Form Over Global Economy
Phil - "It's not the kind of thing you want to just toss out on a whim, is it?"
Trump is on the other side of the World.  
Unfortunately, that doesn't stop him from tweeting and the President was active last night, sending this very scary video out to his followers while calling the Democratic Debates "BORING!" (they were, but it's not polite) and calling NBC and MSNBC "FAKE NEWS Organizations", which undermines the basic principles on which our democracy was founded.  All in a day's work for the President...
On his way to meet with the other World leaders, Trump insulted all of our allies saying that, if the United States were attacked, Japan would only "watch it on a Sony television." He called Germany a security freeloader and chastised India for raising tariffs on American goods.
Trump has meetings scheduled with each of those leaders tomorrow so we're off to a great start already.  The President has already spoken favorably about Vladimir Putin and told reporters that what they discussed in their meeting would be "none of your business" and Saturday Morning, Trump is scheduled to meet with Mohammed Bin Salman, who had Jamal Khashoggi murdered and dismembered – Trump had nothing bad to say about him either.
As noted in the New York Times, Trump also continues to repeat his lies about NATO – our primary military alliance:
After assailing the treaty with Japan, Mr. Trump went on to repeat what has become a perennial attack on Ms. Merkel's Germany. "We pay for close to 100 percent of NATO," he said. "People don't know that. We pay for close to that because Germany doesn't pay what they're supposed to pay, and out of the 28 countries, seven are paid up."
As he has consistently done since taking office, Mr. Trumpmischaracterized how NATO worksand gave a false number about America's share of the financial burden. NATO has a budget to cover common civilian and military costs, and the United States pays22 percentof that, according to a formula based on national income. None of the NATO allies are in arrears on their contributions.
Deconstructing the NATO alliance from within isn't just unpatriotic – it's destabilizing the entire Global Balance of Power that has given us, for the first time in human history, 75 years of relative peace.  It's not the kind of thing you want to just toss out on a whim, is it?
Obviously, once again, these are the actions a Russain Agent would take if he wanted to undermine the Free World and NOT the actions you would usually associate with a President of the United States.  Trump has also renewed his threat to add $300Bn of additional tariffs on Chinese goods if Xi Jinping doesn't make him happy so there is a possibility that we have a complete breakdown wiht China at this meeting.
Hence, we will be adding to our hedges into the weekend as there are too many things that can go wrong and not that many things that can go right because – even if Trump and Xi can aggree on trade – there are still months to go before finalizing an actual deal and the Fed is unliklely to lower rates in the July meeting and OPEC is likely to raise the price of oil at their meeting – hard to see any positives that are more likely than those negatives…
As noted in yesterday's Live Trading Webinar, we have done very well on our longs this month so we want to spend some of that money to lock in the gains where we can.
In our Options Opportunity Portfolio (OOP), we have several hedges and the adjustments will be:
​
​
For SQQQ we are going to buy back the short Jan $50 calls for $3.40 ($17,000) and roll the Jan $35 calls at $6.30 ($31,500) to the Jan $30 calls at $8.20 ($41,000) and we'll sell 20 (of 50) of the 2021 $45 calls for $8.20 ($16,400) to offset the cost.
For TLT, we'll take the opportunity to buy back the 10 short Jan $127 puts at $2 ($2,000) and we will roll our 10 Jan $132 puts at $4.20 ($4,200) to 10 of the Jan $135 puts at $6 ($6,000), so we are spending $1,800 to go $3,000 in the money – seems like a fair trade!
​
​
For DXD, we can roll the 50 Jan $29 calls at $1.75 to 50 of the Jan $25 calls at $3.10 for net $1.35 ($6,750) and we can buy back the 50 short Jan $33 calls for $1.10 ($5,500) and sell 25 (1/2) the Oct $30 calls for $1 ($2,500).  
Overall, we spent $6,650 and added $25,000 more protection to the SQQQ spread, $3,000 more protection on the TLT spread and $20,000 more protection on the DXD spread so $48,000 better protected over the weekend for $6,650 will make me sleep a whole lot better!
In our Short-Term Portfolio (STP), it's easier to just put up the whole thing and we'll work with that, even though we just did a review on 6/12.  The STP is where we keep the hedges for our much larger ($1.4M) Long-Term Portfolio (LTP) and, if it wasn't for these hedges, we would have cashed out the LTP long ago:
​
​
​
Short puts – These are offsets we use to help pay for our hedges, generating $18,975 in profit so far with another $32,375 left to gain and these are all stocks we'd be happy to own the the LTP at the net price.
TLT – We'll buy back the 20 short Sept $125 puts for 0.42 ($840) and we will roll our 20 Sept $129 puts at $1.30 ($2,600) to 20 of the Jan $135 puts at $6 ($12,000)
TNA – Let's buy back 1/2 (20) of the short Jan $35 pus for $2 ($4,000) as it makes us more flexible.
CAT – On track.
DXD - For DXD, we can roll the 200 Jan $29 calls at $1.75 to 200 of the Jan $25 calls at $3.10 for net $1.35 ($27,000) and we can buy back the 200 short Jan $33 calls for $1.10 ($22,000) and sell 100 (1/2) the Oct $30 calls for $1 ($10,000).
​
MJ – Low in the channel but we're not worried at the moment.  If we go down 40% ($7.50) on the longs, I'd double down.
SOYB – Already over our goal we took half the longs off the table already.
SQQQ – We're going to buy back the 150 2021 $50 calls at $7.40 ($111,000) as we made $84,000 in less than a month so it's foolish not to lock that in.  The 200 2021 $35 calls at $10.30 ($206,000) can be rolled down to the 2021 $30 calls at $11 ($220,000) as that's silly not to take advantage of at those prices.  We can also buy back the 50 Sept $43 calls at $2.30 ($11,500) as $43 is too close if this thing starts running up.
​
​
In the case of the STP, we are spending $189,740 to add over $500,000 worth of protection  If we get through the weekend, we will certainly re-cover and sell a good $100,000 worth of short calls to pay for those rolls but, into the uncertainty of the G20 – I'd rather have the extra protection in place – just in case Trump isn't as good of a negotiator as he thinks he is.