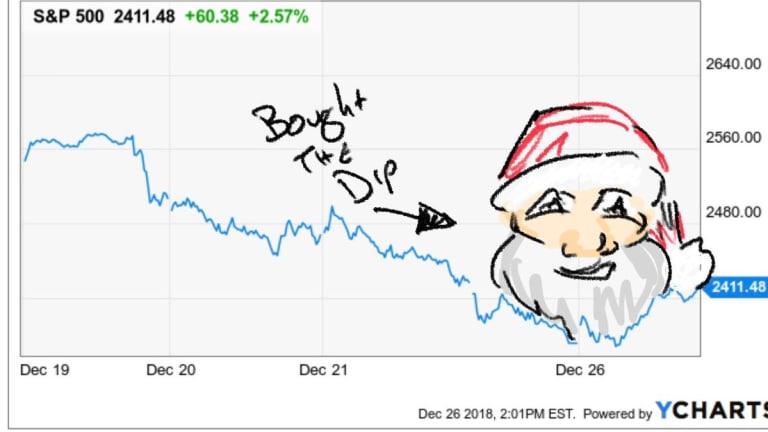 Follow-Through Thursday – After a Record Day, A Pause or More of the Same?
Not even another 10% gain can save this from being a TERRIBLE quarter for stocks...
Wheeeee – what fun!
That was the first time EVER that the Dow gained 1,000 points in a day so – you were there.  So far, in the Futures, we're only giving back 300 but that's because the BuyBots are sleeping and it sure didn't look like they were done into the close so we'll see what happens once the volume comes back with just three shopping days remaining in 2018 – and good riddance to it after that crappy quarter.
Not even another 10% gain can save this from being a TERRIBLE quarter for stocks but it can save the indexes from breaking down so we'll take what we can get and, in REALLY GOOD news, assuming The Donald can keep away from twitter for a few days, this is the 13th most oversold level the markets have ever been at with just 1.2% of the stocks over the 50-day moving averages and there has not been a year this century in which we haven't had a very nice gain following such an event.
​
​
That bodes well for 2019 and we were scrambling to adjust our portfolios yesterday in our Live Member Chat Room as we expected the bounce (see yesterday's Morning Report) but we hadn't wanted to commit on Monday as it was too scary with the markets closed on Tuesday.  Our results were not scary though as our Options Opportunity Portfolio, which opened the day down 6% finished the day up 32% for a 38% swing on the day and we're now positioned fairly bullish going forward and, as noted in our Dec 11th review, that $132,000 portfolio is on track to make another $126,256 (95%) over the next two years – on just the trades that are in there already!  
When the market sold off, rather than panicking, we looked at our perfectly good positions that we down 38% from our last review (12/11) and decided to improve them – mostly by buying back the short callers and rolling our long calls lower where it was appropriate.  We also doubled down on Frontier Communications at $2 as that seemed a bit silly and, by the end of the day, the market agreed with us and they were back to $2.30 – up 15% in an afternoon.
Meanwhile, our very well-balanced Money Talk Portfolio also dropped 40% during the sell-off but keep in mind that's because we mostly play leveraged options plays where we sell a lot of premium so a high VIX is very damaging to our positions during a quick downturn – especially as our hedges are mostly spreads and don't pay off well unless the market stays down into their expiration (and, if it doesn't, then we didn't need the hedge!).  So you can't look at your paper losses and panic – you have to simply go over each position and determine whether or not it's a position you'd want to be in at the current price or whether there are better opportunities to deploy your money.
The last time we made changes to the Money Talk Portfolio was when I was on the show on October 18th (we only make changes live on the show), which I published over at Seeking Alpha.  I won't be on again until January but let's look at how the positions have shifted since our last public review.  
Here's how the Money Talk Portfolio stood on October 18th, these are the unchanged positions from my July 19th appearance on the show:
​
​
Notice we had quite a lot of cash as I kept expecting a big sell-off (the one we just had) and wanted to make sure we had cash to deploy if we dipped.  I did the show on Oct 24th and we added the Marijuana ETF (MJ), Micron (MU) and, fortunately, a Russell Ultra-Short ETF (TZA) hedge paid for with short Caterpillar (CAT) puts resulting in the portfolio looking like this as of yesterday's close:
​
​
So we're down 24%, about on-par with the S&P 500 over that time but now let's look at each position so we can learn how to analyze positions during a crisis.  It's been very difficult to manage a portfolio that we're not allowed to adjust and can only make moves once every 3 months – a very fun challenge I intend to continue into 2019 as it's been very popular with less active traders. 
Alaska Air (AIR) – The 2020 $60 puts are about where we sold them back in Feb so no progress but an optimist would say they are holding up well after the first year.  What matters is whether we REALLY like ALK enough to own them at net $51.80 (the strike price less what we sold the puts for) and yes, we'd love to as that would be $6.5Bn in market cap and ALK made $1Bn last year and should make $600M this year but that's because they integrated with Virgin USA so of course there were costs involved as they consolidated.   Going forward, they should be back to $1Bn very quickly.  We expect to make the full $3,925 that's outstanding. 
​
​
Caterpillar (CAT) – One of our favorite songs at PSW is "The Cat Came Back" which reminds us to buy Caterpillar whenever they go on sale and they were on sale on 10/25 when we bought them and they are on sale again this week but our puts are net $88, which would be insanely cheap for this very Blue Chip stock. Even at $124, that's $73.5Bn for the company and last year they only earned $759M while restructuring but this year, in the first 3 quarters, it's been $1.7Bn, $1.7Bn and $1.7Bn so, for Q4, we expect… (drum roll please)… $1.7Bn and that will be $6.8Bn and we haven't even begun to spend on Infrastructure yet.  We expect to make the full $5,338 that's outstanding
​
​
Nasdaq 3x Ultra-Short ETF (SQQQ) – This was a hedge we picked up in July to protect our portfolio.  Here it's important to note that SQQQ is at $17.34 so the position is $10,000 in the money yet, due to fluctuations in the options contract, it looks like we lost as much on the short calls as we made on the long calls so the net looks like $5,100 so, if the Nasdaq stays low, we'll pick up another $4,900 eventually but, HOPEFULLY we lose $5,100 as the Nasdaq recovers and wipes out our hedges.  It's like life insurance, you don't really want to "win" the bet!   Since we think the market stabilize here but don't go back to their highs, I would call this a potential wash going forward. 
​
​
Russell 2000 3x Ultra-Short ETF (TZA) – We added this hedge in October and paid for it with the short CAT puts.  Very fortunate as it's a $20,000 hedge we paid $4,600 for (not including the short puts) so the upside potential is $15,400 (334%) and guess what – we're at target!  If I could have, I would have cashed at least 1/2 of the long calls out but I can't make the move so we'll see how it plays out but, like SQQQ, I don't expect a full recovery so we should retain a bit of value long enough to take a profit off the table next time I'm on the show but no firm expectations.  
​
​
Barrick Gold (ABX) – This will get confusing as they are buying Randgold (GOLD) on Jan 1st and the combined company may use the GOLD symbol so our options may change.  We're happy witht he merger and we're happy with our targets and the combined companies made $2Bn last year – even with depressed gold prices so the $6.5Bn purchase doesn't bother us and the combined valuation at current prices is about $24Bn so 12x earnings is very fair and I won't be surprised to see $3Bn or even $4Bn dropping to the bottom line by 2020 as gold goes higer and the merger efficiencies kick in.   The current net on this spread is just $2,350 out of a potential $12,500 so $10,150 expected to gain.
​
General Electric (GE) – We got aggressive on them way too early and it's killing the portfolio at the moment.  My intention is to roll the short puts out to 2021 at a lower strike and to add a new 2021 spread as I think GE will stage quite a comeback over the next few years – we were just in way too early.  All we can lose is $675 more at this point and I don't think we will but not counting on anything here. 
​
​
General Mills (GIS) – Also performing very poorly but, unlike GE, this sell-off is just ridiculous and we expect to be back at $44 in short order, which would put our spread $6,000 in the money vs it's current -4,070 net value so we have a conservative $10,070 to make on this one.  $38 on GIS is just under $23Bn and the company makes a rock-stweady $2Bn a year so we're talking about a p/e of about 11 down here so even 14x earnings would put them 20% higher at about $45.  If they are still this low next month, we'll improve the position.
​
​
L Brands (LB) – This was our 2018 Trade of the Year Runner-Up to Hanes Brands (HBI) and neither one has been doing well now but we already cashed them both in when they were doing well (and got back in again).  In the MTP, we got back in in July but it was too early at $32 but the sell-off to $25 is idiotic as that values the company at $7Bn when they very consistently drop $1Bn to the bottom line.  This year has been a restructuring (see a pattern in our buying?) but next year they should make about $2.50/share and again, 14x is reasonable so our target would be $35 so check and check and we expect to make the full $30,000 against our current value of -1,440 so $11,440 expected to gain.  
​
​
Marijuana ETF (MJ) – Here we're just betting on a white hot sector.  The valuations of the Cannabis Companies that are already public are ridiculous but that doesn't mean that some of them won't be 10-baggest and it's better to spread the risk with the ETF than try to pick the winners from the flame-outs.  As MJ came down to $30 in October, we decided to jump in and the rest is just due to the market collapsing and we really love them at $24.  Nothing unreasonable about our 2-year target for the full $40,000 and currently -$1,250 so $41,250 expected to gain on this one.
​
​
Micron (MU) – They were recovering but then got slapped back but, fortunately, we jumped in at the October lows and these lows aren't much lower.  Why, because $30 is $35Bn and MU made $14Bn in 2018.  Yes, $14,138,000,000 and next year, even if the year sucks, they will make $10Bn, but probably $14Bn again so the people who are selling this stock are IDIOTS and this should have been my stock of the year for 2019 but I went with IBM.  In fact, if anyone has $30Bn I would very much like to buy the whole company at this price!  I'll be shocked if we don't get our full $15,000 on this spread but, currently, it's showing net -$475 so $15,475 left to gain on our 2019 Trade of the Year runner-up.  
​
​
Wheaton Precious Metals (WPM) – This was our 2017 Trade of the Year and, like HBI, we already cashed out the winner and this is a triple-dip at this point.  You can use the "Cat Came Back" song for WPM as well as they tend to sell off harshly on a regular basis and we just jump in when they do.  WPM is what you call a "streaming" company, they buy gold and silver in bulk from the miners at fixed prices and sell it on the open market for hopefully more than they paid and they are pretty good at their jobs, dropping over $400M to the bottom line so far this year and at $19, the whole company is $8Bn so 20x earnings seems like more than we like to pay but we think gold and silver are entering a bullish cycle and WPM strongly benefits from those as they have locked in some very low priced over the past 18 months (their general cycle from contract to sale).  We were very conservative in our $22.50 target for 2 years so I have a lot of confidence we'll collect $18,750 and the current net is just $5,363, so we have $13,387 left to gain. 
​
​
If all goes well between now and Jan 2021, the above positions should make $111,035, which would be 130% of it's current value.  We're currently using $80,000 worth of our $170,000 in ordinary (2x) margin so we're not keen to add more positions that require margin but we do have $85,850 in CASH!!! laying around, so we won't be sitting on our hands either!
Meanwhile, for all the excitement in the market yesterday, all we managed to do was hit our weak bounce lines (see yesterday's Report) and those need to hold up through Friday or it will actually be a bearish sign into the Holiday Weekend (Markets closed Tuesday but Monday is full day though the rest of the World takes both days off) so we are not out of the woods just yet.