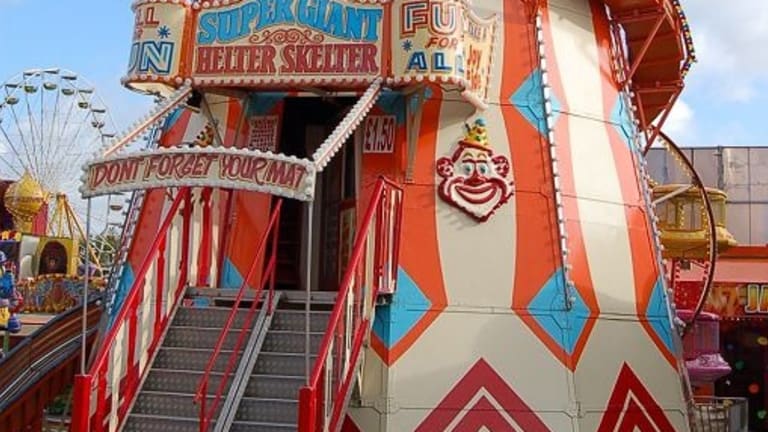 Final Thursday in May – Back to 2,728 on the S&P 500
Another EU market-mover this morning is likely to be Trade War news.
Another EU market-mover this morning is likely to be Trade War news.
"When I get to the bottom I go back to the top of the slide

Where I stop and I turn and I go for a ride

Till I get to the bottom and I see you again" -Beatles
We're closing out the month back at the top of the slide (so far) after a wild couple of days that took the S&P all the way down to 2,675 (down 2%) before blasting back yesterday to retest our 2,728 (strong bounce) line on the S&P 500 (/ES). We'll have to take today's action with a grain of salt as it's the end of the month and yesterday's up volume on the S&P ETF (SPY)was half (67M) of Tuesday's down volume (115M) so the "rally", as they often are, is half-hearted at best.
We'll wade through a lot of data this morning with Personal Income and Outlays at 8:30, Chicago PMI and Consumer Comfort at 9:45, Pending Home Sales at 10:00, Natural Gas Inventories at 10:30, Oil Inventories at 11 (we're bearish) followed at 1pm by the Fed's Lael Brainard's NYC speech on "Economy and Monetary Outlook" – such fun!  
Brainard is a Fed Centrist so we'll see which way she tilts this afternoon but not much of this matters on a window-dressing day though, as I noted to our Members in yesterday's Live Chat Room, either the end of the month or the beginning of the next month has been cause for a sell-off every time this year. Since we feel 2,728 on /ES is going to be the top, it makes sense to short the index here (2,725) with tight stops over 2,728, which would be a $150 per contract loss.  
​
​
Yesterday, in our Live Trading Webinar, we also discussed shorting the Russell (/RTY) below the 1,650 line, but we're above that now and, of course, we're still happy to short the Nasdaq (/NQ) below the 7,000 line, as we still expect an eventual pullback to 6,500 – and that would pay $10,000 per contract!  
As usual, no one notices that the Dollar tends to drive these reflexive rallies and yestersay was no exception with the Dollar Index (/DX) falling from Tuesday's 94.80 all the way to 93.70 and that's down 1.16%, which puts the +1.3% re-pricing of the S&P into context, doesn't it? Whether or not the indexes hold up against a rising Dollar will tell the true tale of this market but this morning the Euro should stay strong as strong EU inflation (2%) gives the impression the ECB will have to tighten very soon.  
Another EU market-mover this morning is likely to be Trade War news as Trump desperately tries to distract people from the escalating investigation into, well, everything he's been doing.  One of the reasons Germany's DAX is trading down this morning is due to a rumor that Trump intends to ban the import of luxury cars, which I know sounds ridiculous but it's Trump and we passed ridiculous last summer and we're well into ludicrous these days.  
Any re-escalation of the Trade War is bad but the market has already shrugged it off as if nothing Trump has said actually matters and, hopefully it doesn't but I don't think I'd bet on it.  Just yesterday, Pete Navarro was on NPR, of all places, saying that Steve Mnuchin was speaking out of turn when he said we're going to avoid a Trade War with China.  Here's a sample:
INSKEEP: OK. Just a week ago, the Treasury Secretary Steven Mnuchin said the trade war with China was on hold. So why did you resume?

NAVARRO: That was an unfortunate soundbite, basically for two reasons. One is that what we're having with China is a trade dispute, plain and simple. They engage in a whole range of unfair trade practices. They run up a $370 billion trade surplus with us, which costs us over 1 million factory jobs a year. And President Trump basically is going to address that with appropriate measures based on appropriate investigations by people like the United States Trade Representative.

INSKEEP: We get the impression that the products that you're aiming at with these new tariffs are Chinese products that China wants to be a world leader in in this plan that they have a, 2025 strategy, things like artificial intelligence, new energy vehicles like electric cars, robotics, that sort of thing.

NAVARRO:  We're going to, one, the president is going to levy 25 percent tariffs on $50 billion worth of Chinese exports to us. Now, what are those exports? Those exports are precisely the exports in these China 2025 industries. What China does as a matter of government policy is they target an industry…

INSKEEP: Well, then why is it that the president then suddenly said that he wanted to cut a break to ZTE, this Chinese tech company that repeatedly violated U.S. rules and was sanctioned and then violated even the agreement to get out of the sanctions. Why does the president want to cut them a break, given everything you've just said?

NAVARRO: Forgive me, Steve. As a U.S. government official, I cannot comment on that matter as of yet because it's a law enforcement matter. I can't say any more than that. That's my instructions.

INSKEEP: You can't comment in any way on the president's…

NAVARRO: No, no. As a U.S. government official – on the ZTE case, it's clear. It's a law enforcement issue. I simply can't comment on it. So if we can, it'd be best to move on.

INSKEEP: It doesn't fit with your strategy at all, though?

NAVARRO: It's a law enforcement matter. Justice Department is involved, Commerce is involved…  …The district court's involved. Let's move on.
That's the problem with all of Team Trump's messaging these days – they are always just one word away from crossing into one of their scandals – two in this case as Ivanka's Chinese patent grants came up as well.  I think that caused the main message to be lost but the message was loud and clear – we are sanctioning China and the Trade War is ON!
It's hard to see what it is we need to protect – American Tech Companies seem to be doing just fine – especially if you look over at the Nasdaq as it approaches the 7,000 mark, up from 4,000 less than 2 years ago so 75% gains in 24 months has got to be considered impressive, right?  This is not looking overvalued at all, is it?
​
​
We're "only" 40% higher than we were in the Dot Com bubble and that was almost 20 years ago but, of course, at the time, people thought it had been a big mistake to pay 100x earnings for companies and now those are the dips we buy – so times do change and this time is different yadda, yadda, yadda…