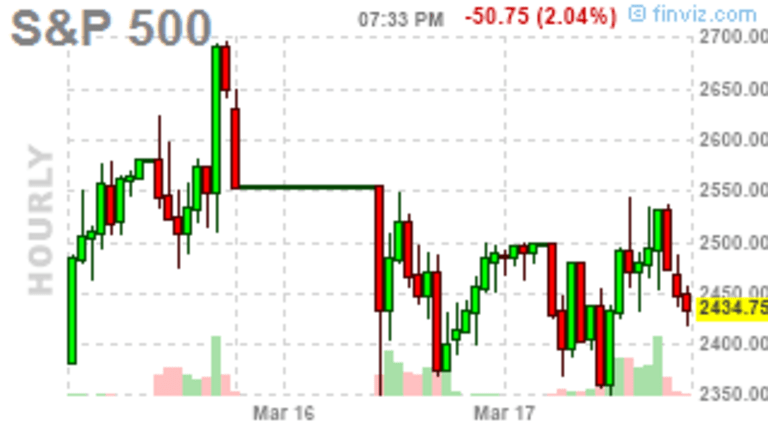 Federally Funded Friday – Rally Continues on Rate Cut Expectations
I hope I get it! That's the chorus line the market pundits are taking this week and the Fed speakers have given them...
That's the chorus line the market pundits are taking this week and the Fed speakers have given them plenty of ammunition withVice Chairman Clarida and New York's Williams making more doveish comments yesterday, which sent the indexes flying higher into the close and pushing the S&P 500 back over that critical 3,000 mark so it will look pretty for the weekend.  
Since the data certainly isn't supporting a rate cut the Fed has now turned to fortune-telling to justify doing Trump's bidding:  
"You don't need to wait until things get so bad to have a dramatic series of rate cuts," Clarida told Fox Business Network, citing economic research. "We need to make a decision based on where we think the economy may be heading and, importantly, where the risks to the economy are lined up."
Clarida's remarks line up with testimony last week by Fed Chairman Jerome Powell, and comments a bit earlier in the day from Williams, that have cemented expectations for a rate cut. Investors, weighing their words, increased betsThursday that the Fed will move by a half point at the July 31st meeting.  While the U.S. economy is "in a good place," Clarida said recent global economic data have been softer than expected. "We've had mixed data, but I do think the global data has been disappointing on the downside," he said. "Disinflationary pressures, if anything, are more intense than I thought six weeks ago."
​
Lowering rates 0.5% with the market at record highs and the unemployment rate below 3% is unprecidented and very probably insane but that is what the market is now expecting a week from Wednesday.  Our Fed is not alone, other Central Banksters are also lining up to ease up on monetary policy as South Korea, Indonesia and South Africa all recently lowered rates and Europe has indicated their rates are likely to go lower, as has Japan and even China is looking like they might match the Fed if they go through with a cut in two weeks.
For the three central banks that eased policy Thursday, the rate cuts appear more grounded in economic weakness than in some other countries that are trying to safeguard expansions. South Korea's gross domestic product contracted in the first quarter. Indonesia's GDP has fallen for two straight quarters. South Africa's GDP slid 3.2%, at an annualized rate, in the first quarter.  Amazingly, the ECB's rates are already NEGATIVE 0.4% – and they are talking about going lower – it's a mad house!!!  
None of this means very much until we see what the Fed ACTUALLY does in two weeks and, until then, we have our earnings reports to mull over.  We reviewed our Short-Term Portfolio yesterday in our Live Member Chat Room and we're well-covered into the weekend and now we'll review our Long-Term Portfolio and see if there are any chances to raise more CASH!!! into the uncertainty.  
Have a great weekend,