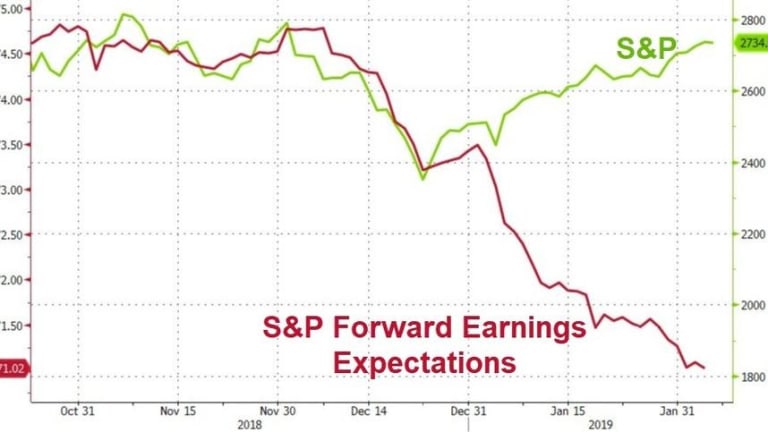 Faltering Thursday – S&P 500 Fails to Clear Lowered Earnings Expectations
Phil - "Estimates are that Q1 earnings will DECLINE 1.4% from last year..."
Low expectations.  
It's what we have for both the President and the Stock Market so anything they do that isn't a complete screw-up gets celebrated but that's no way to run an country – or an economy.Powell spoke yesterdaybut provided no catalyst, choosing to speak about the LIMITS of Fed policy in boosting growth – a speech aimed squarely at the President in which the Fed Chair also stressed the importance of a fully independent Federal Reserve.
With about half the S&P reporting, over 30 companies, including Netflix (NFLX), Delta (DAL) and Estee' Lauder (EL) have lowered their guidance for Q1 and, as I noted in yesterday's Live Trading Webinar, a lot of the "best" companies have already reported and the 2nd half of the S&P 500 may already be showing sighns of strain in their Q4 reports.  Even now, estimates are that Q1 earnings will DECLINE 1.4% from last year  – quite a comeback from projections of 7% growth from September's guidance.
Many investors say multinationals will find it increasingly difficult to generate the type of results they did in prior years, with the outlook dimming for the global economy. If earnings estimates keep coming down, many say they doubt the 2019 market rally can continue for long.  The sheer scale of the drop-off in earnings estimates has some analysts nervous that there could be further damage ahead. That could potentially put pressure on a bull market that many believe is in its late stages.
Morgan Stanley analysts, who have been among the more bearish of Wall Street firms in the past year, said this week that they "wouldn't be surprised" if S&P 500 companies wound up delivering lower earnings every quarter of 2019.  Goldman Sachs analysts said, in a recent note, that lower oil prices and pockets of economic weakness in the U.S. support a more conservative earnings outlook for the year. "More estimate reductions are likely rather than boosts to forecasts," the analysts wrote.
IT companeies are particularly hard-hit, followed by Materieals, Energy, Consumer Discretionary and Communications while Health Care, Utilities and Industrials are still growing at a good pace – though Trump said in his SOTU that he wants to reign in drug pricing, which can reverse things for Health Care but, so far, investors think the President is full of crap, apparently:
​
​
Mediocrity is still being celebrated with Chipotle (CMG) jumping over 10% on revenues that are up 6.1% vs very low comps (food scare last year) and rising prices.  CMG shares are, in fact, up 50% from last year and earnings were $1.72/share, up 28% from $1.34 last year but Revenues were up just 8% from $1.194Bn to $1.23Bn and, EVEN IF CMG made $2 every quarter, that would be $8 for the year on a $526, now $580 restaurant stock for a p/e of 72.5 – fairly ridiculous by any measure.  CMG is also buying back $100M (0.7%) worth of their own stock – another trick they've been using to keep "improving" earnings per share (by decreasing the shares you divide earnings by!).  
​
​
We have a CMG position in our Long-Term Portfolio and, fortunately, we bit the bullet and rolled our 20 losing Jan $485 calls at $32 ($64,000) which we had sold for $20 ($40,000) to just 12 short March $550 calls at $15 ($18,000) in what we call "rolling the loss" as we were worried CMG would blast higher on easy comps.  That left us with the following:
​
​
Our target was $540 but we didn't expect it until next year but, if we stay over that level, the spread will pay us $120,000 and the short puts will expire worthless so it's just the short calls we'll have to adjust andwe're going to take advantage of the ridiculous morning spike and sell 8 of the 2020 $600 calls for, I think, $75 ($60,000) as a "pre-roll" for the short March $550s, which we'll give a chance to calm down before closing*.  If CMG keeps going higher, we'll buy another bull call spread becuase this one was a $21,240 CREDIT so we'll get paid $141,240 if it all works out – who wouldn't want another one of those?*
Actually, it's a lot better than that because we already cashed our our longs from a winning trade ages ago and this is just the trade we left on to cover the short calls that remained – and now we're turning that into a long-term winning trade as well!
In our Short-Term Portfolio, we can sell 4 of the same 2020 $600 calls if we can get over $70 for them because who doesn't like making $28,000 for selling some sucker massive premium?  The margin on the trade will be hefty but we have plenty of cash and, as I said, this is a ridiculous price for CMG.
Happy hunting,