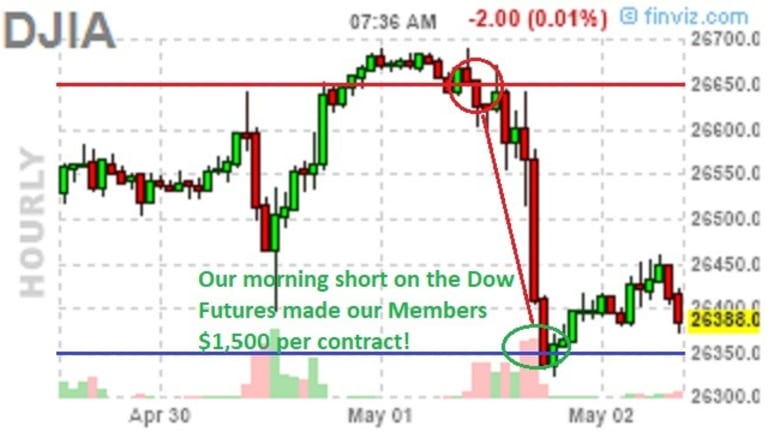 Faltering Thursday (Again)
Phil - "My crystal ball was on fire yesterday morning".
The market can't seem to get the hang of Thursdays.  
Fortunately though, at Philstockworld, we had a pretty good handle on things yesterday as I noted my concerns in the Morning Report (and all week) andyesterday morning, in our Live Member Chat Room, I called for shorting the Dow (/YM) Futures at 26,650 as well as the S&P (/ES) Futures at 2,950 and, as you can see, we had a nice gain of $1,500 per contract on the Dow and I even called the perfect exit at 4:35 (Futures trade until 6pm),saying to our Members:
300 points is plenty on /YM – don't be greedy!
The S&P (/ES) bottomed out at 2,915 but the S&P pays $50 per point so 35 points was good for $1,750 per contract – even beter than the Dow gains.  It's been a while since we've played the Index Futures but this is a nice way to get back into the swing as we get back to the kind of toppy inflection points we like to play.  
Speaking of toppy, my crystal ball was on fire yesterday morning as in the same morning note to our Members where we shorted the Futures, I also said:
API showed a 6Mb build in oil and down 1M in Gasoline and up 2M in Distillates so we'll see what EIA says but a build like that can send us back to $62.50 but now it won't take much to "beat" terrible expectations so I'd have to say it's too tricky to play at the moment.
​
How cool is that?  Oil contracts pay $10 per penny so a $1 drop is worth $1,000 per contract – nice work if you can get it!  More importantly, when our crystal ball is working we're able to make MONEY in the Futures and that's always fun so we're going to be looking for more opportunities but probably more next week, though you can play Oil (/CL) to bounce off $62.50 and, since it's down $2 from $64.50 a weak bounce is 0.40 ($62.90) and a strong bounce is 0.80 ($63.30) but it already had a strong bounce that failed so now we'll look for just the 0.40 – but that's still good for $400 per contract – nothing to sneeze at for a day trade. 
While Futures trading is inherently risky, we teach our Members to mitigate the risk through cash management strategies, the primary one being the selection of good support lines (like $62.50) with tight stops below of, say, 0.05 – which limits the loss to $50 against the expected gain of $400.  Once we hit the weak bounce line at $62.90, that becomes the stop but it's possible we get lucky with a stronger bounce so $400 is not our upside limit but a $50 loss is.  That means we can be wrong about our entry 6 times (-$300) and still make it up by being right once! 
And, by the way, we take our positions when the Futures are breaking through our support lines GOING OUR WAY – not when they are going against us – that would just be silly, right?  So there's a little bit of momementum trading going on in the Futures but mostly we're just playing the 5% Rule™ and using those lines whenever they are in play.  
​
​
With Oil (/CL) Futures, our baseline is $60 so we pay careful attention to the +5% Line at $63 and the +10% line at $66 but $64.50 (7.5%) is also a line which we would then expect to be a point of contention between the bulls and the bears – and it is.  The 5% Rule™ doesn't tell us which way things are going – it just tells us the most likely trading range and then it's up to us to analyze the news-flow to figure out whether or not support/resistance lines are likely to hold up.  As I often say to our Members about the 5% Rule™:  "It's not TA – it's just math!" 
$66 to $63 is $3 so 10% (0.30) or 20% (0.60) overshoots are perfectly normal on either side so we ignore those – other than to confirm our lines.  As you can see, we're getting 0.60s on the upside and 0.30s on the downside so there's a general tendency to go higher and that makes a playing for a bounce off $62.50 a very high-percentage play – so we'll see how it goes.  This morning, we're at $62.55, not $62.50 but that's close enough to add one contract and then I can double down at $62.45 to average $62.50 and a very tight stop below $62.45 for maybe a $60 loss because, looking at the chart, I'm not confident we'll get the the $62.50 line, especially with the Dollar hitting resistance at 97.50.  
That's right, there's a lot of moving parts to this play and you need to pay attention to all of them if you want to be a successful Futures Trader.  One reason we're favoring the long side on oil (despite shorting it yesterday) is that we're heading into "Summer Driving Season", which officially kicks off on Memorial Day Weekend (May 24th-27th) so that's 3 weeks away and it's very unlikely oil is below $65 into that holiday, so we'd rather be caught long than caught short.  
If $62.50 fails on /CL, we try again at $60, which is the next significant support and, if that happens, Gasoline (/RB) becomes an interesting long around the $2 line as well.