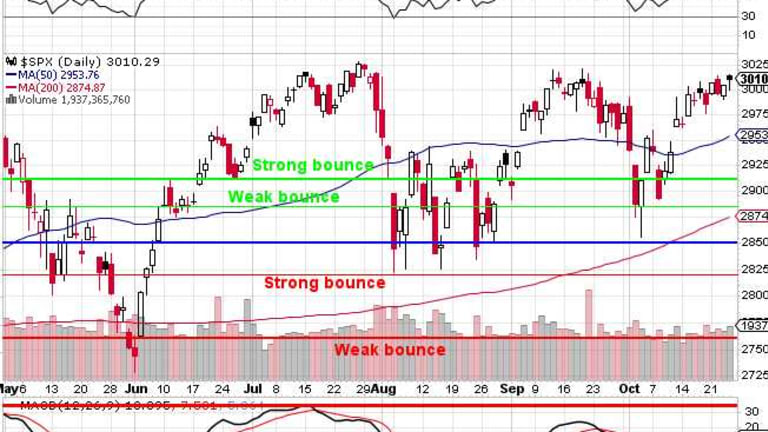 Faltering Friday – Amazon and Other Earnings Not Enough to Hold S&P 3,000
40 S&P 500 companies reported mixed results yesterday...
We're slipping again.
Keep in mind, there's still the underpinning to the market that the Fed is going to save us next week with another rate cut on Wednesday.  40 S&P 500 companies reported mixed results yesterday with 3M (MMM), Ford (F), Twitter (TWTR), eBay (EBAY) and Amazon (AMZN) noteably cutting guidance and disappointing inverstors.   MMM said "the macroeconomic environment remains challenging" and F mentioned lower volumes in China – a theme with many companies as Chinese Consumers begin to avoid American goods altogether.  
With about 1/3 of the S&P 500 reporting so far, 81% of the companies reporting have beaten low expectations but still, we're on pace for a 4% decline from earnings a year ago, when the S&P topped out at 2,950 in October and fell to 2,350 (-20%) by Christmas.  We are still very much Cashy and Cautious and maybe this time is going to be different but down 4% from the quarter when the markets dropped 20% is a good reason to stay on the sidelines, isn't it?
Not much is happening otherwise and we're coasting into the weekend but next week, as Friday is the 1st, we get our NFP report already and the Fed has the doveish John Williams speaking at noon and 2:30 that day – so I think they think they are going to need some spin.  Other than Williams and Powell's speech on the 30th (2:30), there is no Fed Speak next week due to the meeting so we're on our own with the data – and earnings!
A lot of companies are having steep sell-offs on earnings but are they bargains or just CORRECTIONS – moving to more realistic prices.  We looked at Twitter (TWTR) yesterday and decided it was simply moving to a more realistic price after a 20% drop back to $30 and Amazon (AMZN) is now more interesting at $1,750 but that's still $880Bn in Market Cap for a company that made "just" $10Bn last year and maybe $12Bn this year, despite last night's miss.
While that's still 20% growth, $880Bn/$12Bn is 73.33 so 73x earnings is what you are paying for AMZN, a stock that is growing 20% a year – so doubling every 4 years.  That means we can expect 2024 earnings of $24Bn and 2028 earnings of $48Bn (finally getting close to AAPL's current earnings) and THEN they will only be trading at 20x earnings.  Meanwhile, AMZN is essentially a commission reseller so Revenues would have to grow along with sales and currently they are $250Bn so they need to be selling over $1Tn of merchandise and services to get to $48Bn in profits – that's the GDP of Australia!
Walmart (WMT) is currently the World's largest retailer and they "only" sell $500Bn worth of stuff and they also make $12Bn/yr yet, at $120, you can buy the whole company for "just" $338Bn – less than 1/2 of what you are paying AMZN for the same earnings.  Something is wrong with these valuations and you have to ask yourself if we should be paying 60x earnings for WMT to catch up to AMZN or if AMZN is still way overpriced at $1,750?
Have a great weekend,