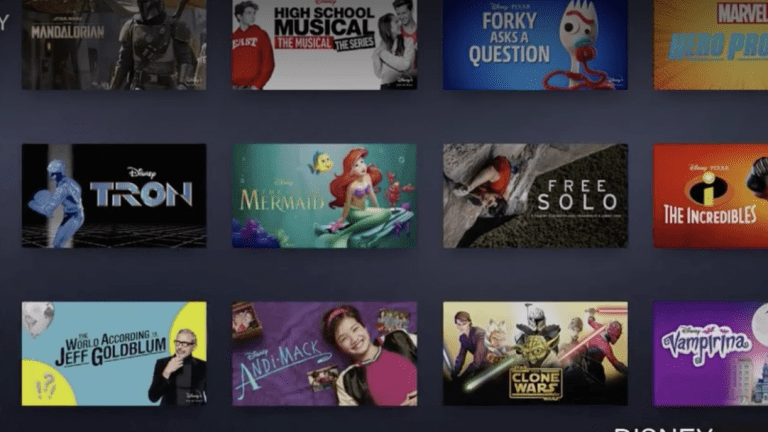 Disney Did In 1 Day What Took HBO 4 Years: 10 Million Streaming Subscribers
Disney could hit its target of 60 million to 90 million worldwide subscribers in just months, if not weeks...
Courtesy of ZeroHedge
Somewhere Netflix and Amazon video are sweating.
Disney announced today that Disney+ has reached a stunning 10 million plus subscribers just 24 hours after its launch yesterday in the U.S., Canada, and Netherlands; the figure surprised analysts who had expected a much slower rollout for Disney to reach that level, although let's just ignore that most of the new "subs" are only there thanks to one of the various free streaming offers (perhaps someone should launch WeStream).
Separately, Apptopia reported 3.2 million mobile app downloads in the first 24 hours, with an estimated 89% of mobile downloads in the U.S., 9% in Canada, and 2% in the Netherlands. In just one day, users spent 1.3 million hours watching it, Apptopia said, more than Amazon.com Inc.'s Prime Video, but far less than the 6 million hours watched on Netflix.
"Disney should silence naysayers who expressed reservations about a pivot to streaming," said Geetha Ranganathan, a media analyst for Bloomberg Intelligence. "It took HBO Now about four years to reach about 10 million streaming subscribers."
That's just the beginning: on Nov. 19, Disney+ will launch in Australia, New Zealand, and Puerto Rico (Puerto Rico's launch was delayed one week) and will launch in Western Europe on March 31, 2020. While the service experienced first day technical glitches, this was likely due to high consumer demand which was ahead of management's expectations and not structural issues with the app.
At this fervent adoption rate, Disney could hit its target of 60 million to 90 million worldwide subscribers in just months, if not weeks, and certainly well before the company's original 2024 goal, according to Wedbush Securities analyst Dan Ives. This, of course is bad news for legacy streamers such as Netflix, which could see as many as 10% of its customers lured away to rival services such as Disney+ and one from Apple that launched earlier this month.
Commenting on Disney's stunning disclosure, JPM said that the steep ramp reflects a philosophy of "initial subscribers now; pricing later." Disney's willingness to debut its content-rich service at an attractive price point is leading to massive subscriber growth which will likely lead to pricing power later. To be sure, JPM noted questions arise regarding the ARPU despite the strong ramp in subs, including:
subscribers opting-in to the Verizon deal for a free year of Disney+ from a potential opportunity of ~17-19m eligible Verizon customers;
subscribers to the bundle with ESPN+ and ad-supported Hulu; and
subscriber churn following the free seven-day trial. Overall, we are positive on the read-through for subscriber growth at ESPN+ and adsupported Hulu as the combination at $12.99/month is a compelling deal.
Even so, the bank pointed out that "the announcement surpasses our expectations for 5m subs in the first quarter; we now expect 15m subscribers in FQ120 and bump up our full year expectations from 15m to 25m."
Separately, Disney clinched important last minute deals for its content. Ahead of the Disney+ launch, Disney started to remove on-demand content for cable customers, in our view to create heightened demand for the content and the product.
As a result, nearly all Marvel movies are available to stream in the U.S., including Avengers: Endgame (initially expected to stream on Dec. 11) as Disney struck some last-minute rights deals. Four Marvel films will remain on Netflix through the end of 2019 (Black Panther, Ant-Man and the Wasp, Avengers: Infinity War, and Thor: Ragnarok) and will stream on Disney+ in 2020.
As an aside, JPM analyst Alexia Quadrani noted that she was impressed by the content and user experience of Disney+ upon launch: "The recommendations, originals tab, as well as different collections under the search tab make it very easy to navigate through content and find what one is looking for. We did experience some technical issues on launch day, which we think is due to strong demand and not any underlying issues given the service has been in beta for months in the Netherlands."
Not surprisingly, DIS stock exploded higher on the announcement, climbing as much as 6.8% on Wednesday, its biggest intraday rally in seventh months, and hitting a new all time high.
​
​
Netflix shares tumbled 3.7% as its company's investors assess how big a threat Disney+ will be.
Finally, for those curious, yesterday we showed a full breakdown of which video streaming service is showing what exclusive content; we recreate it below.
​
​
​